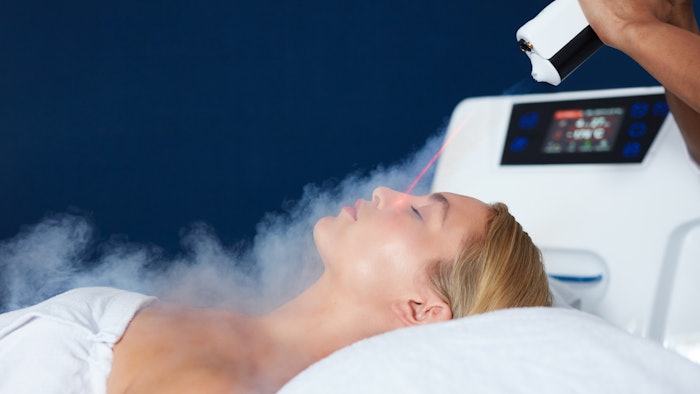 As the year begins, more spas are implementing new practices on their menus and into their services. As client interest spans beyond a traditional massage or facial, spas across the U.S. are leading the charge with modern and contemporary approaches to spa/wellness therapies. 
2023's trending spa treatments are expected to include mental health offerings, cold facial therapy and services for seasonal depression. Experts from several of the country's top wellness facilities weighed in on spa trends they're welcoming this year. 
Related: 5 Retail Technology Trends for 2023 Revealed by Perfect Corp.
Spa Trends with Expert Insight & Examples
1. A Focus on Mindfulness + Mental Health 
Spas are now focusing on creating experiential, mindful experiences that put the guests' mental needs at the forefront of the experience, rather than focusing on a standard back massage or facial treatment. According to Mental Health America, 19.86% of adults are experiencing a mental illness. With that in mind, spas are now taking a holistic, mindful approach when it comes to offering treatments that help improve overall mental well-being and mindfulness. 
Expert Insight: Marizza Contreras, co-founder of K'Alma Spas in Miami, places a heavy emphasis on the importance of connecting one's body with one's mind through the power of nature by offering a variety of treatments that cater to mental health. As seen on Mental Health, studies show that being surrounded by nature or natural elements is associated with lower levels of poor mental health. 
Treatments such as "The Mindful Meditative Massage," available at Leaf Spa at AKA Brickell, embrace how powerful the mind is. This treatment begins with guided meditation and sound bowl healing.
"The Anallaw Energy Ritual," found at K'Alma Spa at the Hotel Victor in Miami Beach, references Andean practices to enhance the flow of energy through crystal color therapy. An aromatherapy massage with crystals helps to focus on the seven chakras. The colors of the chakra align to connect clients with the universe, empowering them to be the most powerful and authentic self.
2. Spa Therapy for Seasonal Depression
As states experiences seasonal changes, people, too, tend to experience changes in their mood and overall health. According to Heart, an average of 5% of Americans experience seasonal depression, also known as seasonal affective disorder (SAD). With brutally cold winters, shortened, darker days, many start to experience "winter blues," which begins affecting behavior and mood among many.  
Expert Insight: According to Craig Carter, cofounder of Leaf Spa at Fairmont Chicago Millennium Park, around 50% of clients come in extremely emotionally unstable and disconnected before undergoing their treatments. 
The Leaf Spa at Fairmont Chicago Millennium Park embraces the seasonality of life, reminding each guest the importance of reconnecting with oneself through the power of nature. Leaf Spa's "The Dosha Detox Body Treatment" is a routine detoxification that allows the body to maintain good health during seasonal changes. Guests detox with this lymphatic, herb infused body treatment that will help balance and align the body, mind and soul.
Leaf Spa Chicago offers daily sound bowl healing, known for its healing powers that send sound wave vibrations throughout the body, helping harmonize and restore the body's balance.
Leaf Spa Chicago also offers daily meditation. According to Contreras, meditation stimulates the function of the pineal gland, which helps to create more melatonin and serotonin. 
Related: Open for the Season: Crafting Seasonal Treatments Inspired by Nature
3. Cold Skin Care Therapy 
The New York Times reported in February 2022 that Mental Health Swims, a nonprofit that organizes cold-water swimming throughout the UK, had grown from one meet-up group to more than 80 over three years. Long used as a recovery treatment in sports medicine, cold therapy is an effective way to ease muscles and tighten the skin. Now, spas are jumping on this trend by incorporating cool temperatures into facial trends, creating brighter and smoother complexions.  
Expert Insight: According to April Smith, spa director at Spa Lilliana at Hotel Effie at the Sandestin Golf and Beach Resort, cryotherapy is used as a way to massage the skin using cooling techniques and lymphatic drainage to firm the skin, eliminate dark circles and reduce puffiness. 
French brand, Biologique, created an 11-step facial service using cold therapy as a technique to increase blood flow and plump skin. Now offered at Spa Lilliana at Hotel Effie at the Sandestin Golf and Beach Resort, guests are educated on the benefits to the personalized approach to skin care with unadulterated formulas applied with rigorous treatment protocols using cryotherapy treatments.