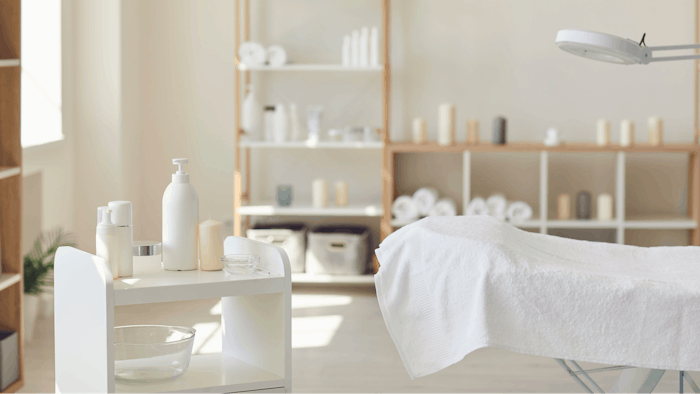 Deciding to venture out solo as an esthetician or massage therapist can sound or feel overwhelming and expensive. With the right budget and realistic expectations, running a day spa can be an incredibly thrilling and fulfilling experience!
Imagine being able to create a relaxing and rejuvenating atmosphere for your clients, helping them unwind and feel their best. With a little creativity and a lot of passion, you can turn your day spa into a thriving business that brings joy and relaxation to your clients every day.
It's always a good idea to start with a solid plan when you're setting up a new day spa. To keep things organized and avoid any surprises down the road, creating a budget is a great first step! You might want to consider factors like how many employees you'll need, what types of services you'll offer, and the level of care you'll provide to your clients. By taking the time to define your goals and expectations up front, you'll be able to make more informed decisions about the look and feel of your space, and the equipment and supplies you'll need to get started.
Massage Tables and Chairs
When setting up your day spa, it's crucial to prioritize comfort for both you and your clients. After all, your clients will be spending at least an hour with you, and you want to create an environment that promotes relaxation and well-being. One key area to focus on is your choice of massage table or chair. Details such as electric or hydraulic lift chairs can help provide lumbar support for your clients, while also ensuring that you maintain healthy posture throughout the day.
By investing in quality equipment and paying attention to these important details, you will not only create a welcoming and comfortable space that your clients will love, but also prioritize your own health and well-being as a therapist, ensuring you can work for many years without experiencing pain or discomfort. As a therapist, it's essential to take care of yourself as well as your clients, and by making thoughtful choices about your equipment and workspace, you can create a fulfilling and sustainable career helping others feel their best.
Related: 8 Steps to Making Smart Equipment-purchasing Decisions
Linens and Robes
The moment your clients slip into a soft, plush spa robe, they embark on a journey of serenity and rejuvenation. The gentle caress of the luxurious fabric on their skin creates an ambiance of tranquility, setting the tone for an unforgettable spa experience. Even if your facial clients prefer to keep their attire, you can still delight their senses by providing them with top-notch linens, towels and slippers. With these thoughtful touches, you can elevate their experience and show them how much you value their comfort and well-being.
When selecting fabrics for your spa, it's essential to keep in mind that not all materials are suitable for spa services. Choosing a stain-resistant option that won't discolor with the use of massage oils is crucial to consider. Remember, your linens will be washed daily, so investing in high-quality, durable linens is a must. When it comes to colors, black and white are excellent choices. Dark colors work well for body treatments that involve mud masks, which tend to stain light fabrics, while white is perfect for facial treatments that require disinfecting with bleach. By choosing the right fabrics, you can ensure that your clients will have a comfortable and hygienic experience during their spa visit.
Facial Steamers and Magnifying Lamps
I still remember the first time I attended a spa expo as a new esthetician. My eyes lit up as I saw all the fancy steamers and lamps that seemed like every facialist's dream. I couldn't help but imagine myself using those high-tech devices on my clients, but as I looked at the price tags, sticker shock hit me hard. It was clear that I couldn't afford the Ferrari equivalent just yet. But, starting small didn't mean I had to sacrifice quality service. I realized that I could still provide exceptional treatments using manual options that were more affordable. With a little creativity and resourcefulness, I found alternatives that worked just as well, and even discovered some techniques that I still use today.
Adding a basic light and steam combo to your facial room is an exciting step towards enhancing your clients' experience. It's an investment in your business that shows your commitment to providing quality service. As you market your services with passion and creativity, you'll see the rewards of your hard work in the form of loyal clients who appreciate your continuous growth and dedication to improving their experience. They'll be delighted to see you upgrading your equipment to the option with all the bells and whistles to better serve them, and their satisfaction will fuel your motivation to keep pushing yourself and your business to new heights.
Hot Towel Warmers
When it comes to creating a luxurious experience for your clients, few things are as indulgent as warm towels. But with so many towel warmer options available, how do you know which one is right for you and your business? If you're planning to stick with facial treatments that tend to require four to six warm towels per service, I suggest a space-saving hot towel warmer, which can accommodate six to 10 towels per cycle. This compact and efficient option is perfect for smaller spaces, while allowing you to prep for one to two treatments at a time.
If you have multiple technicians working in the same room or want to make the most of a large service day, a larger towel warmer with two separate warming spaces is the perfect choice. This high-capacity option can accommodate even the busiest spa day and ensures that everyone has access to warm towels, no matter how busy things get. Whether you choose the compact or high-capacity option, you can rest assured that your clients will love the extra touch of luxury that warm towels provide.
Carts and Storage
Creating a peaceful and relaxing environment is essential for any successful spa, and one of the easiest ways to achieve this is by keeping your treatment room organized and clutter-free. I recommend investing in a stylish and practical spa cart or trolley. Three tiered wheeled carts are designed to hold all of your facial or manicure products, making it easy to keep everything you need within arm's reach while you work.
With a range of sizes and styles to choose from, carts or trolleys can be customized to fit the unique needs of your spa and clientele. By keeping your treatment room organized and sanitary, you will be able to move about your services quickly knowing you are prepared for any additional add-ons your clients may request.
Related: Stocking Your Treatment Room 101
Sound Therapy and Noise Cancellation
In today's fast-paced world, it's more important than ever to create a peaceful and calming environment for your spa clients. However, achieving this can be challenging when dealing with external noises and distractions. That's where a high-quality sound system or wireless speakers can make all the difference. By investing in the right equipment, you can transform your spa into a haven of tranquility, allowing your clients to fully unwind and immerse themselves in the spa experience.
With a sound system package that includes multiple speakers with Bluetooth capability, you can create this exact atmosphere for your clients. Imagine the feeling of being able to synchronize the music or ambient sounds in every room, providing a cohesive and immersive spa experience. Not only is this an affordable option, it's also a game changer for your clients. They'll appreciate the attention to detail and the care you put into providing a seamless and luxurious spa experience.
Booking Software
Don't let all your hard work creating the perfect spa experience go to waste because of a lack of organization. To truly thrive, you need a software system that can keep up with the fast-paced world of spa business. Luckily, there are numerous options out there to choose from. But with so many choices, how do you know which one is right for you?
Look for a software that checks all the boxes: SMS text reminders to keep your clients on track, the ability to add multiple employees without breaking the bank, inventory tracking to stay on top of your supplies, and tax reports to keep your finances in check. With the right software in place, you can focus on what you do best – providing a luxurious spa experience that keeps your clients coming back for more.
Opening a business can be a rollercoaster ride, but having a solid plan, reliable equipment, and quality linens can ease some of the stress in the first year. These elements provide comfort for clients, promote relaxation, ensure efficiency, and establish a professional image. Investing in them can lead to increased satisfaction, loyalty, and positive recommendations, driving business growth. Embrace mistakes and be daring in pursuing your dream, as even the best ideas can come from humorous disasters.