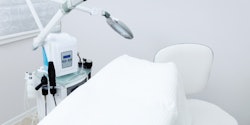 As spa owners, we find ourselves constantly on the lookout for new equipment to invest in that can drive more revenue. Spa suppliers often introduce us to new equipment on the market, but how do we know what will be best for our spa? Should we purchase one high quality piece of equipment or a few lower quality items so we can offer more services? In other words, do we choose quality over quantity?
We need to make sure that the equipment we invest in will actually be used instead of collecting dust in the corner, which unfortunately, I have noticed countless times when I go into spas across the country to train their service team. So, let's discuss how to make the wise decisions and avoid a painful and expensive equipment mistake.
Machine Basics
First of all, let's consider the equipment you use over and over again every day. This equipment can be a style choice, a budget choice or a quality choice. Some spas want a certain look for their treatment rooms; therefore, they choose a specific color or style for items like sterilizing equipment, spa beds, hot towel heaters/cabby, steamers and magnifying lamps.
Facial Chair. A great chair is never a luxury item; it is a part of the whole experience. It needs to be extremely comfortable and have an electrical ability to go up and down or lean back and forward. This chair flexibility gives the client more safety and support getting in and out of the facial bed. You want comfortable foot resting, sitting up, or laying down to be easily accommodated by your chair's electrical control.
Esthetic stool. The next "absolute must" should be a great chair/esthetic stool for your spa service provider. One thing I have learned in owning multiple spas is every person has a different posture requirement due to back and neck issues. I find that you should offer a couple of chair options such as a saddle stools, stools with/without a back, full support chairs, and all these options should be hydraulic. The service provider's chair is just like a tool, as they are typically working long hours, and it is a necessary component of them performing their job well.
Trolley. Next, is choosing a great cart or trolley. This is a piece of must-have equipment for every service provider to execute a seamless and attentive service to your clients. A well-organized cart on wheels is a key component of your service provider not leaving the treatment room 20 times in one treatment.
Continue reading about choosing quality spa equipment in our Digital Magazine...
Jaclyn Peresetsky is an esthetician and owner of Skin Perfect Wellness Spa. She is known as the go-to expert in the greater Columbus, Ohio, area for microcurrent treatments, custom blend makeup, eyebrow design, color theory and custom skin care. She is also the author of The Power of Your Colors, and she is working on her second book, The Journey to Perfect Skin. She also has a patent-pending color identification system created to better identify unique color characteristics for choosing makeup.