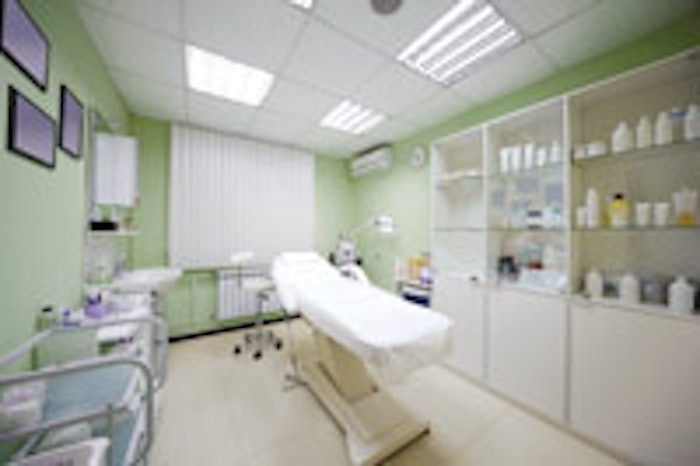 Your reception area may have beautiful flower arrangements, retail displays and delicate finger foods, but if your treatment rooms are a mess, your clients will not be impressed. The correct set up of a treatment room is an indication of your professionalism and dedication to your client's comfort. Every service that is offered in your skin care facility should be performed in an absolutely clean and neat surrounding.
If your budget allows, schedule a maid and laundry service on a regular basis, and have them consistently clean up after each client. If this isn't feasible, have team members take shifts maintaining the facility during open hours, and require everyone to pitch in before the doors are opened every morning and after they are closed every night. Treatment rooms should be immaculate, and clean, fresh sheets and towels must be used with every client. Disposable gowns, head coverings and chair liners may also be used.
The perfect setup
The way you choose to set up your facial room is more important than you may realize. A facial is a serious and scientific treatment, but it is also clients' special time away from the stress of work, family and their daily environment. The mood set by the room and the skin care professional is crucial to client satisfaction.
The door to your treatment room should always open out into the hallway, allowing for optimum room to store all of the necessary materials inside, especially if you are dealing with a smaller area. Wood floors are preferable, because often, tiles don't look as luxurious and carpet is an absolute no-no. In the back of the treatment room, plenty of counter and cabinet space should be available, as well as a sink. (See Ideal Treatment Room Setup.)
Also in the treatment room, the following equipment should be available.
Purifying steamer
Magnifying lamp
Spraying machine
Exfoliating brushes
UV light sterilizer
Autoclave sterilizer
Galvanic machine
High frequency
Trolley or workstations
Facial stool
Treatment mittens and booties
Hot towel cabinet
Wax pot
Multipurpose bed
On the right side of the room, provide hooks and a chair so clients can store any belongings they may have brought in with them. Every detail of your treatment room should be in consideration of your client's comfort. When selecting a treatment bed, consider choosing an option with features such as adjustable height, removable headrest, adjustable foot and headrest, and electric control.
Because the client will be looking at the ceiling for the majority of the treatment, take that into consideration when designing the room. If there are ugly tiles on the ceiling, the clients are not going to feel like they are in a safe, clean environment. Consider painting ceilings in blue or green tones to help soothe and relax clients' minds during their treatments. You could also install sconces with changing LED lights to provide a deeper sensory experience. An air vent in each room is also highly recommended so that there is fresh air moving in and out. Especially after cleansing your utensils, you don't want your client to be overwhelmed with the scent of alcohol. Another nice feature is to have removable or sliding doors between your treatment rooms, allowing for easy transition if your client is coming in for a couple's treatment.
The professional's perspective
Now that the client is comfortable, the skin care professional should be as well. Be sure the facial stool allows estheticians to perform all treatments comfortably, and without strain on their back and neck area. Set up materials in such a way that everything is easily reachable at their fingertips. (See Ideal Trolly Setup.) To the left, be sure to have all of your equipment already plugged in and ready to use. It does not look professional to go to use a piece of equipment in front of a client and find that it won't turn on. On the counter behind the esthetician, have the wax pot and a clean hot towel warmer ready. The cabinet space can be used to store facial supplies, as well as clean linens so the room can easily be turned over when finished with a client.
Ready for success
If you want to have a successful and efficient spa, you have to first start in your treatment room. My father used to say, "You only sleep as well as you have made your bed," so if your treatment room is disorganized and not thought through, the rest of your business will be as well. If your treatment room is ready for success it will reflect in your skin care business.
Lydia Sarfati, president and founder of Repêchage, is an internationally recognized skin care expert quoted in Vogue, InStyle, Glamour and The New York Times, and featured on CNN, CBS and Fox. Sarfati has more than 30 years of experience as an esthetician, spa owner, manufacturer and consultant.