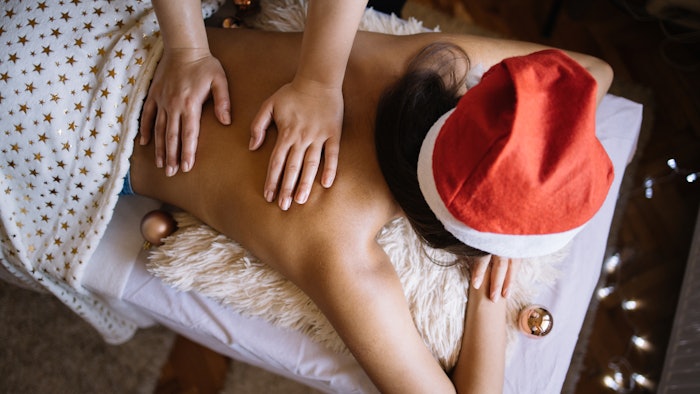 The stockings were hung by the children with care, in hopes that spa treatments soon would be there. Say hello to holiday services and goodbye to dry, dull winter skin with inspiration from top spas across the country. 
Deck the halls with seasonal offerings rom The Ritz-Carlton Spa, Leaf Spa and more. These facilities are now offerings treatments that incorporate holiday favorites like chocolate, champagne, peppermint and cinnamon. You won't want to miss these restorative and unique services. 
Related: 7 Holiday Spa Treatments Clients Will Love
1. The Ritz-Carlton Spa, California
The luxury spa is features an indulgent new collection of festive treatments using fragrant-forward/aromatic treatments drawing inspiration from the scents of the season such as peppermint and chocolate. The treatments are available from December 1 – 31, 2022.
Peppermint Hot Chocolate Ritual: Awaken the body with an energizing peppermint back and foot scrub, followed by a Nano gold collagen face mask and full body chocolate crème massage to deeply hydrate the skin. Choose to enhance the treatment by adding a hot chocolate stone massage that uses chocolate oils and heated basalt stones to relax knotted muscles and rejuvenate the holiday spirit.
Let it Glow Facial: Rich in nutrients and antioxidants, this facial uses the healing benefits of chocolate to nourish skin, with a diamond hydro-gel mask to promote collagen and elasticity, followed by an aromatic moisturizing application that leaves the complexion glowing and ready for holiday festivities.
Peppermint Pedicure: This invigorating treatment begins with a soak in essential oils to relieve tense muscles and soothe tired feet, followed by a peppermint mask and gentle massage, and finishes with a polish of the guest's choice.
Sweeten the Season Spa Package: This package includes all of the above treatments, along with a package of seasonal macarons to enjoy at the spa, or to take home.
2. JW Marriott Bonnet Creek Resort & Spa, Florida
Winter Sols+Ice Facial: Guests will experience the aromas and sensations of winter with this luxurious 80-minute facial that leaves the skin looking and feeling radiant for the holidays. Using Eminence Organics, the treatment begins with a Cranberry Pomegranate Back Scrub and continues on with an aromatic warm towel, a cleanse with Mangosteen daily resurfacing cleanser and a charcoal-peppermint exfoliating wash. A cinnamon-based Hungarian mud mask is then applied to the face, helping to detoxify and stimulate the skin. Finally, spa-goers can top off the holiday treatment with a festive candy cane foot scrub, or indulge in an arctic berry peptide cream, which gives the skin a hydrating glow.
3. Leaf Spa, Florida
Champagne Kisses and Chocolate Dreams: This 70-minute massage is performed with a chocolate infused coconut oil as a skin-enhancer. The massage is followed by a mindfulness meditation led by our professionals to set intentions for the year ahead.
Vanilla Ice Chill: The treatment begins with a full body brushing, application of a warm vanilla bean scrub, followed by the gentle application of ice compresses to address inflammation and problem areas.
4. St. Somewhere Spa, Florida
Hollywood Beach Resort's St. Somewhere Spa is offering holiday massage, facial, manicure, and pedicure treatments this season.
Cinnamon Facial with Eye & Lip Lift: The treatment nourishes the skin, seals in softness, and leaves guests with a youthful glow using microcurrent technology. 
Cinnamon Stone Massage: The massage offers a gentle relaxing therapy to melt away tension with warm, hand-carved salt stones from the Himalayan Mountains, elevated with gingerbread and cinnamon scent. 
Related: 10 Things for a Profitable Holiday Season
5. Seraphina, Michigan
The new spa at the JW Marriott Grand Rapids, Seraphina, is offering three festive and seasonal treatments to keep spa-goers warm this chilly Midwest winter. 
Cranberry Facial: This 60-minute facial cleanses and exfoliates, utilizing cryo ice globes and a cranberry moisturizer.
Warm Winter Pedicure: This treatment includes a massage, brown sugar exfoliation, sweet mask and warm paraffin dip, followed by meticulous nail care and polish application.
6. Davenport Spa & Salon, Washington
Golden Glow Facial: Meant to energize and refresh the skin, the treatment features a 24-karat gold infused collagen mask placed over a bubbling oxygenating treatment of turmeric and stone crop from organic brand Eminence Skincare. A cooling quartz stone massage is performed over the nanogold mask to further penetrate the healing benefits of the gold into the skin, for a luxurious anti-aging service that will leave guests with glowing, balanced skin.
7. ADERO Scottsdale Resort, Arizona
Arctic Berry, Bright and Merry! Treatment: The service starts with a deep exfoliation combined with a botanical peptide infusion, delivering an instantly younger-looking, glowing appearance. Arctic Berry Enzyme & Peptide Illuminating System targets blemishes, uneven skin and fine lines. A deep exfoliation combined with a botanical peptide infusion, delivers an instantly younger-looking, glowing appearance.
8. Esterra Spa & Salon, Florida
Pure relaxation and rejuvenation await this holiday season at The Esterra Spa & Salon in Cape Coral, Florida. The resort's full-service spa offers two festive pedicure treatments spa-goers can reserve.
Cranberry Crush Pedicure: This aromatic cranberry infused pedicure service includes an exfoliation and a massage.
Jack Frost Pedicure: Refreshing peppermint aromas put guests in the holiday spirit.