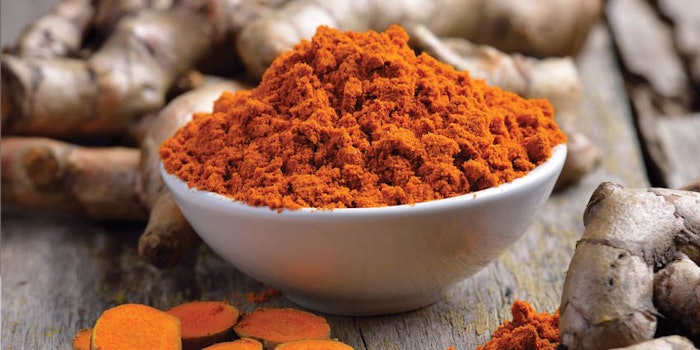 Turmeric—recognized scientifically as Curcuma longa—is typically a yellow to reddish-brown powder derived from the rhizome of the plant, which belongs to the ginger family. It is grown widely across the south and southwestern tropical regions of Asia. Turmeric's use dates back centuries in China and India, mainly for medicinal purposes such as treating dermatological diseases, infections, stress and depression.1 Traditionally, to use the ingredient topically, it is mixed with water or honey to form a paste, then applied directly to the skin, although this can cause the skin to temporarily stain yellow.
While the culinary industry is familiar with this ingredient as a warming herb, it is also used historically and medicinally as an anti-inflammatory. The ingredient can be taken orally by mixing dried turmeric in liquid and consuming it.2 Indeed, its biologically active component, curcumin, has demonstrated anti-inflammatory activities in medical studies, and it has found applications to treat a wide range of rheumatologic diseases such as arthritis.3
Turmeric contains powerful antioxidants with therapeutic benefits for skin as well, such as healing and preventing dryness and itchiness3 in psoriasis, eczema and acne treatments. The ingredient can additionally slow the process of wrinkle formation.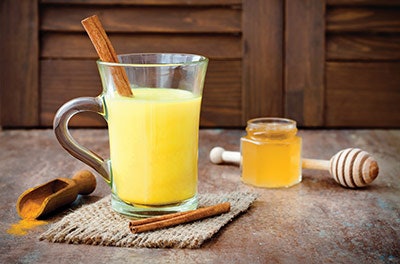 Turmeric also has valuable impact as a complement to a variety of skin care formulations. For instance, it boosts the sun protection qualities of zinc oxide, forming a powerful UVA and UVB blocker. And because it is an antioxidant and anti-inflammatory with free-radical scavenging capabilities, it is ideal in peel formulas, particularly those with retinol.4 Recent studies demonstrate the versatility of this ancient ingredient.
Curcumin Cures
Turmeric/curcumin has shown chemo-preventive properties and contains free-radical scavengers that decrease radiation-induced lipid peroxidation and DNA damage.5 Additional studies prove that when curcumin is utilized in topical formulations such as films, fibers, emulsions, hydrogels and different nanoformulations, the active helps to target and heal wounds.6
Researchers explored a topical cream including turmeric to mitigate radiodermatitis. Vicco turmeric was used in an ayurvedic cream (VTC) at 16%, along with sandalwood oil at 0.5%, in a non-greasy base. It effectively mitigated radiodermatitis in cancer patients undergoing curative radiotherapy.7 In a more recent iteration of the study, researchers compared the effects of this same cream with Johnson's Baby Oil to determine which more effectively helped to prevent radiodermatitis in women undergoing curative radiotherapy for breast cancer. Results showed VTC was more successful, demonstrating anti-inflammation, antioxidant, cytokine modulation and enhanced wound healing effects.7
The described activities are primarily rooted in the aforementioned active component, curcumin, which belongs to a group of compounds known as curcuminoids. These entities contain tetrahydrocurcuminoids (THCs), whose high-level antioxidant activities rival that of curcumin.4
Antioxidants at the Source
Regarding activity levels, another study8 compared the antioxidant content and properties of aqueous and ethanolic extracts of different types of turmeric from different locations. The researchers assessed types known as mura and chora, from the Bangladesh-based areas of Chittagong and Khulna. These extracts are highly regarded for their antioxidant properties and polyphenol, flavonoid, tannin and ascorbic acid content.8
Chittagong's mura sample contained the highest concentrations of polyphenols, flavonoids and ascorbic acid, while its chora sample provided higher yields. On the other hand, Khulna's mura sample showed higher radical-scavenging activity, while its chora had the highest ferric reducing antioxidant power.8 The study confirmed these turmeric varieties contained natural antioxidants that can protect against free radical damage.8
Anti-acne and Sebum Control
With turmeric's anti-inflammatory, wound healing and antioxidant properties, the ingredient offers a natural solution to reduce acne2 both as a nutraceutical and a topical. Furthermore, it has been shown to act as an antibacterial and antifungal, and protects skin from infection while adding a healthy glow.9
In a recent study published in the South African Journal of Botany, turmeric was explored for potential skin benefits. Methanolic extracts of 25 plants were screened for antibacterial activity against Propionibacterium acnes, and to isolate their bioactive compounds. Results showed Curcuma longa (turmeric), Myrtus communis (myrtle) and Myristica fragrans (nutmeg) inhibited the growth of P. acnes.10
In related work,11 the effects of a skin cream incorporating turmeric extract on sebum secretion was evaluated in a small study. Four weeks into the study, those who applied turmeric-containing cream showed a significant decrease in sebum secretion levels, which continued through three months; reaching a maximum of 24.8% sebum secretion reduction.
Whitening Effects
Turmeric's ability to heal damaged, scarred skin presenting with hyperpigmentation is one aspect of its overall skin-lightening effects. Another, as highlighted in new research12 in Artificial Cells, Nanomedicine and Biotechnology, is its tyrosinase-inhibiting activity. According to this study, curcumin was encapsulated into solid lipid nanoparticles and incorporated into a gel for testing. In vitro, the gel inhibited tyrosinase, which in turn reduces the formation of melanin.12
In relation, turmeric-derived THCs were named in a recent patent for their skin-whitening activity.13 Furthermore, the patent describes a derivative developed from curcumin-sourced THCs that is added to cosmetic formulations not only for its skin-lightening and antioxidant properties, but also its esthetic advantage: it is colorless, unlike curcumin which is yellow-colored. This greatly improves its formulation esthetics.13
In the Spa
Turmeric is rising in popularity in the spa industry, with its use ranging from lightening and brightening to acne.
Turmeric is a popular ingredient in Asian spa facials. For example, the Banyan Tree Spa Ungasan (Bali, Indonesia) combines the gold ingredient with honey, tamarind and sesame seeds for its Turmeric Honey Cleanser. The treatment (30 min., ~$40) is said to exfoliate and brighten all skin types.
At the Tea Tree Spa at Holiday Inn Resort Phuket Mai Khao Beach (Phuket, Thailand), many of the body treatments utilize a scrub made of turmeric and honey, a reported Thai beauty secret to cleanse the skin and stimulate new cell growth. Its Siam Signature (120 min., ~$62 single/~$120 couple) treatment starts with a Thai massage and herbal compress and finishes with a turmeric scrub.
Stateside, 3,000BC Spa in Philadelphia helped clients bring their winter skin back to life in spring 2016, with its special Turmeric Glow Facial. This anti-aging treatment was said to reduce the signs of aging and clear skin for a youthful glow.
Earthbody Spa (San Francisco) utilizes turmeric in its signature facial massage, Abhyummy (90 min., $225). Inspired by the ayurvedic massage abhyanga, the treatment is a full-body rhythmic massage of warm shea butter infused in comfrey, marshmallow, arnica, turmeric and lemon balm to mend, calm and nurture the natural state of being. The treatment also incorporates an abdominal massage, steaming towels, effleurage of the neck and shoulders, a warm oil head massage and marma facial release.
Many spa manufacturers have recognized the myriad of benefits that turmeric has to offer and have utilized it in their formulations. Cosmedix formulates with the ingredient in its Purity Solution, where it helps tone the skin and balance sebum. Turmeric's anti-irritant function is utilized by Glo Skin Beauty in its Phyto-Active Firming Serum. "Turmeric contains curcumin, a substance with powerful anti-inflammatory and antioxidant properties, making it a skin beneficial ingredient," noted Robin Olson, vice president of marketing for the company. Lady Burd formulates with turmeric in its Perfect Finish Purifying Spray to clarify and refine pores.
The lightening properties of turmeric are harnessed in Éminence Organics' Bright Skin Targeted Dark Spot Treatment. Along with licorice, punarnava and Gigawhite, turmeric is said to lighten pigmented spots.
"Turmeric has the ability to both lighten sun damage caused by harmful UV rays through its antioxidant power as well as lighten pigment scarring from burns, acne or any form of trauma. I believe that turmeric is most likely nature's strongest anti-inflammatory, in particular, it inhibits the inflammation that causes our collagen and elastin to break down. The group of natural chemicals that occur in turmeric are called curcuminoids, which give it the ability to act as an anti-inflammatory and inhibit tyrosinase, the primary enzyme that activates pigment production," explained Boldijarre Koronczay, president of Éminence.
Turmeric's brightening benefits are also utilized in Aveda's Tulasāra Wedding Masque Overnight, where the ingredient helps to even skin tone and restore luminosity. It is also used to brighten in Kerstin Florian's Brightening Facial Treatment, where it also helps with elasticity and moisture. On its use in skin care, Kerstin Florian's global director of education and training Trina Jefferson noted, "The properties that make turmeric so healthy and effective as a dietary supplement make it equally advantageous for our skin. This sunny, bright spice is widely known for its anti-inflammatory, healing, moisturizing and antioxidant benefits."
Above and Beyond
Turmeric use dates back centuries for its natural healing powers to benefit skin inside and out.14 This ingredient has an endless list of benefits, so no doubt, its use in skin care will be promoted for centuries to come.
References
tandfonline.com/doi/full/10.1080/10408398.2015.1077195?scroll=top&am;needAccess=true
www.pharmatutor.org/articles/turmeric-as-medicinal-plant-for-the-treatment-
of-acne-vulgaris
ncbi.nlm.nih.gov/pubmed/28662006
skininc.com/skinscience/ingredients/Herbs-Spice- and-Everthing- Nice-for-Skin-Health-420618813.html
mdpi.com/2305-6320/4/3/43/htm
sciencedirect.com/science/article/pii/S1359644616304378
mdpi.com/2305-6320/4/3/43/htm
www.hindawi.com/journals/jfq/2017/8471785/abs
https://scholar.google.com/scholar?as_ylo=2016&q=turmeric+for+anti-
acne&hl=en&as_sdt=0,14
www.sciencedirect.com/science/article/pii/S0254629916341436
www.ijpr.in/Data/Archives/2016/dec/0911201601.pdf
www.tandfonline.com/doi/abs/10.1080/21691401.2017.1373659
www.google.com/patents/US9447023
freepatentsonline.com/y2017/0157193.html
(All websites accessed Sept. 27, 2017)