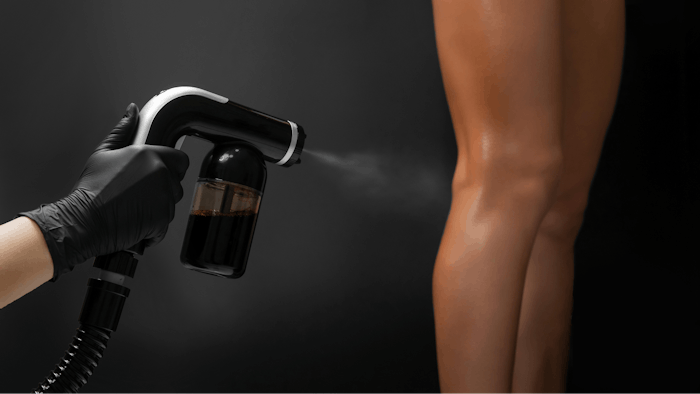 To tan or not to tan? I think it's safe to say most of us want that sun kissed glow, but as an esthetician and pale skinned ginger, I preach skipping the unpleasant sun burns and sun damage and jumping straight to the sunless tanning options.
Sunless tanning sprays and at-home-care products have never been so natural looking and long-lasting. Not to mention, the new pleasant-smelling solutions that have me dreaming of cold pina coladas and sandy beaches. So how do you, a business owner or established spa, bring this service to your clients in the most cost-efficient way while not cutting corners on quality and also bringing in that five-star review?
You may not think you have the right space or enough space for such a service. If that is the case, let's talk about your options and how this can be attainable without emptying your bank account on a custom buildout or renovation.
Portable spray tan tents and small air filtration systems can be quickly set up in an existing facial or wax room and just as easily removed to allow for other services. Tanning tents are easily stored and are just as convenient to travel with. If you have the space for a designated spray room with a backdrop or shower like surround with built in air filtration and lighting would be a beautiful addition to any salon or spa. So, before you start moving furniture around, let's jump back to your basic necessities and create your list of must-haves.
Related: Body Contouring with Spray Tans
Choosing Your Solution
Your first and most important investment is your tanning solution. Sunless tanning is definitely not a one-size-fits-all industry, but doing our research to find solutions with multiple options and room to grow may be just where you need to start.
When I decided to add spray tans to my spa menu, I started by researching the top brands on the market, but then decided to attend a beauty expo so I could see my options in person. I found that researching each brand, asking for samples and even smelling the solutions to be that missing element I was seeking, and gave me the confidence I needed to know I was bringing my clients the best options available.
Social media has given us the ability to see products being tested and used on a live platform, and that can also help in our quest for new products. I suggest choosing a brand that fits your business style, space, and will allow you to grow and build upon as your business grows. For example, if you plan to start with mobile tanning services, you may not want to pack three to four different color options in your travel bag, so starting small is key.
A suggestion would be to start with two options. The first option being a rapid drying solution with an added bronzer for that instant out the door glow, and the second option offering a gradual color builder that can be rinsed off in two hours for a light tan, four hours for a medium tan and six or more hours for a dark tan. You may also want to invest in a PH balancing solution that is sprayed onto the skin before the application of the tan to enable the sunless tanner to penetrate and develop evenly on the skin.
As your clientele grows, you may find it necessary to add custom color options to your tool bag such as DHA (Dihydroxyacetone) drops, which can increase a tan by one to two levels per dropper. Colorless solutions may also be an option, but for the beginner and even the most seasoned tanning artist, it helps to have a built-in bronzer to show you where you have already sprayed in order to achieve an even tan with no streaks. Most solutions will offer violet or green undertones to help neutralize and correct warm or cool skin tones, but you may want to include a spot test on your client's wrist before treatment to see if the solution will suit their skin tone and needs.
Finding Your Spray System
Now that you have your solutions, you will need a spray system. When shopping for spray guns and compressors it is important to know the differences in your options. HVLP (High-Volume, Low-Pressure) airbrush units generally come with a gun, hose and a separate source of pressure such as an air compressor. Is an HVLP system necessary? HVLP guns atomize paint faster, more accurately, and at a lower pressure than traditional paint guns, creating a softer, more even spray. That being said, don't disregard the smaller portable options. Many of these mobile guns are equipped with fine, stainless-steel needles and nozzles allowing for a precise airbrushed look, durability, and resistance to corrosion and breakdown of the nozzle.
These portable units can be great for smaller jobs or private events such as wedding parties where travel is required. Although they are small, they still pack a punch. These units include built-in turbines or air systems that work much like a hair dryer eliminating bulky hoses and air compressors. The only drawback that I have experienced while using smaller units, is their tendency to overheat when used on more than a handful of clients tanning back-to-back.  
Related: The Glowing Future of Spray Tans
Equipment Must-Haves
Whether you are tanning your clients in a custom designed room with perfect air flow and lighting or in a hotel room or using a spray tan tent and a ring light, the expectations of your end result are still the same. As clients, we all want to feel taken care of while being provided a service, and love being educated on all tips and tricks of how to maintain our freshly tanned skin for as long as possible.
Aside from your solutions and spray system, it is a good idea to provide the following items to your clients to ensure a uniform and streak free application. If providing mobile services, shop for a crafters bag that provides plastic containers to organize your supplies or even a wheeled carry-on suitcase will do. Keeping these items close at hand will keep your service timely and tidy.
Disposable bra top and bikini bottom
Adhesive disposable foot sole protectors
Hair nets or shower caps
Pony tail hair bands
Barrier cream for the palms of the hands
Baby wipes
Finishing powder and application bush
Gloves for yourself
Portable lighting
Extraction fan
It is crucial that you give your clients a pre and post guidelines, so that they have the best knowledge and understanding of how to prepare and maintain their tan. Provide this list on your website under your service description or display small printed cards for them to take home after booking or receiving their service. This is a great touch for any service item requiring pre and post instructions.
My final bit of advice is to love the service that you are providing. Adding love and passion to all of your services will show in your presentation and end result. Make time for details. Taking time to make sure your travel bag or shelves are stocked with all of the supplies will ensure your services flow as seamlessly as possible. Being prepared will allow you to enjoy your work and ensure that client will rebook with you on the spot or in the near future.
Brenda Stevens, owner of Utah Body Sculpting & Skin, is a master esthetician and body sculpting educator residing in Central Utah. Since becoming an educator, Stevens has been able to work with and train countless licensed professionals across the U.S. and Canada, all searching for the best body sculpting tools, treatments and protocols for their clients.