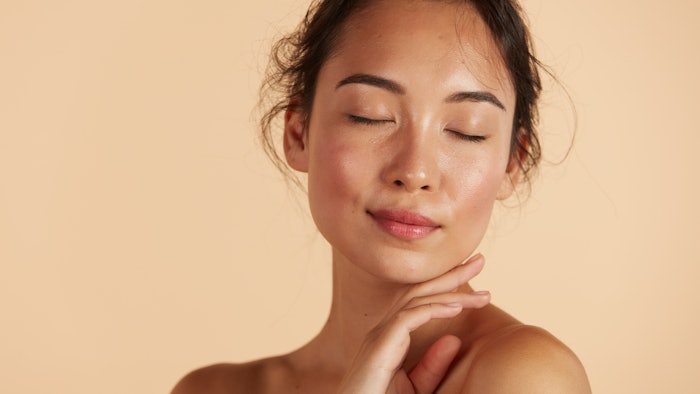 Reflection Correction with the Glass Facial Trend
Move over skin cycling, there's a new trend in town. If you haven't heard of the "glass facial" yet, we're here to tell you everything you should know about this non-invasive cosmetic treatment, and how it fits into an esthetic setting. 
This injectable procedure involves skin booster micro injections of HA with a micro-dose toxin. The glass facial uses resurfacing modalities combined with nutrients and PRFM (plasma) in small quantities through fine microneedles that infuse solution through a "mini injector." This process helps the solution to micro-inject to the depth of the correction, without losing the product benefits.1
The injected ingredients hydrate the skin, leaving it more plump, glowing and smooth. This anti-aging and moisture boosting treatment reduces pore size, improves skin aging or crepiness and has a mild tightening effect. The client's own plasma has been show to stimulate collagen, fill fine lines and wrinkles and treat pigmentation. Let's dive deep into the this trending procedure, and if it's the right fit for your offerings. 
Related: Microneedling: Setting the Needle Straight
What You Should Know
Skin Inc. reached out for industry insights from Jwala Karnik, Chief Medical Officer at BeautyHealth. The expert shared what skin professionals should understand before considering offering this service. According to Karnik, the glass facial has actually been around for years.
"The concept is to use a small array of needles that reach a superficial depth to create microchannels in the skin. Attached to the needle array is a reservoir chamber that can house a liquid that travels through the needles, into the channels and therefore into the skin," said Karnik. "Typically the liquid is hyaluronic acid and/or a toxin, but can also consists of vitamins, peptides, platelet-rich plasma (PRP) and other ingredients." 
While this treatment is not a replacement for cosmetic fillers or enhancements, it instead can be used as an add-on service to boost overall skin health.2 The procedure can be performed every six to twelve weeks, and should be recommended as a repeat service to maintain results. 
Facial Protocol
As for performing a glass facial, a topical numbing cream is applied to the skin, and the device uses microneedles and suction to generate cell renewal in the epidermis. The gentle punctures of the skin allow for hyaluronic acid and the microdose toxin to be dispersed into the dermis to improve results and product penetration.3
Renew MD Facial Aesthetics in Texas offers the procedure on their treatment menu. The practice's board-certified physician and surgeon, Dr. Alexis Gordon heads the service. The treatment begins with a cleansing of the treatment area, and Dr. Gordon uses a topical anesthetic to numb the area and minimize discomfort during and after the facial. Micro injuries are then created on the face using a SkinPen device, and Botox is infused into the skin through an internal system of the microneedling device. The practitioner may first perform microneedling, and then spread the Botox serum across the skin as well.4
Related: Protocols in Practice: Anti-Aging
Glass Facial Benefits
This cosmetic procedure offers numerous benefits that clients looking for anti-aging or hydrating treatments would be interested in. According to Karnik, the glass facial provides deep hydration and can help skin look smoother, glowing, reduce pore size and create a mildly tightened appearance. 
The glass facial is suitable for both men and women of all skin types and corrects various skin concerns. It is also a great preventative and anti-aging treatment for those in their 20s and 30s who are looking to prevent wrinkles and maintain a healthy, youthful glow.5
"The treatment is an effective way to deliver skin care ingredients and enhance their effects whether they are used for brightening, addressing pigmentation, or preventative uses," said Karnik. 
This facial is a collagen booster, and promotes healthy cell turnover. Whether your client is interested in preventative skin care, or looking for non-invasive methods for treating facial aging, this treatment will give skin a full and healthy glow. This anti-aging technique is the ideal addition to your microneedling or filler procedures, and keeps clients booking repeat appointments.
Important Reminders
If someone is having a treatment that uses a diluted (or undiluted) hyaluronic acid dermal filler or a botulinum toxin, it's important to note that these are off-label indications for dermal fillers and toxins, according to Karnik. This means providers may use these fillers in a glass facial if they feel they are appropriate in their medical opinion, even though the FDA has not approved it for these indications. 
"Using dermal fillers in a microinjection pattern in this manner deposits hyaluronic acid in the superficial layers of skin where it can attract water to hydrate skin and gently smooth out fine lines and wrinkles, scars, and improve skin texture," said Karnik.
"Microinjections of botulinum toxin have a very interesting observed effect of rreducing the appearance of enlarged pores, reducing sebum production, reducing redness, and improving skin texture."
References