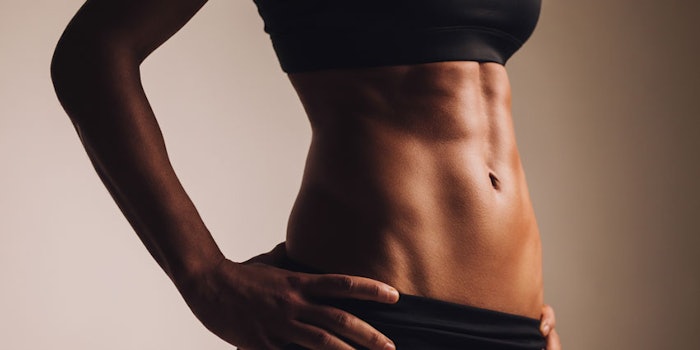 Wait, isn't body contouring a form of weight loss surgery? What does that have to do with spray tanning? I will let you in on a little secret... we're not talking about expensive, risky procedures. In the spray tan world, body contouring is a wildly popular form of spray tan art (yes, art!) that allows you to carefully shade different muscles, curves and parts throughout the body to create a look that will allow your client to look beach ready in the matter of minutes.
Body contouring is applied to the client before their spray tan, to allow full visibility for the artist to create the desired outcome. Using a very small gun for precise spraying, the artist is able to sculpt muscles and enhance bone structure including the face, cheek bones, forehead and even nose. You can use body contouring on the legs, stomach, back, arms, collarbones and cleavage; the creativity is limitless.
Becoming a Body Contour Artist
As they always say, "if you can't tone it, tan it." Now, with body contouring, you can do both! Set yourself apart and become the expert in the sunless industry by perfecting your art and expanding your craft through body contouring. As with most spray tanning training, you can get trained and certified in body contouring online or in person. Whether you learn this sought-after technique online or in hands-on training, remember that body contouring is an art. It's going to take practice, practice and more practice to perfect your style! Don't be afraid to take your time to memorize the natural bone and muscle structure of the human body so you can create realistic contours that look natural on your clients. Your clients will be absolutely obsessed once they experience body contouring with you.
Know Your Clientele
While both men and women equally request body contouring with their spray tan service, men typically prefer to achieve a more buff appearance and women typically prefer to achieve a smaller, more feminine, toned appearance.
With the right training, you can cater to all of these requests. Furthermore, there are several ideal clients you should be prepared to advertise this service to, including but not limited to: brides, vacationers, athletes, models, celebrities and clients preparing for a special event at which they want to showcase certain features. As with spray tanning in general, I highly recommend you do a quick 5-minute consultation with your client at the beginning of their appointment to go over their specific goals for getting a body contour tan. This ensures you will create the desired look they're going for and can ask questions that will help you understand which areas of the body they're wanting to showcase.
I absolutely love body contouring spray tans because it's such an accessible, easy way for our clients to get a truly special glow up. Enhancing those curves or muscles is a serious confidence boost for my clients, and I can see it in the way they walk out of my salon. That for me, is worth it. After all, we're in this industry because we love to lift up, pamper and cater to our clients. I find that body contouring is a magical way to create a stand-out experience for my clients.
Body Contouring Benefits
Whether you're a seasoned spray tan artist or you're just getting started in the spray tanning industry, body contouring adds value to your business in so many different ways. Consider how adding contouring will expand your clientele, make you more profit per client and help you as an artist stand out from the crowd.
Compared to other services, spray tanning can be a very profitable business with minimal overhead, labor, products, equipment and other costs. Adding body contouring to your services will allow you to bring in more profit per client without much of an investment on your end. Outside of the necessary training and some equipment, you should already have the majority of tools and products to execute a body contour spray tan. This means you're looking at a small investment that will bring you a huge profit!
I recommend adding a service charge of $35 on top of your normal spray tan price. So if you normally charge $40 for your tans, I'd recommend you charge $75 for your body contour tan. This extra $35 will cover the additional sunless tanning solution you use for the contouring, as well as the extra time it takes you to complete the tan. A normal spray tan can typically take 15 to 20 minutes from start to dry, and a contour tan can take around 30 to 45 minutes for a pro artist, and closer to 45 to 60 minutes for a beginner artist. When starting out, you might try to space your appointments out to give ample time for each body contour tan. As time goes on, you'll get faster with your body contouring skills and will be able to take more clients each day. This service is sure to set you apart and create loyal raving fans who absolutely love to book with you.
For more information visit www.spraytanclass.com.