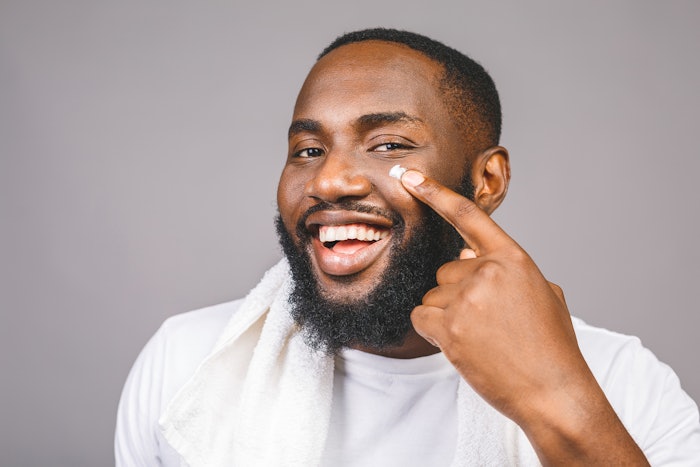 2023 is the ideal time to focus marketing and treatments efforts in men's skin care offerings. The global men's skin care products market is expected to reach $28 billion by the end of 2029, according to a research study by Future Market Insights (FMI). The market is projected to witness growth at a double digit CAGR through 2029. 
The study discovered that the sales of men's skin care products are highly concentrated in shaving products, moisturizers, creams, sunscreens, cleansers and face wash. However, it was found that men believe the side effects associated with the use of personal care products will remain the key factors limiting sales of men's grooming products in the future. 
Related: More Men In The Spa
Men's growing interest in natural and organic skin care will prompt manufacturers to focus on develop these trending products. They will also maintain a focus on sophisticated product ingredients and packaging for increased profit margins, according to the study. 
Another important factor driving men's skin care market growth will be the growing demand for anti-aging products and moisturizers. 
Key Study Takeaways
Europe will hold significant shares in men's skin care products market due to the high concentration of beauty and skin care manufacturers in that region. 
East Asia will serve as an investment picket for companies in the men's skin care products landscape, as the J-beauty and K-beauty cosmetic trends are growing in this region. 
The increased demand for organic products will be one of the key attributes driving global men's skin care products market growth. 
Oily skin issues in men will remain the top revenue generator, whereas issues with sensitive skin are hinting at a rapidly emerging category for investors. 
Clean Beauty Opportunities
The clean beauty movement and microbiome skin care have gained popularity in European markets, due to high product awareness among consumers. The study observed the latest trends in the skin care industry, which will drive the European beauty and personal care market growth. These trends result in the region accounting for the highest revenue share in the market. 
Related: Trending: The Boom in Male Grooming
Premiumization is Trending
The study found that product premiumization has been observed as the latest trend in the men's skin care products market. Companies are now offering natural and organic skin care products with natural extracts in attractive packaging that falls under the premium category. 
Globalization and economic growth, especially in developing countries, will offer increased opportunities for companies to capitalize on. These companies are resorting to premiumization of their personal care product portfolios to strengthen their market position. 
Market Winners
The report shared the prominent players in the global men's skin care product market as: Procter & Gamble plc, Beiersdorf AG, Johnson & Johnson Services, Inc., Estee Lauder Companies, L'Oréal S.A, Unilever PLC, Clarins Group, Chattem Inc., Clinique Laboratories, Kiehl's LLC, Susanne Kaufmann Company, Lancôme Company, Galderma Laboratories, L.P., and Aveda Corporation.
These key players are targeting millennials with high spending capability, and are developing premium product ranges that are endorsed by notable celebrities.