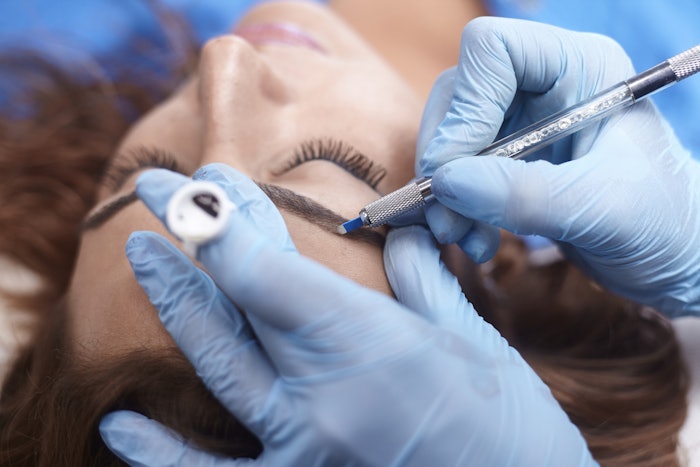 Brow care are always a hot topic when it comes to beauty. Because of the constantly changing brow trends, spa professionals are constantly adapting to new methods of brow treatments for their clients. One service in particular that gained a lot of traction in 2018 and has only continued to grow is microblading. 
Kristjana Sunna, founder and consumer advocate for Go Permanent, analyzed Yelp listings to see what cities love eyebrows the most. To do this, Go Permanent counted the number of Yelp listings in Yelp's microblading category in each of the top 20 most populous cities in America. 
Related: Diversity in Permanent Makeup
The factors that went into the ranking system included the population rank of the city, the number of microblading salons and the number of salons per 10,000 people. 
Top 20 Microblading Cities
Los Angeles, CA
Seattle, WA
San Jose, CA
San Diego, CA
Washington DC
Phoenix, AZ
Denver, CO
Dallas, TX
San Francisco, CA
Austin, TX
Houston, TX
Fort Worth, TX
Charlotte, NC
Chicago, IL
Indianapolis, IN
New York City, NY
Philadelphia, PA
San Antonio, TX
Jacksonville, FL
Colombus, OH
Related: Brow Chica Brow Brow: Shaping Tips for Clients' Faces
Microblading in the U.S.
Los Angeles came out on top with 4.62 salons per 10,000 people in the city. They also had a total of 1,800 microblading salons, which far surpassed any other city. Columbus, OH came in last with note ven 1 salon per 10,000 people (0.72), and they only had a total of 65 microblading salons in the entire city. 
While New York City came in at number 16 on the list, they also had less than one salon per 10,000 people, which was a surprise since they were listed as the top population rank. In total they had 818 microblading salons, which was the second largest amount of salons in a city, but with their population being so high it led to only having 0.93 microblading salons per 10,000 people. Chicago was also a surprise in their ranking being the third most populated city, but the 14th city in Sunna's microblading ranking. 
Meanwhile Seattle was ranked number 18 in population status, but it was ranked number two in microblading having a total of 355 salons and 4.55 salons per 10,000 people. It's safe to say that there is definitely a market to make money when it comes to brows in general and especially microblading brows.