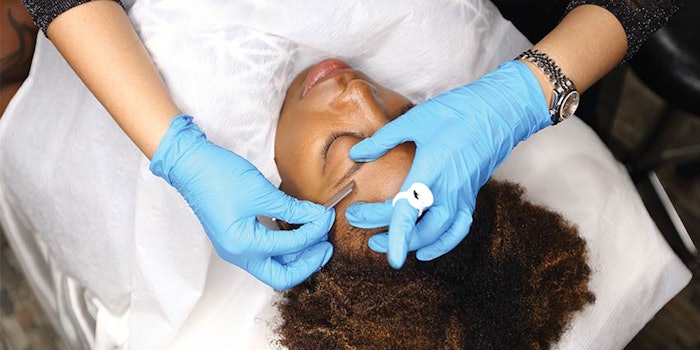 Permanent makeup has been on a steady incline in the past decade, and clients flocked to their permanent makeup artists in droves when mask wearing arose in the last few years and they realized they needed to enhance their eyes in a low maintenance, high impact way. However, what many may not know is that permanent makeup (PMU) differs in technique and trends when treating darker skin tones, and it is vital for all PMU artists to become aware of this and educated on these techniques to not only better serve clientele, but also to make more money. That was why four PMU artists of color got together and formed the Black Micropigmentation Association (BMA) to amplify the voices, expertise, and experiences of Black permanent makeup artists across the globe. We sat down with the BMA's founders—Shalon Burruss (SB), Dior Davenport (DD), Sheron Devlin (SD) and Kechia Taylor (KT)—to talk about trends in PMU, how PMU differs with melanated skin and why it is important for PMU artists to get more education on performing PMU on melanated skin.
SI: What trends have you seen in recent years in PMU?
DD: The major trends in permanent makeup in recent years are powder brows, nano brows and lip neutralization. The powder brow technique is the perfect option for clients who have no eyebrow hair or like their eyebrows to look like eyebrow powder. Nano brows, also known as hair stroke brows, are created using a one point needle and permanent cosmetic machine. Nano refers to the size of the needle and the technique of creating hair strokes that mimic eyebrow hair. Lip neutralization is an advanced technique that neutralizes dark lip color, allowing clients to get a more even lip color. These three services have become extremely popular in the PMU industry.
SI: Talk to me about how PMU is used by all skin tones?
DD: Skin tone as well as skin type determines which service is best for your client. However, there are techniques that are more suited for melanin rich skin tones such as nano, nano combination and ombré/powder brows. With lighter skin tones, you have the option of the services mentioned above, plus microblading when it comes to brows. Other PMU services such as eyeliner, lip blush/neutralization can be performed on all skin tones. Advance skills and techniques are necessary when dealing with darker skin tones.
SI: Are the trends in style for PMU the same for darker skin tones?
DD: The trends for darker skin tones are ombré/powder brows and nano brows. Although these procedures are trending in the PMU industry, these two procedures are the best options for melanin rich skin tones.
Continue reading our EXCLUSIVE interview with the BMA in our Digital Magazine...