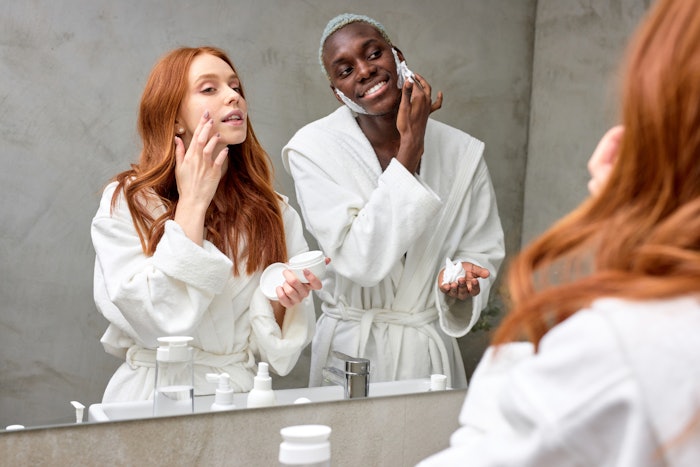 As estheticians, we know that the order in which skin care is applied can have a great effect on the results of products for the skin. Whether it is a morning or nighttime routine, we recommend specific product orders for our clients. A surprising skin care order trending currently is... backwards. 
TikTok's reverse skin care trend changes up the traditional order of products in a routine, so that users are starting with the product they would normally apply last. For example, a reverse skin care routine would begin with the application of moisturizer first, and toner last, flipping the usual thinnest to thickest therory.1
The new routine was started by content creator and beauty enthusiast, Ava Lee, otherwise known as @glowwithava. The creator is also known for creating the buzzing "Jello Skin" trend that took social media by storm in 2022. We here to share what you should consider before discussing reverse skin care with your clients, with the input of skin expert, Dr. Dennis Gross, of Dr. Dennis Gross Skincare. 
Related: TikTok Trend: Get the Jello Skin Glow
What You Should Know
Reverse skin care urges users to cleanse the skin and then apply moisturizer in a thick layer, similar to a face mask. Directly following the moisturizer, a cotton pad soaked in toner should be applied to the skin, along with serums and oils.2 This combination is intended to make for more supple and plumper skin, with a luminous glow. 
The proposed benefit to this skin care routine is to provide an instant "moisture lock" on the skin, and then topical hydration after, according to Katharine Mackenzie Paterson, skin care expert and Founder of KMP Skin in an article for Elle. The reverse order of skin care products momentarily provides a suppleness to skin, but might not carry positive lasting effects.
Is Reverse Skin Care Effective?
The question is, is this method actually effective and beneficial to the skin? Traditionally, moisturizers are applied to the skin at the end of a routine to act as an occlusive that forms a protective barrier and aids in increased product penetration. By flipping the routine, the occlusive is now applied before the rest of the thinner skin care products. 
This thicker substance being applied first forms a barrier that can potentially lessen the product's penetration, and the benefits that they would have provided by being applied directly to the skin before moisturizer.
"Applying skin care in the correct order – thinnest to thickest – is necessary to maximize treatment results for the client. No matter what the active ingredients are, products with larger molecular weights can block smaller ingredients from penetrating the skin and ultimately doing its job," said Dr. Gross. "Thick, creamy products are designed to create a seal or a barrier, helping to prevent loss of moisture and protect against pathogens. Placing a serum or booster over this barrier will hinder its ability to properly penetrate."
While this trend seems to provide physical benefits displayed in social media content, the results might actually just be a façade. By applying a serum over a moisturizer, there will be a glowing sheen observed on the skin, but that effect could be the light reflecting off the serum, as opposed to actual skin care benefits.3
Related: 3 Steps to Check an Ineffective Skin Care Routine
The Bottom Line
This routine has the potential to decrease the benefits of other products, and only provide hydration from the moisturizer application. If your clients decide to try out this trend, they could experience adverse or no results from the skin care products that you retailed to them after their treatments.
"Serums and gel-based products are designed with delivery systems to carry the active ingredients deep into the dermis and activate skin cells. Reversing the order makes all the products placed on top of a moisturizer or oil obsolete," said Dr. Gross. "I recommend trying the scientifically proven - and tried and true - method of skin care layering and not wasting resources and time on this trend."
By educating your clients on the correct order to apply their at-home skin care regimen, you are ensuring optimal benefits for their skin, and more opportunities for you to successfully retail products that generate proven results and customer loyalty. 
References: