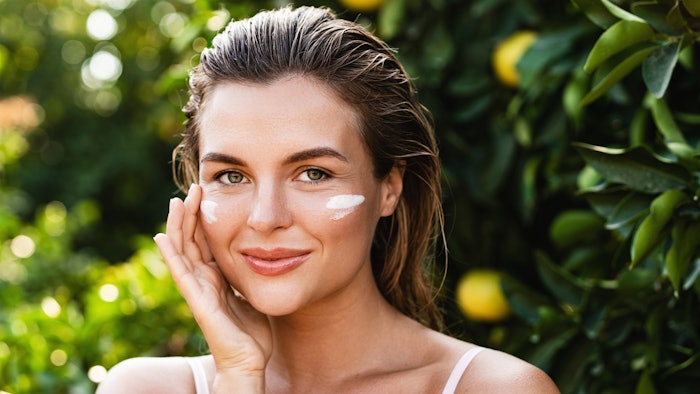 The global UV booster market experienced a yearly growth of 4.5% in 2022 to reach a value of U.S. $116.5 million, according to a report by Fact.MR. The application of UV boosters in skin care cosmetics increased by 4.3% to reach a U.S. $53.8 million in 2022. The global market value is projected to reach U.S. $199.6 million by 2033 with demand for UV boosters set to increase at 5.1% CAGR over the next decade. 
Benzophenone recorded the largest market share with 36.5% in this sector. The demand for benzophenone is anticipated to increase at the highest CAGR of 6.3%, to reach U.S. $76.2 million by 2033. Benzophenone is used as a sunscreen agent/UV booster in various types of beauty products to protect the skin from harmful UV sun rays. Various types can be used in combination with oil-soluble UV filters to boost sun screening properties.  
UV boosters are available in the form of liquid stain additives, and are equipped with the latest technology in ultra-violet light inhibitors. The utilization of UV boosters for protection against external elements is expected to see significant growth due to the rising awareness of the importance of SPF protection. 
Related: Sunscreen Reminders for Daily Use
Consumers are moving away from chemical or synthetic products that include hazardous chemicals and turning to natural and organic products. This increasing demand will bolster the consumption of UV boosters that are used in natural sunscreen products for various applications such as skin care, makeup and more. 
Manufacturers should focus on clinical approvals and certifications from various government-approved authorities in the countries where they are operating and selling UV boosters. Each country has a set of rules to follow for the making of UV boosters and other ingredients that form the feature of protection from the sun. 
Among all the applications, skin care cosmetics are poised to generate higher revenue compared to other applications. Consumers' are interested in skin nourishment and their inclination towards using environmentally-friendly products. 
Rising awareness among males about products that can protect their skin from harmful sun rays while they are traveling is also driving the market for skin care cosmetics.