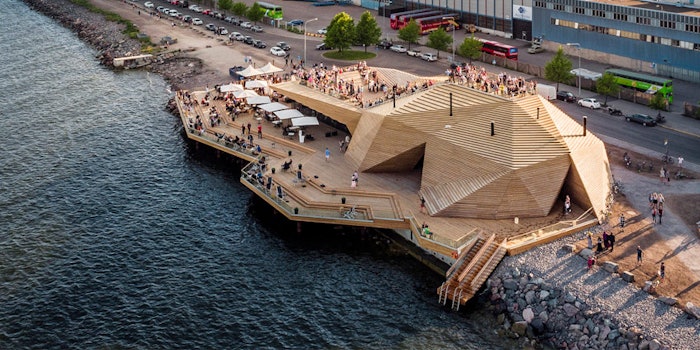 The Global Wellness Summit (GWS), which took place in October 2016, featured a 500-member panel of wellness experts from 46 countries. The gathering in Austria brought together global leaders from the spa, medical, beauty, fitness, nutrition, technology and architecture fields in an effort to identify the top wellness trends for 2017.
"No other trends report is based on the perspectives of so many wellness experts, whether leading economists or futurists or the heads of hospitality, spa and beauty brands," said Susie Ellis, chairman and CEO of the GWS. "And it makes for a powerfully collective, global and informed set of predictions."
1. Reinventing the Sauna
The sauna has largely remained the same for nearly all of its 2,000 year existence—until recently. Leave it to the European market—where saunas are social gathering places—to upend what we think we know about this hot tradition. This includes Sauna Aufguss theater, which is prevalent throughout Europe and aims to create a theatrical performance within the sauna experience.
"Special schools train Aufgussmasters on the techniques of infusing the sauna with the most impactful series of volatile essential oils (lemon, mint, cedar, juniper, sage, etc.), which are then complexly circulated with towels, flags or birch branches," according to the report. "Sauna-masters become spa-celebs known for their special performance—whether acting out scenes from Shakespeare or Top Gun."
Researchers predict the interweaving of spa experiences with art, culture, music, performance and wellness architecture will continue to increase as individuals seek inventive ways to reduce stress and detoxify.
2. Wellness Architecture
Gone are the days of utilitarian office buildings that feel more like cubicle prisons than places of business. Enter, "wellness architecture." With more and more research being done on Sick Building Syndrome, including the Mayo Clinic's new "Well Living Lab", which scientifically tests how every aspect of architecture and design impacts real humans, expect more emphasis to be put on constructing buildings with human health at the forefront.
"The strategies will span the simple, like deploying plants that excel at removing deadly air toxins to the highest-tech, like 'living' buildings with walls made of algae biofuel cells that grow their own energy or new phone apps that alert you when you're entering a 'sick' building," according to Summit researchers. "From air quality to indoor acoustics, everything in the built environment will be reevaluated and reengineered."
The International Well Building Institute was created in 2013 with the purpose of establishing a standard by which buildings can become certified from air to water to light, and is now involved in 250 projects across 20 countries.
3. Silence
From digital detoxing to full-blown silent retreats, there's no question silence is golden. An increasing number of silent spas, which focus on quiet and mindfulness, are popping up all over the globe. One such spa and wellness center is Le Monastère des Augustines in Quebec, which is set in a 17th century monastery and hospital. The spa offers personalized meditation, yoga, sleep therapy, massage and wellness classes. Organic food is served from the monastery garden and breakfast is taken in contemplative silence.
As the world becomes noisier, expect a trend toward purposeful silence, such as silent airports where announcements are only made at boarding gates and flight communications are relayed via silent kiosks, texts and mobile apps.
4. Focus on Art and Creativity
With the explosion of adult coloring books as of late, there's no question art can be therapeutic.
"Classes and programming that get people painting, drawing, writing, journaling, learning photography, singing, dancing (as creative expression, not just as workout) and musicmaking, etc. at hotels, wellness retreats, spas, and fitness studios," according to researchers. "And without debating the line between 'arts' and 'crafts,' much more therapeutic making with one's hands, used intentionally as meditative stress-reducer, like the rage for ceramics, knitting or weaving classes."
Expect more spas to have artistic offerings on their menu, such as Spa Village Tembok's immersion in indigenous arts, or The Lodge at Woodloch's watercolor painting classes.
5. New Beauty
We know beauty and wellness go hand in hand, but the perception of beauty is changing. Consumers are demanding "clean beauty" products that are ethically sourced and natural, and they are putting an emphasis on ancient wellness practices, such as yoga.
The demand for holistic beauty remedies is also increasing. The trend includes supplements, beauty drinks and super foods to help heal and nurture from the inside out.
6. Mental Health
From integrative mental wellness at retreats and spas to neuroscience-inspired workouts, a greater emphasis will be placed on mental wellness.
"Mental wellness will be the biggest future trend, period: from wellness destinations bringing in neuroscientists and psychotherapists, to meditation becoming seriously mainstream while evolving into new breeds, to part-mind, part-body workout brands, to apps that track your mental state," according to GWS researchers.
The report stipulates that just as wellness tourism developed alongside of, yet distinct from, medical tourism, mental wellness will similarly develop alongside, and distinct from, mental health.
"The distinction is an important one, and mental wellness will be a new category and culture, with very new paths to emotional wellbeing and happiness," the report stated.
7. Cancer Comfort
With cancer projected to affect a whopping 40 percent of people, the demand for cancer-centric wellness options has never been higher. However, the GWS report noted that there are many misconceptions and a general lack of information about wellness treatments for cancer patients, despite medical evidence that supports wellness in cancer care.
However, some spas are embracing the opportunity, such as California's Two Bunch Palms, which added a Mindful Touch Massage by certified Cancer for Wellness therapists to its extensive menu that includes energy healing.
Additionally, CEO of ESPA Skincare, Sue Harmsworth, developed a program in conjunction with Wellness for Cancer, which is specifically designed to help relax, nurture and support guest dealing with cancer. The program was recently added to the ESPA's flagship spa, ESPA Life at the Corinthia in London. Expect similar wellness offerings to become available in 2017.
8. Wellness Not Just for the Rich
In a world of $200 yoga pants and $300 spa treatments, it's easy to view the wellness industry as exclusively for the rich. However, the Global Wellness Summit experts discussed several key ways in which the wellness industry will become more inclusive. This includes:
More charitable and community-building initiatives
Shifting from property-focused wellness tourism to developing and promoting the towns, regions and nations to benefit both tourists and locals
Lower cost wellness products and services, including a focus on the wellbeing of spa employees and practitioners