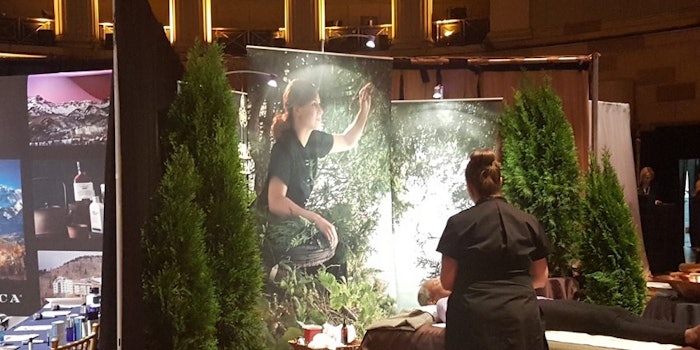 At its East Coast Media Event on Aug. 8, 2017, the International Spa Association (ISPA) led its guests through a trailblazing exploration of the latest spa industry trends and treatments at Gotham Hall in New York. The highlights of the event included the following.
Spa Treatments
Salt Therapy Massage and Float Therapy, The Lodge at Woodloch (Hawley, Pennsylvania)
The Lodge at Woodloch showed its Himalayan salt therapy stone massages, which offer wellness benefits to both the client and the practitioner. Also, FLOAT therapy rose to the top of its uniquely appealing spa offerings. It features FLOAT therapy cabins, rather than pods, which offer a more expansive way to test out a sensory deprivation experience that allows for a deep meditative state and is said to promote healing.
The Lodge at Woodloch offered guests a taste of its farm-to-table dining offerings like its "Spajito," a cocktail with locally grown ingredients, which is also served at its spa resort. 
Chuan Stone Therapy, Chuan Body + Soul at Langham Place (New York, NY)
As a nod to Traditional Chinese Medicine (TCM), Chuan Body + Soul at Langham Place featured Himalayan salt stones, which are said to be more gentle on therapists' hands while reducing inflammation and restoring balance and harmony. The spa also features a vitamin C shower as part of a number of its spa treatment services. 
Permission to Unplug, Guided Meditation, Sundara Inn & Spa (Wisconsin Dells, Wisconsin)
Sundara Inn & Spa showed that yes, you can unplug. And they encourage their guests to do so as much as possible.The property's representative Carla Minsky said guests are encouraged to set aside their cell phones (they are not allowed in common areas of the inn) and relax with a guided meditation. Minsky also said more guests are requesting Ayurveda as well as chakra therapy treatments, which incorporate massage to the upper chakras including the neck and face.
Naturopathic Treatments at The Spa at the Peaks (Telluride, Colorado)
The Spa at the Peaks partnered with naturopathic skin care manufacturer Naturopathica to craft a unique massage and body treatment menu. For instance, its Alpine Arnica Stress Relief Spa Treatment (60 min./90 min.) uses aromatherapy and deep tissue massage to unwind the body, reboot the mind and transform stress into balance. The client can select from four aromatherapeutic blends of exotic herbs and essences featuring such ingredients as warm and spicy cardamom, hypnotic neroli blossom, clarifying balsam fir needles or energizing holy basil to reinvigorate the senses and reboot the mind. Each of the services in the body menu offer a therapeutic elixir or tonic to promote wellness.
Facial Renewal Acupuncture, Aspira The Spa (Elkhart Lake, Wisconsin)
Aspira The Spa is helping its clients how to relax while lifting and toning the skin with its Facial Renewal Acupuncture. Herbal masks are applied to help reduce facial inflammation and under-eye discoloration during the acupuncture treatment. 
Anti-Wrinkle Express Facial at Premier57 (New York, NY)
Premier57 partnered with Hydropeptide to craft a 30-minute anti-aging facial that refreshed skin with the help of peptides, brightening botanicals and natural skin enhancers. The facial included the brand's pro-collagen Nimni Cream to increase water retention and reduce the appearance of fine lines and wrinkles.
LED Treatments, Gaylord Hotels (Nashville, Tennessee)
Gaylord Hotels demonstrated its facial treatments, which utilize Elemis facial products as well as the company's  LED device. The spa chain plans to incorporate the line and its LED device into a number of its locations due to the increased demand for results-driven facials.
Add-ons and More
The ISPA event also showed off a number of devices that can be used for add-on services as well as dual-purpose products that can be used in the spa and sold in spa retail. 
Comphy Spa Linens (Fendale, Washington)
Designed for spa tables, but also fit for the home, Comphy showcased spa linens that are ultra-soft, but strong enough to last 300 washes. The company was founded by Mia Richardson, a former spa director. They are said to be a best-seller in spa retail shops as a way that clients can "bring the spa home." 
O2 Chair (Henderson, Nevada)
The event also featured the health and wellness benefits of the O2 Chair, a digitally customized relaxation chair that guides the user through various breath exercises that are used to benefit the body and the mind. As a nod to its namesake, the chair emits purified air enriched with oxygen and swings synchronized with the client's breathing pattern to guide the client through a breathing meditation. The chair could be offered to clients prior to spa massages as a relaxation add-on service and also as a way to modernize a spa's mind-body treatment offerings.