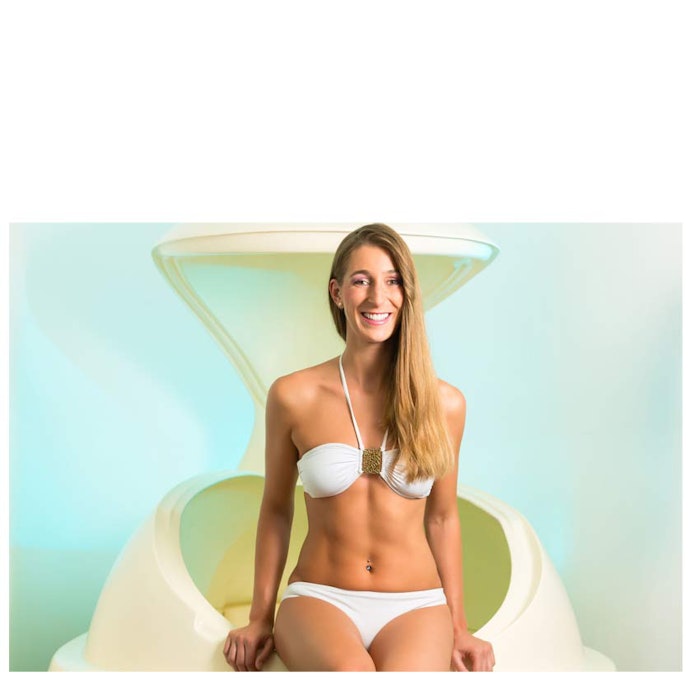 As our everyday lives become more digitally charged and busy, removing sensory stimulation could be on a spa client's wish list. Sensory deprivation tanks are the latest craze, but what exactly are they and are they regulated? 
All About Floating
Public safety and health organization NSF International, a private company that has been testing and certifying products for the spa industry since 1960, defines sensory deprivation tanks or "float tanks" as a vessel or tank in which a person floats in a shallow depth of fluid. The system also has associated water circulation, heating and treatment systems, and an air circulation system. The fluid is about 12-18 inches deep and consists of water and typically 800-950 pounds of dissolved Epsom salt, mostly magnesium sulfate. The water is heated, and the salt dissolves, creating dense water that allows the client to float comfortably. Sometimes tanks include a violet light and meditation music that can be turned on or off. The client also has the ability to open up the tank and get out if needed.
Proponents of float tanks like Dylan Schmidt, the co-founder of The Float Shoppe in Portland, Oregon, say floating therapy not only helps with easing stress, but also arthritis, inflammation, and deep muscle and tissue injuries. Research has also verified these claims, which find that Restricted Environmental Stimulation Therapy (REST) has both mental and physical benefits. There's even a "Float Nation" movie circulating, which seeks to support knowledge and dissemination of flotation therapy.
Tank Origins
The idea of the flotation tank is to minimize the information coming into the sensory processing channels of the body. Glenn Perry, mentored by Dr. John C. Lilly, developed the first ever commercial float tank, the Samadhi tank. In the early 1950s, scientists at McGill University, under the direction of D.O. Hebb and funded by the Canadian Defense Research Board, began a series of experiments on what they labeled sensory deprivation. However, Perry said it was Dr. Lilly who developed the idea of a tank filled with water in 1954 to reduce the intensity of physical stimuli, which was later adopted for commercial use. 
Regulation
Although local jurisdictions, such as the state of New York, have requirements related to public swimming pools, float tanks or relaxation tanks used for solitary body immersion in skin-temperature salt water are excluded from their oversight.
In Wisconsin, regulations governing float tanks were rescinded from being classified as limited-purpose public swimming pools after a business argued the unfairness of 45 sections of the public swimming pool code being applied to the tanks.
There are no health departments out there which actually require an NSF-certified float tank. And among the floating community, the much talked about future of a national standard is unknown. So for now, spas will need to meet what their health department requires. For spa owners who may be considering a float tank as an extention of their treatment offerings, more information can be found at www.floatation.org.