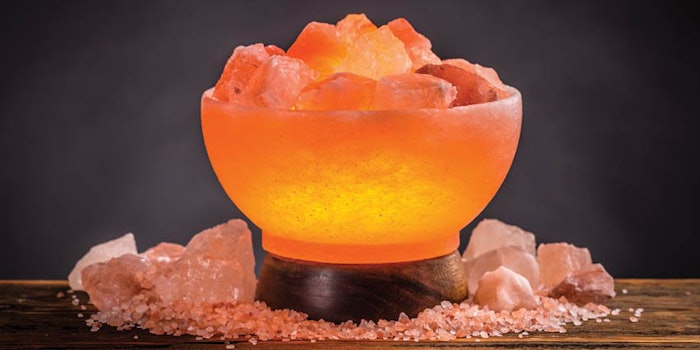 Himalayan salt is named after the Himalayan Mountains, where it is mined. It is created when the Primal Sea, where scientists and scholars believe all life originated, was dried up by energy from the sun. It's the purest form of sea salt, free from all modern toxins, and it's been used for thousands of years as a natural medicine. Himalayan salt has been shown to: promote healthy blood sugar, lower blood pressure, support a healthy respiratory system and sinuses, boost bone health, prevent muscle cramps, improve circulation, improve digestion, reduce acid reflux, relieve anxiety, reduce insomnia and more.
Salt stone massage offers a more positive environmental impact and more therapeutic benefits than traditional hot stone massage. "It can improve sleep and circulation, relieve anxiety and deliver a myriad of health benefits while bringing the mind, body and spirit into balance," noted Melissa Rackliff, spa director at TallGrass Aveda Spa & Salon in Evergreen, Colo., who recently added Himalayan salt stone massage to her spa's treatment menu. A warmed salt stone and a skilled spa therapist will do wonders for a tired body, but salt stone massage isn't the whole story. Today, spas across the country are going beyond salt stone massage to add Himalayan salt scrubs, manicures and pedicures and more to their treatment menus. Here are some ways you can begin incorporating Himalayan salt into other treatments at your spa.
1. Manicures and Pedicures
Himalayan salt comes in many shapes and sizes, and though each variation packs the same innate blast of 84 essential minerals and rebalancing capabilities, spa therapists know that you need the right tools for the right job. Fine grain Himalayan bath salts are wonderful natural exfoliators, and warmed stones can be great additions to manicures and pedicures.
"We use Himalayan salt in our foot rituals and the stones in the luxury manicure and pedicures," says Virginia Lara, spa director at the Mandarin Oriental, Boston, who recently introduced Himalayan salt stones into their massages as well. "Our guests and therapists are loving it, and it really takes our hot stone treatment to a complete different level with a beautiful, holistic approach."
Heated salt domes are another great addition to manicure and pedicure treatments because they allow the hands and feet to soak up the nutrients of the Himalayan salt. The salt dome also emits a gentle light that helps create an uplifting ambience in the treatment room, and, more importantly, it helps purify and add negative ions
to the air.
Other spa therapists also get creative on how to add benefits for guests through Himalayan salt. Cecelia Neylon from Heart & Sole Reflexology gives Himalayan salt stones to clients to hold while she is working on their hands and feet. "I put warm salt stones on the back of the neck and, if they want, on their lower back. Also, if I feel they need extra work on their reflexes, I use the stones to work their reflexes. It makes for an excellent one hour," explained Neylon.
2. Body Wraps
When used as an exfoliant, sea salt has the ability to unclog pores, promote skin cell turnover, balance oil production and purify the skin of toxins and dirt. A natural purifier, Himalayan salt can also promote better circulation, tighten the skin and improve overall texture. It's a natural fit for body wraps.
Spas using Himalayan salt in their body wrap treatments will apply a salt mixture to the skin and then wrap the client in Mylar and blankets. Perspiration begins to occur as the body heats up. This allows clients' pores to open and the salt's mineral content to enter the body, which can help promote circulation, reduce the inflammatory response, detoxify and relax the muscles.
At Spa Shiki at Lodge of Four Seasons in Lake Ozark, Mo., Himalayan salt is used for an exfoliation and detox wrap, with an infared blanket (see page 74 for more) to allow for even greater absorption of the salt's minerals.
3. Facials
Just like it can boost body wrap treatments, Himalayan salt is a welcome addition to facials. Fine grain Himalayan salt serves as a natural exfoliant, gentle enough for the delicate skin of the face and neck if used by skilled hands. As the therapist moves the salt mixture (typically a Himalayan salt, water and essential oil blend) in small circles, the salt works to exfoliate the skin while detoxifying pores and reducing inflammation. Again, those 84 essential nutrients come into play. As mild sweating occurs, the pores of the face and neck open from the treatment and the minerals are absorbed into the skin, leaving the face looking and feeling beautiful. Many guests talk about noticing an instant glow once the treatment is complete.
4. Body Scrubs
Ideal for tired, dehydrated skin, a Himalayan salt body scrub can revitalize the skin's look and feel with just one application. Cavallo Point in San Francisco offers numerous salt scrubs on its treatment menu, as does Miraval Resort & Spa in Tucson, Ariz. For the scrub, sea salt is typically mixed with specially selected oils and then gently rubbed all over the body, clearing pores and removing dead skin. Although a spa session with a skilled therapist will deliver the best results, this is one treatment guests could also do in the comfort of their own homes.
5. Treatment Room Ambience
Himalayan salt is good for more than just the body, it's also good for the air. Setting the ambience for your spa is probably on the top of your list, and air quality can go a long way in improving how your guests feel during their treatments. Adding Himalayan salt to your treatment rooms can help create a calm, soothing atmosphere. Because warmed Himalayan salt adds negative ions to the air, it can help rebalance bodies that have been thrown off their natural frequencies due to overexposure to the positive ions produced by the electronics that fill our world today. The result is a treatment room that helps to reduce stress and fatigue while boosting overall wellness.
Spas can create this ambience by heating Himalayan salt stones in the warmer used for salt stone massage, a Himalayan salt dome or with a natural Himalayan salt lamp. They come in varying sizes and shapes, give off a beautiful rose glow from the pink salt stone and naturally purify the air around them—good for the clients as well as the therapists. "The visual effect is lovely, as they create a warm and soft glow in the room," added Travis Anderson, director of spa at Marriott San Antonio Hill Country Resort & Spa. "The clients also share that they feel more grounded and relaxed, which is exactly what we seek in our luxury spa operation. Thanks to our salt lamps, we provide a more authentic and natural environment for our associates and our guests."
Beyond lamps, spas are also enhancing their saunas by lining the walls with Himalayan salt blocks to purify the air as guests relax, and salt rooms and salt caves are increasing in popularity, too.
More Than A Trend
As Himalayan salt continues to gain popularity in the spa industry, it has become more than a trend. There's something so pure and natural about tapping into the benefits of something that's been part of this earth for thousands of years. As Pythagoras said, "Salt is born of the purest parents: the sun and the sea." As those of us in the spa industry can attest, the purest treatments are often the ones that bring the greatest benefits to our clients' health and well-being.