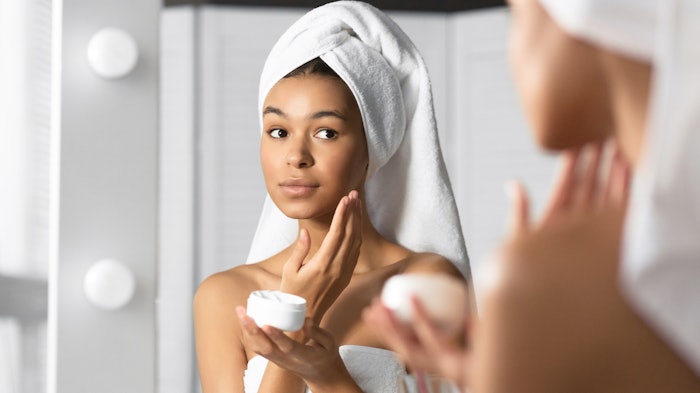 Retinol Sandwiching has become the latest TikTok skin care trend, with the term having just under 23 million views under #RetinolSandwich on the app. The videos under this hashtag range from skin care influencers to dermatologists either explaining the method of the trend, the reasoning behind the trend, or what retinol is in general. 
Related: The Ultimate Skin Care Timeline
The Benefits of Retinol
Retinol is a derivative of vitamin A that is best known for its anti-aging benefits. Retinol decreases melanin synthesis while also aiding in skin cell proliferation, leading it to even skin tone and texture. It also exfoliates the skin and increases collagen production, which can reduce the appearance of fine lines and wrinkles.1 On top of helping with aging, this ingredient has been known to aid with acne and unclog pores as well. Retinol is often added to creams, serums and lotions when it comes to skin care. 
Madelyn Cusimano, staff esthetician for The A Method by Tina Alster, MD, emphasized that "retinol isn't just for mature skin, it's exercise for the skin so that your skin can stay healthy and vibrant for way longer." Thus, this is a trend that can fit with a range of clients that are coming into your spa, and you can expect it to be especially utilized by the clients that are fluent on social media, specifically TikTok. 
Between bakuchiol coming to light in a myriad of skin care products, and retinol becoming a trending ingredient on TikTok earlier this year, it's safe to say that consumers' interests were peaked when this new method to applying retinol came into place. 
Related: Tips for Trying New Skin Care Products
Retinol Sandwiching Method
Earlier in the year, moisture sandwiching was first brought to light. The idea behind this trend mainly lied within trapping moisture into the skin to prevent transepidermal water loss, and keep the skin looking glowing and hydrated. Retinol sandwiching on the other hand is quite literally sandwiching your retinol between two layers of moisturizer to avoid retinol burns or irritation. This method of using retinol can also lessen any discomfort that may happen during the initial use of retinol which can cause dry, flaky skin.2 
So why sandiwch it? Retinol is known to have some potentially irritating effects, especially when initially incorporating it into a skin care routine. One of the biggest advantages of the retinol sandwich trend is it can help consumers with sensitive skin avoid irritation from the use of retinol.3 
Cusimano, shared "I actually think it is a great idea to sandwich your retinol with a moisturizer. This is a great technique to use for those that have never used retinol before and want to ease their way into it. Retinol does cause some redness, dryness, irritation, etc., so the sandwich retinol trend is going to work great for the retinol newbies. Applying a layer of moisturizer first to the skin will add a moisture barrier between the retinol and skin, which will aide in a gentler delivery of the retinol into the skin."
Cusimano further explains that the sandwiching method essentially acts as training wheels for the skin to be able to handle the full applicaton of retinol without the need for the moisture barrier one day. This trend helps to strengthen the skin to be able to use retinol on its own eventually. It can also help in allowing clients to apply retinol more frequently since there is less irritation. 
5 Step Retinol Sandwiching Routine
Cleanse your skin
Apply a layer of moisturizer to damp skin
Allow this to dry completely
Apply your retinol
After giving retinol time to absorb, finish your skin care with a second layer of moisturizer
Related: Anti-aging Products Effects on Self-Esteem
Retinol Sandwiching in the Spa
Like any skin care trend that is blowing up on social media, you should prepare yourself for your clients to ask about it. Even though this trend can be great in aiding lessen any irritation with clients who are just starting off with a retinol, there are some clients that it may not be a good fit for. For your clients who do not have sensitive skin, using this skin care method could actually lessen the full effects of the retinol product.3 The moisturizer that is used before the retinol essentially acts as a barrier, so it reduces the absorption of the retinol into the skin. 
You also have to make sure to properly educate your clients on the types of moisturizers and retinols to use on their skin when practicing this trend. Retinol should ideally be used only during the nighttime routine, and it makes the skin more sensitive to the sun. So, your clients will need to be properly using their sun care as well while introducing retinol into their routine, even with the sandwich method.
Related: 3 Ways to Practice Anti-aging in Your Spa
"Retinol is designed to shed the skin so [clients] will experience some peeling, light redness, and some dry skin, but that doesn't mean it has to be fire engine red, irritated, dry, itchy from the get go to show that it's working. Use the sandwich trend to ease your [clients] into the daily application of direct retinol on [their] skin." Cusimano said. 
You may find some of your clients might benefit better from a retinol product that includes moisturizing ingredients and does not need to do the entire sandwich method to reduce irritation. You may also have clients who do not need to use the sandwich method at all or eventually train their skin out of it. If you have clients using the retinol sandwich method make sure that they are monitoring their skin irritation levels so that they know when to start using retinol without sandwiching it.
This trend does leave a lot of opportunity for your retail space. When discussing retinol sandwiching with clients make sure you have a moisturizer and a retinol that pair well together formulation wise. However, for your clients that may only need a retinol product that contains moisturizing ingredients and does not need the full sandwich method to reduce irritaion, have some of that on hand as well. Ultimately, expect more clients to come in asking about retinol products and options. As Cusimano stated before, retinol is not an ingredient for mature skin only. All of your clients can benefit from it. 
As we all know, skin care is not a one size fits all, so make sure you are keeping your clients skin care routines customized to their needs. 
Sharing Our Thoughts
The Skin Inc. team discussed retinol sandwiching on their very first episode of their Sounds Like Spa Podcast. In the short video below you can see them begin to dive deeper into this topic, but listen to the full episode on Spotify to see what they really think about this bustling trend.
References: 
https://my.clevelandclinic.org/health/treatments/23293-retinol#:~:text=Retinol%20increases%20skin%20cell%20production,skin%20a%20fresher%2C%20plump%20appearance.