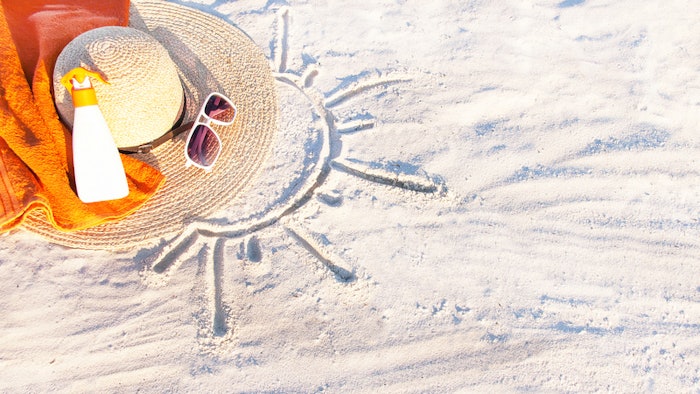 Researchers at the University of Bath and ASEA have published a review in Antioxidants of mechanisms of skin aging—specifically by reactive oxygen species (ROS) and their over-production due to sunlight exposure. The authors proposed natural antioxidants with specific properties could rebalance ROS levels and provide both sunscreens and anti-aging products with added defenses.
Per the article abstract, "[O]xidizing components [due to sunlight exposure] disrupt both redox- and iron-homeostasis, promoting oxidative damage to skin cells ... [T]he interplay between excess accumulation of ROS and redox-active labile iron (LI) and its detrimental consequences to the skin are often overlooked." Natural antioxidants that exhibit robust redox-balancing and/or iron-chelating properties may therefore benefit products.
Related: TDF Blu Voile Sunscreen Found to Protect Against Blue Light
The market has already witnessed an uptick in natural sunscreen ingredients, lead author Charareh Pourzand, Ph.D., University of Bath, explained in a report by ZME Science. 
"...[N]atural extracts with UV-absorbing properties are replacing, gradually, ... synthetic compounds as sunscreen agents, due to a global demand for environmentally friendly and safe compounds lacking harmful effects on the sea life and individuals." Pourzand added that with potential for UV, visible and infrared spectrums of light to be damaging to the skin, there arises a need for further protection.
However, not all natural extracts are created equal. The authors therefore suggest that natural ingredients for sunscreens and anti-aging products be screened for both antioxidant and iron-chelating properties. They also concluded there is a need reevaluate the effectiveness of current natural products on the market.
Pourzand proposes a systematic approach, by "demonstrating [a] consistent level of active constituents in the extracts with appropriate stability." See the full open access article for additional details.