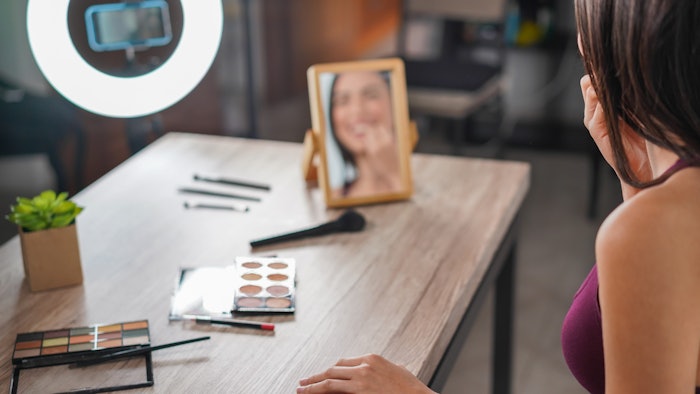 Tik Tok continues to influence beauty industry trends; viral videos, unique styles and celebrity recommendations are rampant on the platform. Data analysis from Hey Discount and Ubiquitous have revealed the most popular skin care products on Tik Tok so far in 2022, showing increased attention toward retinol, graphic liner and revitalized retro brands.
Related: What's Trending in Color Cosmetics 2022?
Per Hey Discount, retinol is the biggest beauty trend of 2022, with 1.2 billion views on Tik Tok and more than 9 million Google searches. Graphic liner has been worn by celebrities including Gigi Hadid and Kylie Jenner and the hashtag #graphicliner has gained 1 billion views on Tik Tok and 655,325 Instagram posts under the same tag. Gua sha rounds out the top three beauty trends of 2022, with 976.9 million views on Tik Tok and 12.4 million Google searches.
Overlined lips, caffeine skin care and beta-hydroxy acid were some of the least popular beauty trends of 2022. Despite the hype of caffeine skin care last year, the trend has fallen dramatically, with only 3,078 Tik Tok views this year.
James Charles was the highest-earning beauty influencer in the study. Charles' YouTube channel is currently demonetized, however, he could still make up to $76,785 for posting a sponsored Instagram post. The former CoverGirl ambassador could also earn up to $36,200 for uploading a sponsored Tik Tok reel, per the report.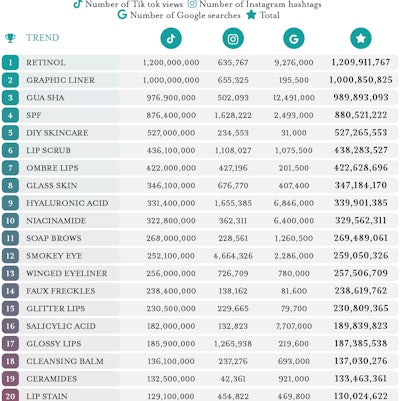 Many influencers showcase their skin care routines on Tik Tok. Margot Robbie has the most expensive celebrity skin care routine, totaling $1,941, with the Skin Caviar Luxe Cream from La Prairie being the most expensive, priced at $555. Ariana Grande had one of the cheapest skin care routines in the study, totaling $210.
Per Ubiquitous' report, many fashion and beauty brands which had stagnated after major success in the '90s and '00s are starting to see a revival due to the younger demographic's affinity for nostalgia—the hashtag #Y2Kfashion has more than 344,800,000 views on Tik Tok.
Per the report, 28% of global Tik Tok users are under the age of 18, while 35% are aged 19-29 and 37% are over 30 years old. The majority of Tik Tok users are female (59%), which influences most of the trending products landing in the fashion and beauty space.