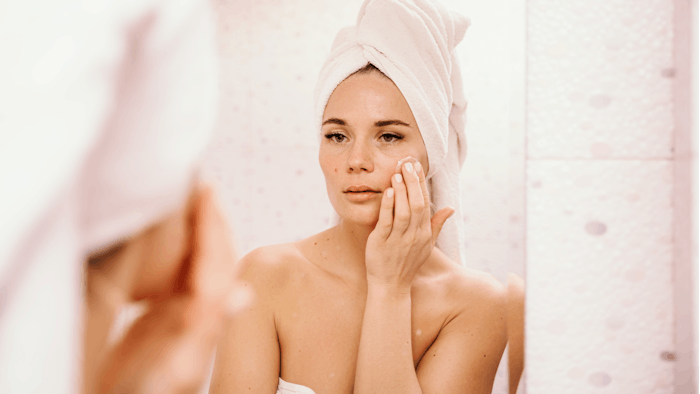 Finding new skin care products and developing a routine is a big part of skin care, but with the constant new launches, it can be exhausting to keep up and tempting to try every new product. That habit can become expensive and combining too many actives at once can cause irritation. Mind Body Green spoke to celebrity esthetician and dermatological nurse Natalie Aguilar to get a few tips for trying out new products.
Related: Seven Skin Care Trends for 2022
Before trying out a new active, consumers should always conduct a patch test to ensure that the product will be agreeable with their skin. This is done by applying the product to a small patch of skin like the neck or inner arm to test how their skin will react to the product. It should be tested for a few days to determine if a delayed reaction develops.
Some potent actives like retinol are likely to produce some irritation or side effects, so it is recommended to start at a small dosage and work up to higher doses as the skin gets used to the ingredients.
The first consideration when seeking out a new product is to see how the product would fit into an already established routine. A minimal routine of a cleanser or moisturizer could benefit from adding a vitamin C serum or chemical exfoliant, but an already stacked routine should have other considerations before adding even further. Aguilar suggests consulting a dermatologist or esthetician to be sure the actives will mix well and layer in a way that does not compromise the skin barrier.
Everyone has a different skin type, and what works well for one person may not work for others. Aguilar suggests not getting caught up in skin care fads or when a new product takes over the conversation.
It is important to have consistency with routines. Aguilar compares a healthy skin routine to a healthy lifestyle, saying both are meant to be practiced every day and taken seriously. She suggests diligently reading the directions on labels and researching products before using them.
Aguilar also suggests moving slowly with a routine to avoid adding too many things at once. Per the article, she said starting with a simple daily ritual can allow room to slowly add to it and develop healthy habits. Meaningful changes to the skin don't happen overnight.