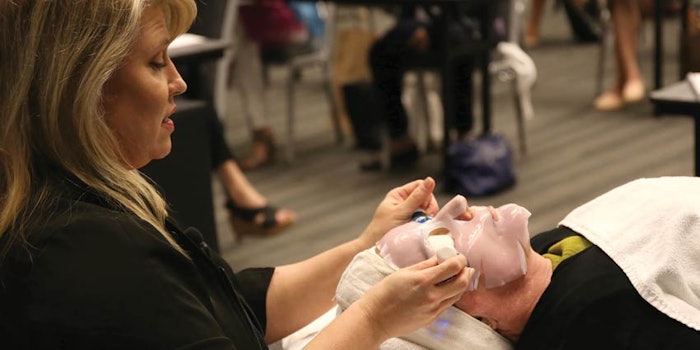 Trying to find quality education to take your career as an esthetician, spa owner or massage therapist to the next level? Look no further than Face & Body Northern California Spa Expo and Conference 2017, in San Jose, California, on Aug. 26-28, 2017. The knowledge is on par with what is needed in today's spa industry.
Education At-A-Glance
There are so many educational options to select from at Face & Body that can fit your schedule. Here's just a quick overview.
Advanced Education Conference (day one): Four tracks—Science, Business, Master Esthetic and Body—are presented, each with three one-hour lectures and a three-hour, hands-on workshop.
AmSpa Medical Spa Summit (day one): The American Med Spa Association will provide insights and education on what it takes to legally open and operate a medical spa. This all-day session is a must-attend for business owners who want to run a successful medical spa.
IMPACT Melanoma Skinny on Skin Certification Classes (day two and three): IMPACT Melanoma will offer an onsite cancer education program in two 90-minute sessions (one on each day). Participants will learn how to screen for suspicious moles while performing common skin care and salon services.
Skin Inc. LIVE! Stage (day two and three): Want your education in a bite-sized capsule? Join us by the stage to watch 60-, 30- and 15-minute presentations.
Supplier Classes (day two and three): Industry experts lead these free classes on a variety of topics and treatments.
The different levels of education mirrors the numerous options of classes, which can be broken down into science, business, master esthetic and body categories.
Science
Part of the Advanced Education Conference science track, Mark Lees, Ph.D., and Kyle Mull, of Mark Lees Skin Care, will discuss the causes of reactive skin as well as provide methods to reduce redness, irritation and acne flares associated with the condition during the Reactive Skin presentation.
Discover the science behind how LED lightwave therapy works with Kari Poling, of Lightwave LED, during her Supplier Class: The Science Behind LED Lightwave Therapy: Why Protocols, Dosage and Wavelengths are Important.
The professional beauty industry thrives on innovation in skin care, and the consumers who purchase the products are looking for key buzzwords. Review what is new in the natural ingredients market with Kris Campbell, of Hale & Hush, during her Advanced Education science class, Natural Ingredients: What's New?
Want to become an expert on acne and rosacea as well as discover nature's alternatives to harsh chemical treatments? Attend the Fight Acne and Rosacea Naturally and Say No to Chemicals, a supplier class presented by Boldijarre Koronczay, of Éminence Organic Skin Care.
For a deeper dive into ingredient and formulation technologies, attend the Hands-On Ingredients! workshop, presented by cosmetic bioevangelist Rebecca Gadberry and Michael Pugliese, of Circadia, during Advanced Education.
Cosmetic science and regulatory expert Wen Schroeder, of SEKI Cosmeceuticals, demystifies nanoparticles during her Advanced Education class, Nano in a "Nutshell."
Go back to your fundamentals with a review of glycolics, retinols, lactics and salicylics during the Exfoliant Fundamentals, a supplier class by Skin Script Skin Care.
Business
At The Power of Digital Storytelling class during Advanced Education, Lauren Snow of Associated Skin Care Professionals makes telling your business' online story easy.
For those struggling with product recommendations, attend The Five-Minute Consultation, a supplier class by Sorella Apothecary's Danielle Munley and Emily Sindlinger.
Want to learn how to handle men (literally)? Attend the Art of ManHandling, a discussion of designing treatments and marketing specifically for the male client by Stacey Grondahl of We Do Men, a male concept spa.
If you want to take treatments to the next level, attend David Suzuki's Be Extraordinary Supplier Class, where he will discuss combining modalities with skin care to create unique services.
We all know that lashes can be a big revenue generator for a spa or skin care business, but where do you start with education? Join Megan Tandberg, of Tandy Lash Lounge and Borboleta Beauty, in her three-hour lash workshop, Lashing Out: The Right Techniques, as she provides introductory techniques on how to do lashes, explains the business benefit of lashes and even offers some specialty techniques.
Your business success depends on your ability to effectively communicate. Learn how with Deedee Crossett, of the San Francisco Institute of Esthetics and Cosmetology, during Communicate With Success, an Advanced Education class.
Master Esthetic
During his Advanced Education master esthetic class, Pre & Post-Operative Treatment Options for the Licensed Esthetic Professional, Danné Montague-King, of DMK, will discuss skin care treatments that estheticians and spa owners can offer both before and after operations to ensure proper healing and long-term skin care success.
Mary Nielsen, of the Spectrum Advanced Esthetics Institute, will take attendees into an in-depth look of light energy and its role in skin care efficacy during Turning Onto Light Based Energy Theory.
Peels are a cornerstone of nearly every skin care practice. Mataxia Dalikas, of Lira, discusses a full spectrum of peel options during the supplier class, A Peel for All Seasons: Lira Clinical's Smart Peel.
Also, join Susanne Schmaling, of the Esthetics Council, in her three-hour workshop, Perfect Pairing: Skin Typing and Peels, as she explains how to choose a peel based on skin type and use the proper peel protocol for best results.
Learn about the alternatives to dermaplaning, including an alkaline treatment, in Dermaplaning Alternatives for the CA Esthetician, by Mirela Marinescu, of the International School of Beauty.
Want to learn the best-kept secret in permanent cosmetics? Alexis Lawson, of Softap Permanent Cosmetics, shares all the secrets during her supplier class, Painless Permanent Makeup?
Body
Go beyond the face at Face & Body, with education that focuses on the whole body.
During the Advanced Education body class, Salty Swap: Himalayan Salt Stone Massage, Ann Brown, of Saltability, will introduce and demonstrate the Himalayan salt stone massage, which replaces traditional basalt stones with Himalayan salt stones.
Learn better waxing techniques from seasoned expert Pati Geraghty, of Eva's Esthetics, who will cover everything from proper body positioning to reducing waxing time during the Advanced Education class, Waxing From the Neck Down.
Looking for a sweeter way to remove hair? Check out Discover the Art of Sugaring Hair Removal and Increase Customer Loyalty—a supplier class presented by Sweet & True Sugaring Co.
Get whisked away to Bali for an introduction to a unique massage protocol and body treatment with Kim Collier of Jamu & Organic Spa Rituals. During the three-hour workshop, Collier will demonstrate the Balinese massage protocol, during Balinese Massage and Spa Rituals. It includes acupressure, skin rolling, percussion and wringing.
End the day on a high note by learning about the body and skin benefits of cannabis treatment, during the Going Green With Cannabis Therapy. Amber Vasquez, of Amber's Alchemy, will detail the components of cannabis, explain its benefits to the body and demonstrate how it can be incorporated into massage and body treatments.
No matter what role you serve in the spa, the educational classes hosted at Face & Body offer something for you. Registration is now open by visiting Northerncal.FaceandBody.com. Make sure to check out all the educational opportunities available to attendees. If San Jose isn't in your neck of woods, don't forget about the other Face & Body events in Atlanta (Southeast) and Rosemont (Midwest).
Feel good by taking home new spa knowledge.
Attend Face & Body for both short and long-form education that suits your needs.