Fashion and makeup trends seem to move enigmatically in and out of style each year, whether sparked by some iconic Hollywood starlet, or a subconscious manifestation of social or economic trends. The fluctuations in beauty standards over the years are not as random as they seem.
Brow Evolution
Brow trends have changed vastly in the past century. The radical practice of completely shaving off the eyebrows was the fashion in the 1920s. This brash grooming tactic sparked the sale of the first commercial brow products, for the purpose of redrawing the brows in stark straight lines. This was an avant-garde look that unsurprisingly coincided with the same tumultuous decade that women won their fight to vote.
By the 1980s, a second wave of feminism produced the thickest, wildest brows yet. The disorderly brows of the 1990s became swept up in a universal dedication to brow grooming, threading and waxing, which boomed at start of the new millennium and continues today.1 By 2000, the evolutionary process of sculpting brows according to facial features became the norm.
Brows have been trending toward masculine for several years. Some say it is a subconscious demand for equality that evolved with the growing role women are playing in corporate America and formerly male-dominated fields. We have witnessed brows gaining volume and flattening out, as the arch moved consistently toward the outer third of the eye for quite some time now.2 For the past few years, the general trend has been a blunt tomboy brow. In spring 2014 it was touted as the "schoolboy brow."
Others made bold statements by bleaching their furry frames right out of the picture, and some brow-raising looks incorporated crystals and glitter. Unlike the 1980s, this trend of thicker, bolder brows does not mean unkempt. Although the practice of brow sculpting according to facial features has been employed for years now, consumers still find themselves in a quandary, hence the following tips.
Brow Shaping Tips
Brows are defined by: arch, length, thickness, neatness, color and angle sharpness. There are common corrective procedures in place. Learn when to use them—and when to ignore them.
Rule: Close- & wide-set eyes
Start the brow closer to the outside of the nostril for close-set, and closer to the inside of the nostril for wide-set.
Break the rule: Do not deviate far from the natural curve coming off of the bridge of the nose, which creates an unnatural look.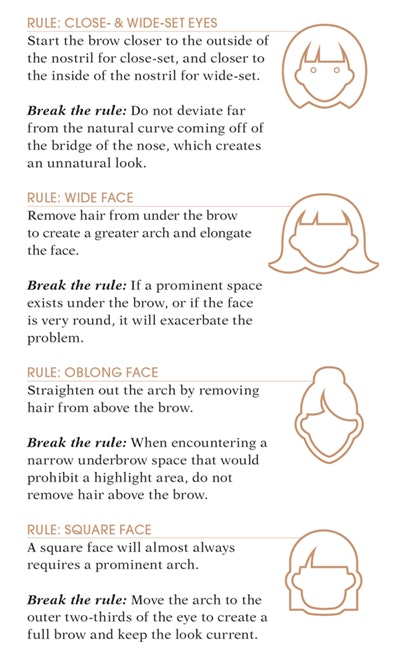 Rule: Wide face
Remove hair from under the brow
to create a greater arch and elongate the face.
Break the rule: If a prominent space exists under the brow, or if the face is very round, it will exacerbate the problem.
Rule: Oblong face
Straighten out the arch by removing hair from above the brow.
Break the rule: When encountering a narrow underbrow space that would prohibit a highlight area, do not remove hair above the brow.
Rule: Square face
A square face will almost always requires a prominent arch.
Break the rule: Move the arch to the outer two-thirds of the eye to create a full brow and keep the look current.
The trick is to balance the features without sacrificing the enhancement of another desirable feature. A healthy, full brow is a sign of good health and youth. Brows are important to facial symmetry. They can detract from dark undereye circles or an undesired prominent feature. Most makeup artists agree that clients are more opinionated about their brows than most other features. A seasoned artist will have negotiation tactics when clients desire bold eye makeup and barely-there brows. When lashes and brows are lush and full, busy women can wear less makeup, saving time and money. For those desiring full, modern brows, new technological advancements have tangible results when expertly applied. For example, one product developed for root outgrowth on the scalp also works well for brows. One positively charged end of double-ended zinc particles magnetically attaches to negatively charged hair, and the pigment particles at the other end attaches to the hair.3 Today's market hosts a prolific bounty of precision pencils and pens, textural powders, waxes and gels that hold up to the scrutiny of daylight.
Tips for Fuller Brows
Step 1. Comb the lashes up and out to stay with the natural growth pattern and trim any hairs that are too long. Apply a lighter brow powder to add texture for fine hair, or a wax for coarse brows.
Step 2. Following the brow powder, apply two fine-point brow pencils in slightly different tones for added depth and etch the brows only where needed. Follow the natural curve, gliding off the bridge of the nose to create a soft angle.
Step 3. Fill in under the brow to thicken and straighten the arch while filling in bald patches. Do not fill above the brow line, as it will be visible.
Step 4. Set with brow powder in the desired color; a darker taupe is fashionable for blonde hair. Although dark brows are in vogue, black-brown colors will be more attractive than black for dark hair, due to the value intensity when layering product.
Step 5. Apply ample brow gel or hairspray on a spooley. A small handheld fan will dry unruly brows in place before they can resist.
These techniques (see Steps for Fuller Brows) do require some natural brow growth. People without brows are turning to macropigmentation, wherein tiny hairs are artfully etched in place. Results are permanent and upkeep is required.
Lash Evolution
Throughout history, lashes have measured one-third the eye width to keep foreign particles out of eyes.4 Modern women, however, choose fashion over function, deciding that length simply does not measure up.
Ancient Egyptians not only painted their lashes with kohl and ointment for sun protection, but they also used honey and crocodile stool in an attempt to gain volume.5 Ancient Romans also used kohl and burnt cork to darken their lashes. Burnt cork was used again in 1916 along with petroleum jelly. The recipe was eventually refined into petroleum and lanolin, which people viewed as early lash growing serums, although they were not effective.6
In 1917, a primitive cake mascara was developed. Other lash and brow tints were developed in 1933, which scarred and blinded those that tried the tincture, causing blood poisoning and death in some cases. The U.S. Food and Drug Administration (FDA) began to enforce stricter controls on the cosmetic industry after enough disastrous cases were reported.
By the 1940s, waterproof mascara and eyelash curlers were in use. In the 1950s, women began lining their eyes in black and winging the corners to get the full lash look and achieve the wide-eyed innocent look of Audrey Hepburn. In 1958, a tube and brush mascara hit the market, and by 1961, it became available in a multitude of colors. False eyelashes finally caught on in the 1960s.
In 1971, water-based mascara became a viable alternative to its solvent-based and often irritating predecessor. Perhaps this was an early indicator of the trend to come, for organic and mineral alternatives.
In 1988, colorless mascara was introduced. It was not a big hit; however, about 60% of all women on the planet were wearing some form of mascara by 2002. Eyelash extensions started in Japan in 2004–2005 and hit the U.S. market soon after. In 2009, despite the global recession, drugstore mascara sales spiked 15%, representing a $4.1 billion dollar global market, solid evidence of the lifelong dedication women have to their eyelashes.4
After it was discovered that a glaucoma drug bimatoprost had a side effect of making lashes grow, a host of lash growing serums appeared on the market. These serums can cause irritation of the eye and darken the surrounding tissue.5
Lash extentions have become popular in recent years, with volume lashes currently the rage. Formerly, only one extension would be affixed to each natural lash, but volume lashes allow for multiple, lightweight lashes to be placed on each natural lash. There are 2-D and 3-D lashes, by which two or three lashes are affixed to each natural lash. Previously, lash artists achieved limited volume when clients had sparse lashes. Volume lashes are said to be longer-lasting, fuller, and feather-light on the client.7 A fanning technique is used to implement a uniform application of the minute lashes, which requires an experienced hand.
Tips for Longer Lashes
Following are five tips for achieving longer lashes.
Tip 1. Do regularly use lash-growing serums, as they are effective when used consistently.
Tip 2. Use a lash primer to protect lashes.
Tip 3. Curl the lashes.
Tip 4. Apply a favorite mascara or curling mascara, bouncing the wand back and forth at the lash line for a lift.
Tip 5. Apply waterproof mascara, as it is oil-based and will not react to humidity. This is also good for human hair temporary lashes.
Growth Opportunity
Lash and brow enhancement services are one of the fastest growing trends in the beauty industry. The same holds true for practitioners who seek education and certification for these services, and related services, such as lash perming and tinting. The quest for lush lashes and brows has women flocking to spas for lash and brow extension services. Some spa owners say they have increased revenue by as much as 40%. A half-set of lashes can be applied to the outer corners of the eyes for roughly $85, or mink lashes for approximately $300.8 Some spas offer memberships for bimonthly maintenance. There has also been a proliferation of brow bars springing up all over the country.
Spa owners who perform lash and brow services have noticed an increase in related facial services including: threading, waxing, brow/lash tinting and perming, facials and makeup application.9 If a client is willing to spend money for a full set of lash extensions, they may also be willing to pay for other related goods and services.
A two-week mascara was recently developed, adding volume and containing some properties of eyelash extension adhesive. It is a good partner for lash-growing serums and great for busy women, as the application process is quick and reasonably priced. There are currently no legislative restrictions as to who can perform the application process.
Many spa owners experience an upsurge in sales for related products such as: temporary lash strips—faux flutter lashes or party lashes such as feathered, glittered, polished-tip, or glow-in-the-dark lashes; lash and brow growth serums and conditioners; and lash lengthening and brow volumizing fiber mascaras.
Semipermanent cosmetics are marketed to lash clients, limiting touchups to extend lash longevity. Businesses are even selling silk and satin pillow cases, which help with the wear and tear of lashes as well as discouraging wrinkles and hair frizz. Consumers will spend freely if they gain trust through fair pricing and quality work.
Safety First
There are many talented and qualified technicians that perform lash and brow services; however, there are also those who attempt to learn and perform these services with little to no formal training. Inadequate training is ill-advised. States are passing legislation that limits lash extension services to cosmetologists and estheticians. To execute a lash or brow extension application properly, the technician should be educated in: the anatomy of the eye; possible diseases and conditions; safety and contraindications; sanitation and hygiene; lash shampooing; styling, sealing and curling; and products and tools. People are often quick to review online, but slow to research health and safety issues. The professional should educate clients to prevent them from seeking bargain-rate, home-schooled practitioners.
Women—and some men—have had a lengthy historic fascination with lashes and brows, and technological advancements continue to promise a beautiful future in this industry for the client, the practicioner and the spa owner.
REFERENCES
1. R Syme, Brow of the Decade: How To Get Full Eyebrows Back, The New York Times (Jul 23, 2014) www.nytimes.com/2014/07/24/fashion/how-to-get-full-eyebrows-back-for-the-over-plucked.html
2. R Dobson, Why Women are Embracing the Lowbrow Look, The Independent (Sep 16, 2012) www.independent.co.uk/life-style/fashion/news/why-women-are-embracing-the-lowbrow-look-8142464.html
3. K Perrotta, "Color Wow Root Cover Up" "Best in Beauty" www.allure.com/
beauty-products/hair/root-coverage/2013/color-wow-root-cover-up (May 22, 2015)
4. Eyelashes in History, Sultry Eyes Lash Studio, eyelashesinhistory.com/20thcentury
5. J Newman, Adding a Little Flicker to Those Lights, The New York Times (May 4, 2012) www.nytimes.com/2012/05/06/fashion/lusting-after-longer-lashes.html?_r=0
6. L Valenti, The History of Women and Their Eyelashes, Marie Claire (Mar 3, 2015) www.marieclaire.com/beauty/news/a13574/the-history-of-women-and-their-eyelashes/
7. A Arrington, From Russia with Love, Lash Magazine (Nov 2014)
8. E Dougherty, What's the Big Idea?, Lash Magazine (Nov 2014)
9. 3. M Rabbitt, Lash Out, Lash Magazine 59 (Nov 2014)
(All websites accessed Jul 9, 2015)