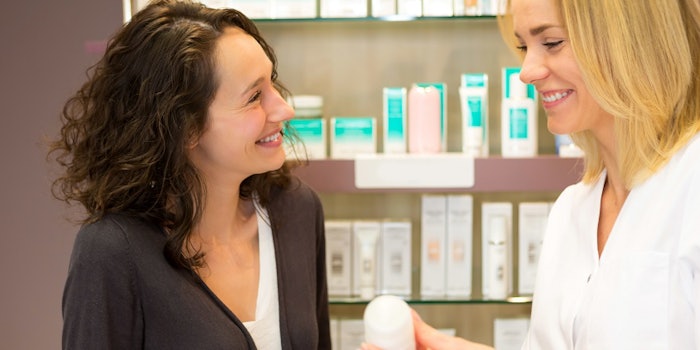 There's something magical about the number "3" that innately makes sense to us. We eat three meals a day. There are three primary colors. We even use the expression, "Third time's a charm." This "rule of three" even applies to business transactions, and in particular—sales.
Let's say you're shopping, in need of a new dress for a special occasion. You find one you like, but aren't sure it fits well and maybe it's more money than you'd hoped to spend. Your boyfriend sees it on you and says you look amazing.
Of course, you're flattered—but he's supposed to say that, right? Then, a salesperson stops by and repeats your boyfriend's words. Now, you're thinking this might be the right dress after all—but still, it's pricey. Then, a stranger walks up: "Wow!" she says. "You look gorgeous. That dress is your color!" Well, now, you can't get to the cash register fast enough!
 "Customers don't want to be sold to—they want to be understood." —Louis Silberman, president and founder of National Laser Institute
There's actually a term for this phenomenon, and it's called the effective frequency—or, the number of times a person must be exposed to a message before responding. So, how can you apply this information to upselling products and services in your spa or salon? Let's take a closer look at where those opportunities exist for both products and services, but first:
Why Upsell?
Of course, the goal is to increase sales overall, but upselling (and cross-selling) also increases the average ticket amount. If your average client spends $100 and you make $50,000/year, by increasing that ticket amount to just $150, you'll increase your income to $75,000. That's a significant jump, considering how easy it is to do.
Upselling Products in the Treatment Room
Although I use the word upselling, what I really mean is relating. Customers don't want to be sold to—they want to be understood. So, as you're working on a client's skin, think of what product would be the best possible one for that client.
Before saying a single word about the item you have in mind, describe a friend who has the "exact same kind of skin" as the client, while simultaneously applying the product you've already chosen for them. When the client says something along the lines of, "Does your friend have oily skin, like mine?" you can say, "Yes! And what I'm putting on you right now has worked beautifully for her." Undoubtedly, the client will ask questions, opening up the perfect time to mention, "It's a great value at only $XXX, and results can be seen in just a few weeks." See how easy that was?
Except when it isn't so easy—because clients will sometimes hesitate to spend money on skin care. It's funny—so many people have no problem spending $300 on a nice dress and $150 on a pair of shoes, but when it comes to investing in their skin, they create excuses.
The treatment room is a perfect place to discuss this with the client. As the service provider, you can gently point out that their faces are the one thing that the world sees every day, and it makes more sense to spend money on it, rather than clothing. When the client feels good about her skin, she feels more beautiful and confident.
If, however, the client still isn't ready to make a buying decision, that's okay. Another opportunity awaits at the front desk.
Upselling Products at the Front Desk
So, if the client didn't say, "Yes!" to suggestions made in the treatment room, it's time to get out the "prescription pad." Write down your recommended products on an official-looking piece of paper and walk the client and the paper to the front desk, handing it to the check-out person.
Front desk staff should be trained to hold up the products/services listed on it: "Here's what Mary has recommended for you," then follow-up with their own personal story about the product, such as: "I absolutely love this vitamin C serum. It has made such a difference in my skin's texture and tone." It's still a soft sell, but it's now the second time the client has heard about how they would benefit from using it.
Upselling Services in the Treatment Room
Here, the concept is the same. If a client says she wants to get rid of age spots and books a chemical peel, decide ahead of time what will give her optimal results. Tell her about a friend who also had age spots, and while peels worked very well for her, she still had some stubborn remaining spots. With just a few intense pulse light (IPL) treatments (and zero downtime), her skin now looks much younger and fresher. Be sure to offer an incentive such as a half-price treatment to the client, if she'll purchase that day.
Louis "The Laser Guy's" Top Tips for Upselling Skin Care:
In any type of selling, remember that seeing is believing and touching means ownership.
Personal, honest stories that educate others almost always beat out hard sales tactics.
Don't forget the Rule of Three, and you, too, can master the art of upselling.