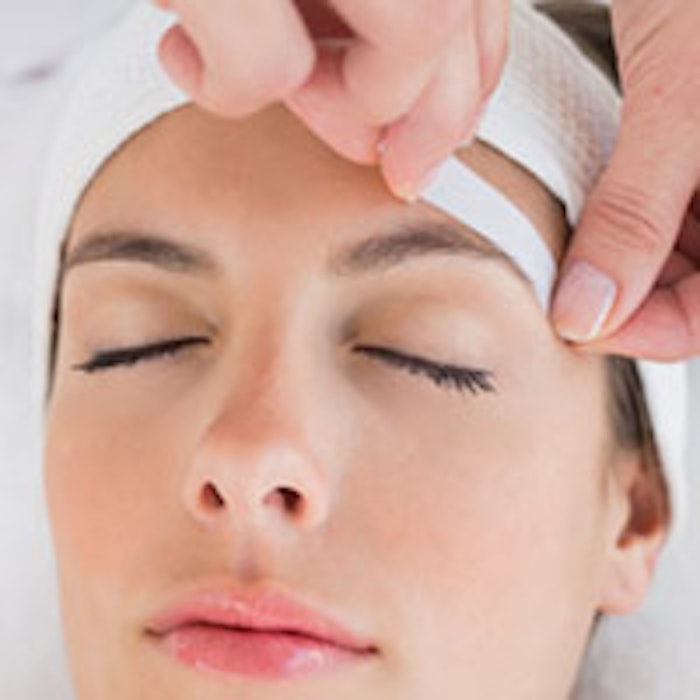 Waxing is the most profitable service you can offer as a skin care professional. It is a high-profit treatment with low overhead that can comprise at least half of your total service revenue. Eyebrows and Brazilians are the top two, making up the majority of your wax income. The next most-requested waxing services are lip and chin.
Why is waxing so popular? While facials and massage are viewed more as luxuries, waxing is seen as a necessity, something you can't do without. Once clients start waxing, they begin to see and feel the long-term benefits, and it quickly becomes a part of their beauty ritual. With that, keeping up with regular maintenance becomes a part of their budget.
To take advantage, the objective is to do more waxing! This is actually easier than you might think. It's not so much about hitting the pavement looking for new clients or buying ad space on bus benches as it is about providing amazing customer service to your current client base and expanding their number of services.
Saying that customer service is the key may seem simplistic, but it's really the root of building more a business.
A long-time waxing client of mine came in for her appointment one day—brows, bikini, lip and chin—and was telling me about how she had told a co-worker she was coming in for a waxing appointment. Her co-worker said, "Ouch, you get your underarms waxed?" My client replied, "No, why would anyone do that?" To her surprise, I told her that I indeed wax underarms. I added, "Um yeah! I wax everything!"
As I continued with her waxing appointment, I thought to myself, how could she not know that I wax underarms? Suddenly, it hit me. It wasn't her fault she didn't know—it was mine. This realization came as a shock.
Even though you have a menu of clearly stated waxing services, clients may only know what they came to you for. Take a close look, because a situation like this could be just the jolt you need to step up your game and ensure you are covering all of your waxing bases each time a client comes in.
Are you meeting clients' immediate waxing needs? Are you upselling waxing services, both at the time of service and at the time services were booked?
If the idea of upselling makes you want to hyperventilate, read on. Once you master the following tips, you won't feel like you're upselling, just providing great customer service.
1. A new attitude
Upselling contains one of the most-feared four-letter words of all time: sell. It can make even the most experienced professionals feel a little panicky.
Instead, think of upselling as a gift or an opportunity to help clients with a problem or concern. Doesn't that sound a lot better than trying to sell them something? The pressure is gone. You are simply offering your help and expertise, and it's up to them if they choose to take it. Ah, the relief—you are just offering available product and services that they already want or need. Make it easy for them to say yes to repeat bookings and retail purchases by offering samples and add-on treatments so they can experience how great your other offerings are.
Great customer service is like being a good hostess who offers houseguests what they need before they even know they need it. You can do the same in your spa! By taking away the need for someone to ask for something, clients can feel welcome and comfortable. The key is to do it with an attitude of genuine care without making them feel awkward or pressured.
2. A fresh approach
Once you have the right mindset, you need the tools to generate more waxing services. Did you notice how I didn't say more waxing clients? You aren't looking for new clients, just the opportunity to offer more and better service to existing ones. Your existing clients already love what you do, so why wouldn't they want more of it?
For example, you have a regular facial client coming in and you've been noticing she could use a brow and lip wax, but she has never scheduled them. Maybe she's been too embarrassed to book these services in the past. Now is your chance to make her feel comfortable without sounding rude or pushy. You simply say: "I know we didn't book it, but I just happen to have little extra time to add a brow and lip wax today if you would like." Not only is she more likely to add one, if not both services, but you will make her feel much more comfortable about rebooking them in the future.
The best part is that it's an open-ended, no-pressure approach. You noticed a problem, offered a solution and now it's up to the client whether she takes advantage of it. You're simply being a good hostess.
Upselling at the booking of the appointment also is super simple. No matter what service you are booking, add a waxing service suggestion to it. If the client is scheduling a brow wax, ask if she would like to add a lip wax. If booking lip and chin, ask if brows are needed as well. Unless a client is getting a full-body wax, you can always suggest some waxing service that's quick and easy to add.
Finally, listen to your client when they talk about their concerns or ask about other services. One of the most common questions is, "Does Brazilian waxing really hurt?" Don't just say, "Yes," and move on. They are asking for a reason: they are considering the service. This is your opportunity to let them know how great you are at performing this service and how you'd be happy to schedule it for them at their next appointment. Part of being a good hostess is being a good listener.
3. Follow through
Finally, adding waxing-related home care completes the customer service circle to ensure clients feel taken care of. In general, the two waxing services that require the most home care are brows and Brazilians.
Most of the time, brow clients are going to require a little help in the way of fill-in, so it's a good idea to offer a pencil or powder at retail. At the end of brow services, show your clients how to fill in their brows at home and let them know that you have the product on hand, if they'd like to take it home with them. Educating the client on how to use the product and then putting in it their hand is providing great customer service. You not only have given them the confidence to use it, but also have taken the stress away from them having to shop for the right product.
For Brazilian wax clients, it's all about educating them on the condition of the skin. During the skin analysis, let clients know that the skin in the Brazilian area tends to be dry, tight and dehydrated. That's important to know because when skin is dry, it tends to hold onto the hair, causing it to break instead of being removed cleanly from the root.
When you take the time to educate your clients in this way, it helps them understand what to expect from their service based on their current skin condition and it opens the door for you to provide them with a solution to correct the issue. Toward the end of the service, remind your client about how you talked about the condition of the skin earlier, and provide a product you'd like her to take home to start using to make the skin soft and supple. Let her know that with regular use she will get a better result at each waxing and stay hair-free longer in between services. This shouldn't feel pushy at all, it should feel like you genuinely care about your client.
When viewing upselling from the point of offering clients solutions to their concerns, it becomes less about selling and more about providing great customer service. Do not think of it as pushing products and services, but rather as helping clients by giving them what they truly need to look and feel better. Your clients can tell the difference between the two and will appreciate a genuine, caring attitude instead of a forced sales pitch. By becoming the über-hostess that everyone loves, clients will feel reassured in knowing they will always be made to feel comfortable and have all of their needs tended to—without even asking.