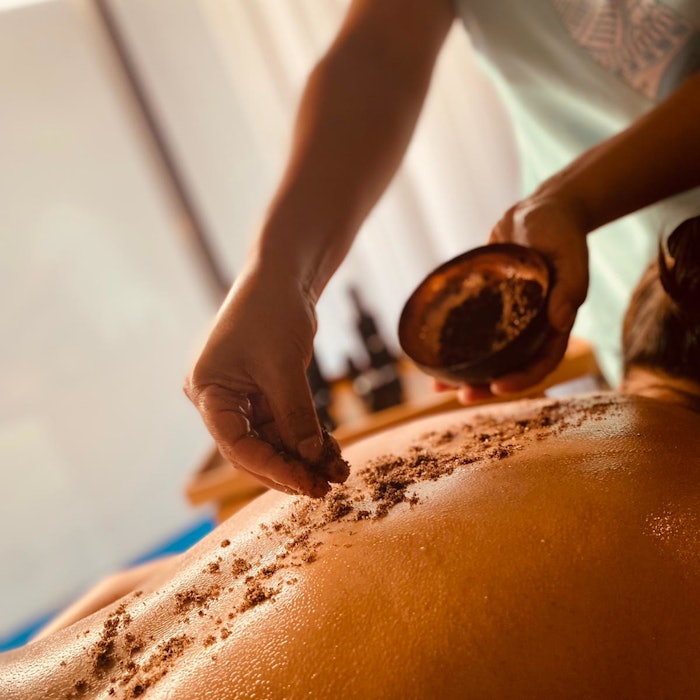 Photo courtesy of Kui Spa
VOMO's Kui Spa in Fiji introduced a new treatment menu that features restorative island-sourced ingredients, such as Nama Seaweed from Yasawa Islands and VOMO's own island harvested coconut oil. 
The Fijan spa experience at VOMO Island rejuvenates guests from the inside out, with all-natural specialty treatments found only in the South Pacific region. 
Related: 5 Holistic Spas Around the World
Fijan Spa Menu Items
1. NAMA Bamboo Massage
The massage incorporates various lengths of bamboo and locally-sourced Nama Seaweed based products. The massage therapist alleviates muscle tension, promote circulation and sensory nerve perception through deep tissue massage therapy. 
2. Coconut Coffee Scrub
Island-harvested coconut oil is combined with exfoliating coffee grinds, and is then applied to the body. This practice enhances circulation, boosts lymphatic drainage and provides hydration. The treatment gives enhanced radiance to spa goers. 
3. Sodashi ManKind Facial
This treatment is designed to treat men's specific skin concerns. It begins with a relaxing Sodashi Himalayan salt therapy massage that eases stress and reduces tension in the mind and body. The treatment closes with a facial massage to tone and firm facial muscles, leaving the face looking fresh and revitalized.