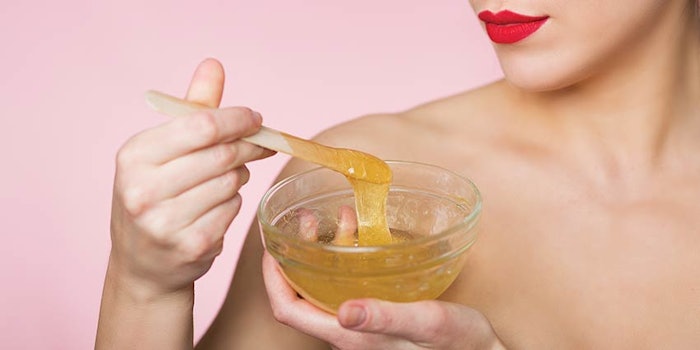 By now you have seen enthusiastic Instagram reels and TikTok videos featuring glistening, smooth body sugar paste gliding up a client's leg or arm. You might even be receiving calls or DMs asking if you offer sugaring on your treatment menu. Your clients are more savvy now than ever. They see the latest trends and techniques and immediately look for an esthetician in their area that can help them achieve the same smooth glow.
More and more clients are searching for products and services that are a little bit different. They are seeking a more gentle method of hair removal that provides better results. Your clients, and your competitor's clients, are looking for sugaring pros in their area more than ever. So now is the perfect time to ask yourself if it's time to boost your skin care business and fill up your books. Are you ready to say yes to those inquiries and stand out in a crowd? Is this the year to significantly increase your income? If your answer is yes, then now is the perfect time to get certified in body sugaring.
Related: Sugaring Around the World
Sweet, Sweet Sugaring
Body sugaring for hair removal has been practiced for centuries all around the world. In the U.S., we have seen a massive surge in estheticians getting certified in this technique. In the last few decades and now with social media, clients are able to watch, learn and ask for this popular service. Sugaring has become a gateway service for many savvy estheticians to introduce themselves and show off the other advanced techniques they are using to set themselves apart.
On our podcast, "The Sugar Show," we interview many estheticians who infuse body sugaring into their treatment menus, and in most cases, double their revenue in just a few months. Sensitive clients benefit from this gentle technique, our environment is happier when less waste is produced, and trust is built when this room temperature product easily slides hair out of the skin with less pain and irritation.
If all of these benefits are intriguing to you, then infusing sugaring into your treatment menu will result in your sweetest year yet! Adding sugar to your business doesn't require a major investment in equipment or products, and you can learn and practice at your own pace. If you are ready to take the plunge, but aren't quite sure where to begin, we've got you covered with these five simple steps to get you started.
1. Get Sugared
If you haven't already experienced body sugaring for yourself, find a skilled sugar pro near you and get yourself sugared. You can go to the online directory www.thesugarnetwork.com and find a certified sugar pro in your area. If you can't find one anywhere around, that means this is an opportunity for you to start this service in your area!
2. Get Certified
Start with a reputable online certification training program. It's a great way to get unlimited access to theories and techniques to get the basics down. It is worth every penny to invest in a quality training program rather than learning poor technique from free internet videos. Once you are ready, find a certified trainer and perfect your skills with hands-on training sessions. You can always refer back to your basic videos to remind yourself of the details.
Not all sugar training is created equal. Look for a program or educators who are connected to or endorsed by one of the professional sugar suppliers. It's always wise to inquire about their years of experience, their background in skin care education, and search reviews and testimonials on their training programs. Your educator and supply company will be your biggest ally in your sugar journey, so don't skimp on a company or program.
Related: Making the Switch to Body Sugaring
3. Practice, Practice, Practice
When starting, it can be helpful to practice first on your family and friends. Refine your technique and get your comfort level and timing down. The more you practice, the faster you will be able to master the techniques and confidently add each new service to your treatment offerings. Sugaring is truly a service that takes time to perfect. Some students pick up quickly to the technique, and others take a bit more time. But, once you get it down, your clients will thank you for your mastery. Adding body sugaring to your treatment menu is more than just a one day training and wearing an "I HEART SUGAR" t-shirt. You will need to carve out time to learn, practice and perfect the craft. Once you do, not only will your clients be happy, but your books will be happy too!
Continue reading about how to add sugaring to your spa in our Digital Magazine...
Shannon O'Brien is the founder of Love2Sugar. She coaches estheticians and cosmetologists around the world on how to improve their sugaring techniques and build multiple figure skin care businesses through sugaring. She is the host of The Sugar Show podcast, motivational speaker, author, and owner of SugarMama's Beauty Collab in California.