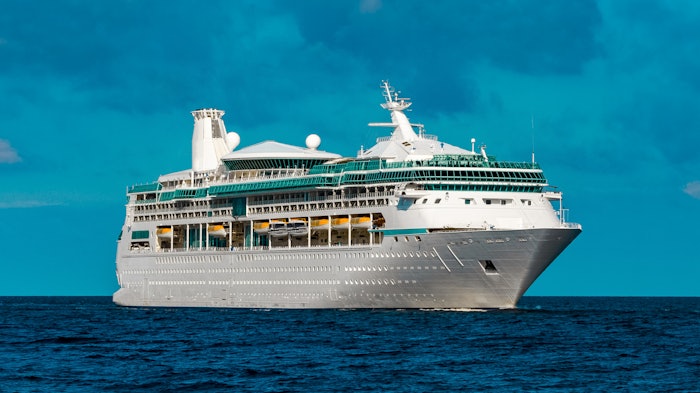 An article from The Points Guy discussed some of the best spa experiences on cruise ships. The treatments typically include a thermal suite with a sauna, steam room and a menu of massages and facials.
Related: Canyon Ranch Debuts Nature-Inspired Spa Renovation
LivNordic Spa, Viking Ocean Cruises
The thermal suite on Viking's adults-only oceangoing ships is complimentary for every passenger.
Viking's coed spas include a resistance pool, sauna, lounge chairs lined in heated tiles, steam room, bucket-style ice shower and a snow grotto—a snow-filled, neon-lit space designed to cool off.
The treatments are not complimentary but include a Scandinavian spa night option and Norwegian products.
The Spa at Seabourn
Seabourn's spa features the Mindful Living program, which includes yoga, guided meditation, massages, acupuncture, Chinese herbal medicine consultations and crystal sound baths.
Seabourn offers spacious spa areas with fitness centers and salons, as well as thermal suites with steam rooms, monsoon showers and heated tiled chairs.
AquaSpa, Celebrity Cruises
Celebrity Cruises offers a spa experience comparable to any major city's top spa and fitness center. It features a spacious spa with unique treatments like the antigravity massage and thermal suite features including an infrared sauna and swinging meditation.
The salon area includes a teeth-whitening program, and the 24-hour fitness center offers Peloton bikes, barre and high-intensity interval training classes and bungee-based classes.
The AquaClass cabin offers complimentary fitness class and sea thermal suite passes, access to a spa concierge, healthy room service options, a yoga mat to use onboard and wellness offerings curated by Goop, including a signature smoothie and in-room fitness menus.
Serene Spa, Regent Seven Seas Cruises
The Serene Spas on Regent Seven Seas Cruises has a luxurious design with marble flooring, a curved wooden desk and Swarovski crystal sculptures. The spas include yoga classes, sauna and steam rooms, a full roster of facials and massages, nail and hair salons. The dual thermal suites include saunas, steam rooms, showers and a cold room.
Senses Spa, Scenic Cruises
The Senses Spa on Scenic Eclipse features a thermal suite, sauna, Scandinavian plunge pool and outdoor pool. The thermal suite is complementary to all passengers onboard regardless of cabin category. The spa menu includes facials, salt scrubs, manicures, blowouts and hot rock massages. The spa suites on decks 8 and 9 of Scenic Eclipse have Philippe Starck-designed bathrooms with mist showers that incorporate a range of color selections, giant Jacuzzi tubs that look out onto the sea through a private veranda and glass partitions to the main room that become opaque.
Redemption Spa, Virgin Voyages
Virgin Voyages offers free fitness classes and alfresco yoga. The spa is not free but includes a thermal suite with heated lounge chairs, an indoor hydrotherapy pool, hot tub, sauna and steam room. The spa also offers two cold plunge pools, a mudroom and salt room. The cruise ship also has a male-focused mini salon, Stubble & Groom, that features hot-lather shaves and pedicures.