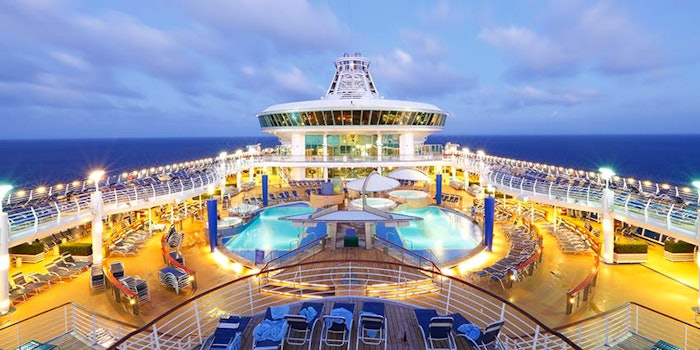 OneSpaWorld Holdings Ltd., a health and wellness service provider for cruise ships and destination resorts, has announced Celebrity Cruises has selected the company as the exclusive spa and wellness partner for its entire fleet, including the new award-winning ship, Celebrity Edge.
Commencing May 2020, the agreement includes the operations of future Edge Series ships currently commissioned by Celebrity Cruises, while increasing OneSpaWorld's global market share to a new, all-time high.
"Celebrity Cruises and OneSpaWorld have a long history of success," said Glenn Fusfield, OneSpaWorld president and CEO. "Together, we have created successful spa and wellness brands over the years. The Spa on Celebrity Cruises will continue a tradition of innovation and superior guest service while evolving its modern luxury ethos at every spa and fitness touchpoint. We are delighted to build upon our relationship with Celebrity and look forward to continuing to create and deliver premium wellness experiences at sea."
In April 2020, Celebrity Edge will be joined by its sister ship, Celebrity Apex, with three additional ships to follow in 2021, 2022 and 2024, respectively.
Celebrity Edge debuted The Spa, a wellness concept recognized for its cutting-edge technological and therapeutic innovations, first-at-sea experiences, exclusive collaborations with leading authorities in health and wellness, technical excellence, award-winning retail products and elegant design.
Nine Millennium and Solstice Series ships will be transitioned to OneSpaWorld in the coming months and rebranded as The Spa.
The rebranded spas will feature many of the offerings introduced on Celebrity Edge, while continuing to evolve wellness at sea with groundbreaking concepts and experiences, including the continued salon collaboration with Kérastase and the expansion of award-winning Gharieni treatment beds across the fleet.
From wellness to beauty to fitness, The Spa on Celebrity Cruises will include a collection of more than 124 treatments, including signature offerings such as the Hot Mineral Body Boost, Poultice-Powered Muscle Release, Zero Gravity Wellness Massage, Restorative Salt Stone Massage, Thousand Flower Detox Wrap and Elemis Biotec facials, to name a few.
In addition, pre-booking prior to embarkation will simplify and automate guest bookings to ensure a seamless experience.
New programming that will further elevate the brand's awarded spa and wellness platform include:
Kérastase Flagship Salons – Innovative in-salon treatments such as the Fusio-Dose provides unique and transformative results. In addition, an ultra-personalized service, the Kérastase Hair Diagnostics tool will help guests analyze the condition of their hair, allowing for targeted recommendations for treatments and at-home care options.
Gharieni Advanced Therapy Beds – The Spa will feature advanced spa therapy treatment tables fleetwide. The selected beds include the popular MLX Quartz and the WellMassage 4D.

Also known as psammotherapy, MLX Quartz is warm sand quartz that cocoons the body and replicates the benefits of a day spent at the beach. Quartz minerals also impart wellness benefits and healing energy, helping to release muscle tension and promote a deeper state of relaxation.
WellMassage 4D is an award-winning method that combines high tech and high touch. This table uses eight specially programmed positions and manual signature techniques to deliver a deeper and more relaxing massage.
"At Celebrity Cruises, our hallmark is providing guests with unforgettable experiences. Our expanded partnership with OneSpaWorld enables us to elevate the guest experience and introduce a myriad of new wellness platforms to enhance our world-opening vacations," said Lisa Lutoff-Perlo, Celebrity Cruises CEO and president. "Wellness has always been an integral part of the Celebrity Cruises experience, and the spa and wellness experts at OneSpaWorld will help us deliver even more memorable experiences."