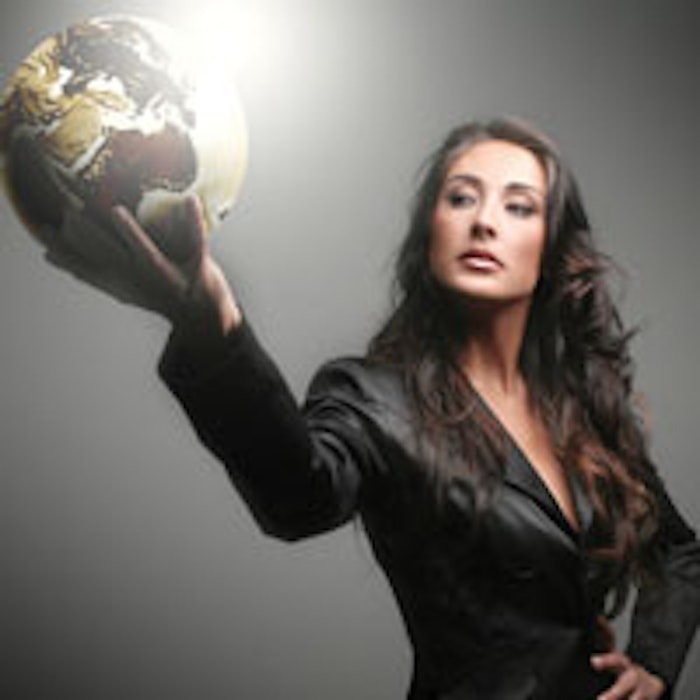 With a return to pre-recession levels of spending and 5% value growth globally, 2010 marked a strong recovery for the beauty and personal care industry. Consumers flocked back to premium beauty, and most luxury brands found themselves in solid positive growth territory after poor performances in 2009. Following are the five key trends driving the growth of the global beauty industry in 2011.
1. Price points and brand positioning
Cosmetic companies are generally focusing on the mass market, thanks primarily to the increasing importance of Latin America, particularly in the area of fragrance, a category that is dominated by mass brands in the region. However, mass and masstige portfolios are also being developed in more mature and traditionally premium-dominated markets, such as Japan. It is important for skin care professionals to understand that this is a result of the growing perception among consumers that mass or the upper end of mass across categories, such as color cosmetics and skin care, may be able to deliver similar quality as their luxury counterparts. Be aware of this trend and be prepared to explain to clients and consumers alike what sets professional skin care products apart from the competition.
Although value growth is being driven by mass beauty, innovation is still most definitely being led by premium brands, including new mascara packaging formats in color cosmetics, as well as skin care ingredients. In 2010 and 2011, there have also been a number of high-profile acquisitions involving premium and professional lines. Super-premium brands retained their exclusivity and high pricing, with some putting in a consistently positive performance throughout the downturn as the spending levels of wealthy consumers remained largely resilient.
2. Time-saving and long-lasting
From the trend for at-home do-it-yourself beauty during the recession, two major diverging trends in terms of new product innovation have developed. Time-saving beauty is a theme in many new products, primarily as a response to demand from today's time-poor consumers who want to cut the amount of time and money spent on their daily beauty or grooming routine. As a result, there has been much research and development focus on areas such as fast-drying nail polish and multifunctional products, such as 3-in-1 shower gel, facial wash and shaving foam for men or hybrid products for the face that incorporate elements of facial makeup, skin care and sun care.
Super long-lasting beauty is another overriding theme, because such products are seen as being hassle-free and a good value for money due to the need to apply them less often than their conventional counterparts. These include long-lasting lipsticks and nail polishes, and 24-hour moisturizing in skin care. It is common that clients allow a longer stretch between professional skin care treatments these days, so it is all the more important to provide home-care recommendations and options that will help them maintain the results of professional skin care treatments longer in the most convenient way possible. Do you have options in your retail area that fit this description, and are you working with clients to recommend the best home-care options for their needs?
3. The digital beauty experience
Although department stores performed marginally better during the previous year, Internet retail managed to achieve stronger absolute value growth to reach total beauty sales of just more than $11 billion in 2010. With e-tailers expanding their product ranges, including beauty, through acquisitions and product-specific landing pages, pressure on store- and spa-based retailers will only intensify.
As consumers continue to rely on the ease of online shopping, skin care facilities and suppliers alike are looking to hone their Internet strategies to create a highly competitive non-store beauty market. The key draw of online beauty shopping for consumers remains price. Typical consumers who buy online already know which products they would like because they are satisfied with the quality from previous usage or have tried the product "off-line" and are purchasing it online due to better prices.
As technology and Internet penetration advance, the beauty industry continues to adapt new strategies to interact with consumers in a more experiential way, both virtually and in-spa. This is happening through social media interaction sites such as Facebook and blog websites, online makeup tutorials and smartphone applications. Competition with both online retailers and mass market venues is nothing new to the professional skin care industry; however, this trend indicates the competition is not dying down or going away. Make sure that you work to have competitive pricing and offer other VIP incentives to ensure your clients are spending their money at your facility and not elsewhere. Also, make shopping with your skin care facility as easy as possible by considering expanding your website to offer online shopping if you feel your business would benefit. Approach retail with an open mind and work to always meet the needs of clients and consumers.
4. Conscientious beauty
Naturally positioned, organic and fair-trade beauty products are rapidly moving from niche to mainstream status. This trend is evident both from the transition of such products being sold at specialty outlets to more mainstream stores, such as supermarkets and drugstores, and also from the many beauty companies addressing the demand for beauty innovations that have both a minimal effect on the environment and offer results comparable to standard brands. Changes are also taking place in the regulation of organic beauty in order to help consumers distinguish between the wealth of products available. The European-wide Cosmos standard was introduced in February 2011 and is expected to see a move toward a more harmonized standard in organic cosmetics.
5. High-tech developments
Beauty is continuing its quest for scientifically and technologically advanced formulations, with high-tech innovations being seen throughout the entire beauty spectrum. This has been particularly the case in skin care, where innovations based on genomics, involving the study of a particular string of genes responsible for aging and how those express themselves throughout time, have been prevalent. There is an increasing focus on providing similar scientifically advanced innovations in ingredients, both at the upper and lower end of the price spectrum. Color cosmetics have seen a number of innovations that increasingly offer high-tech skin care benefits or a professional-looking finish. Also, the 2009 launch of a prescription treatment to grow eyelashes has created a completely new category for nonprescription eyelash growth products. As a result, many major beauty companies have recently come up with innovations in this area.
Surprise and delight
Always changing, the beauty industry continues to surprise and delight consumers who are on the lookout for more efficient beauty products that also play on their desires to give back and be wowed by technology. Although there is much to be said for offering traditional skin care and cosmetic solutions, it may be time to step out of the box a bit and see how today's trends may appeal to your clients, as well as entice consumers in your community through the doors of your skin care facility.
Carrie Lennard is an industry analyst for global market intelligence firm Euromonitor International. She directly contributes to the content and quality of Euromonitor's cosmetics and toiletries research, which provides a strategic analysis of the global market and in-depth coverage of the cosmetics and toiletries industry in more than 80 countries worldwide.