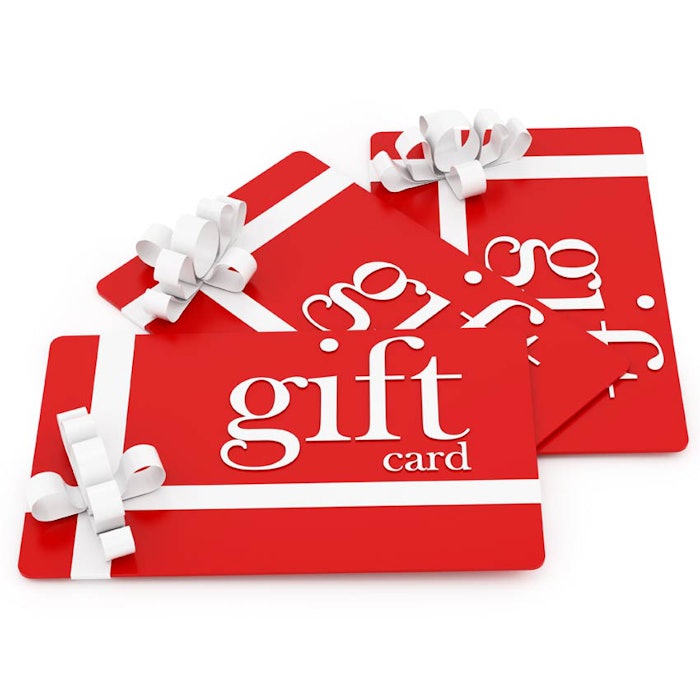 As we enter mid-November and approach Thanksgiving, you undoubtedly have begun prepping your spa for holiday sales. You have probably brought in a few gift sets, established a plan for decorations, prepared your spa menu for a few holiday specials and thought about a spa party or special event...but have you thought about gift cards.
Gift cards remain the most requested holiday gift, according to a report from Global Market Development Center (GMDC).  Based on early spending reports from the National Retail Federation (NRF), GMDC predicted that gift cards will be the second most purchased item this holiday season, falling second only to apparel or clothing accessories. Falling below gift cards are entertainment items such as CDs, DVDs, books and video games; toys; and jewelry.
"The positive emotional connections that come with the holidays becomes an important opportunity for retailers and trading partners to demonstrate their understanding of shopper needs and execute flawlessly to meet them," says Mark Mechelse, director of research, industry insights and communications at GMDC. "Seasons are so critical to retailer success and shoppers evolve so rapidly in how they buy for them, that stores and manufacturers must constantly think "what's next" to refine their efforts to appeal and satisfy."
Does your spa offer gift cards? If so, do you offer them in a number of denominations? Do you allow the client to customize the amount of the gift card? Are you gift cards visually pleasing? These questions are some things to think about when evaluating your gift card system. It is wise, given the amount of gift cards being purchased around the holidays, to offer as many options as possible. In addition, some of your clients may not have time to come into the spa during the busy holiday season or perhaps a family member would like to buy your regular client a gift card, making online gift card sales a great option.
When you are thinking about holiday retail sales, think about developing specials on gift cards not just on skin care products. For example, offer a $10 gift card for every $100 purchased or offer regular clients a $10 gift card with the purchase of a $100 service.
Holiday sales are expected to climb this year, and gift cards are a great way to capitalize on that growth. Earlier this year, NRF predicted sales in November and December to increase a solid 3.7% to $630.5 billion—significantly higher than the 10-year average of 2.5%. Holiday sales in 2015 are expected to represent approximately 19% of the retail industry's annual sales of $3.2 trillion. Additionally, NRF is forecasting online sales to increase between 6 and 8% to as much as $105 billion.
Whatever changes you make to your gift card offerings, always keep branding in mind. Make sure your gift cards and any packaging associated with them is alligned with your brand and logo.