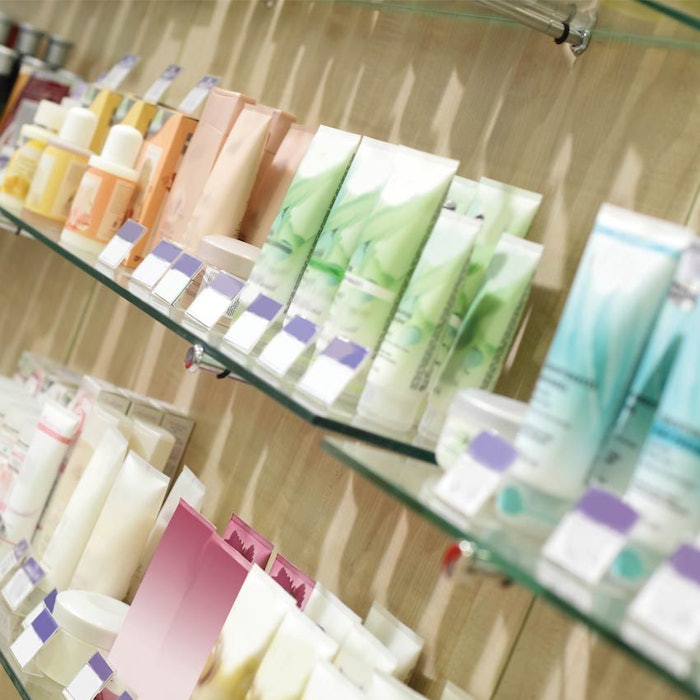 We've all been to stores where we're taken in by the beauty of the interior and tantalized by engaging displays and well-merchandised fixtures. There are many variables that factor into creating these effective and beautiful interiors, but a good design doesn't stop with the finishes, fixtures, signage and lighting. After a space has been designed, fixtures need to be merchandised properly (organized and fully stocked), and engaging displays need to be created and changed frequently. Fixtures have to support and not distract from the products they hold, and displays must be strategically placed throughout the store to entice customers from point A to point B and point C. The displays need to keep customers inspired and engaged while shopping. If you want to increase your product sales, pay attention to how you merchandise and display your products. I'm often asked, "What's the difference between merchandising and display?" My answer is a lot.
Merchandising
In simple terms, merchandising is "good housekeeping." It is presenting your products on fixtures in an organized fashion, the goal of which is to help customers quickly see and interpret the merchandise, and then be influenced to purchase something.
Group by type. It is important to understand that in the United States, consumers tend to read merchandise from left to right and top to bottom. The elements and principles of design (see Elements and Principles of Design) are basic tools for stocking fixtures and merchandising walls in a cohesive manner. By grouping merchandise on a fixture or wall according to size, style, color and type, you can create a visual presentation that is easy to interpret.
Mind size. A basic rule of thumb is to place smaller items at the top of the fixture, and graduate down in size, placing the largest (and heaviest) items at the bottom of the fixture. Seems like an obvious tip, but when this tactic is not followed, it looks awkward. It proves we resonate with the principles of design when they are used properly.
Rotate. Another basic rule is to rotate your merchandise periodically. Placing products in different locations can add new life to old merchandise. Bringing a product from the back of the department to the front, or from a side shelf to an endcap, can mean new life for the product.
Bring in light. It is important to make sure the fixture is bathed in ambient light (all sides) and has professionally printed signage either above or on the fixture. Signs that identify product lines, individual products with their benefits and promotional items should be descriptive (using as few words as possible) and consistent in design with other signage in the spa. It is all about communicating your message quickly.
Displays
Displays are well-coordinated focal points that are strategically placed throughout the spa, are changed regularly, and often incorporate display props. Positioned properly, your client's feet will follow their eyes, and before they know it, they will have shopped your entire retail area. If you can get customers to engage in the display by touching and trying products, you can increase sales up to 25% for that product line. These types of displays can really enhance the shopping experience.
The most successful displays have good composition. This means they utilize the elements and principles of design to bring the products together in an attractive way and one that helps the viewer quickly make sense of the display. The most effective principles of design include contrast, repetition, movement, symmetry, proportion and dominance.
Pyramid stacking. Stacking products into the shape of a pyramid for 360* viewing is a quick way to get a product line to stand out from its surroundings. Hanging a large object such as an umbrella over a display will attract attention from a distance.
Odd numbers. A common and effective display rule of thumb is to group items in odd numbers, i.e.: three, five or seven. The visual rhythm of odd numbered objects lined up is more appealing.
Ambient light. Displays should be illuminated three times brighter than their surrounding ambient light to attract attention and provide a visual pop. A simple sign can be incorporated, but it should be consistent in design with other signage in the spa.
Plan a theme. When planning your displays (see 7 Display Planning Steps), spend some time determining the theme, whether it is seasonal, lifestyle oriented, humorous, color-based (i.e.: all products that have blue in them), linked to a community event or reflective of an event at your spa. Themes help coordinate your artistic efforts. Keep in mind, displays themes that evoke a positive emotion are often followed by a purchase.
Check it twice. Before finishing your display, go through the items in the following checklist to make sure you've done it right.
Make it simple.
Incorporate a theme.
Incorporate interesting and relevant props.
Use good composition.
Attract and hold attention long enough to get a customer engaged.
Tell a story (quickly).
Stimulate interest in the product line.
Create desire for the product.
Move the customer to action—a purchase.
Reap the Rewards
If you're not sure you can take on the role of visual merchandising, and you don't have an employee who has the "knack" or desire to learn the basics, reach out to your local college, university or technical school. There are often students in art/design or retail departments looking to build a portfolio of display experience. However you do it, you can be sure your spa—and your sales—will reap the rewards.