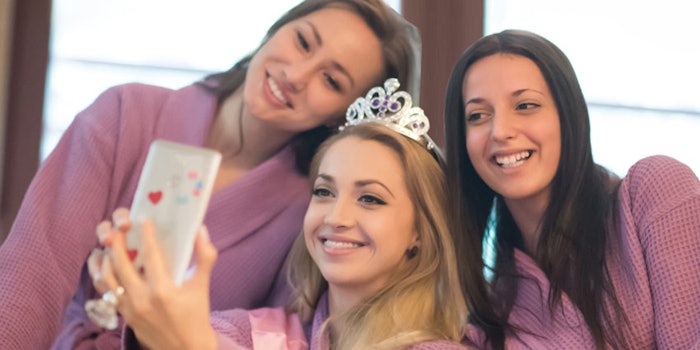 As soon as a client first posts a photo of the gorgeous ring on her left hand on social media, it is a safe bet she is already thinking about how her skin will look on the big day. That's where you come in: you help her plan out a perfect skin care calendar to ensure she looks her best at every upcoming event, from the engagement party to the last day of the honeymoon. We spoke with some of the country's most sought-after spa experts for their best tips to help clients plan for the big event.
Customize Packages
Pre-package a series of treatments and services that specifically cater to your client's needs, including services that focus on the face, body, back and décolletage. Flexibility is key here, as every bride's expectations are different. She may want to experience every type of service, or focus only on facials. Be adaptable to her goals.
"Promoting to the special occasion client takes some planning and creative thinking to stand out amongst your competitors. These clients are already on the quest for flawless skin. We create pre-wedding facial packages, and arrange the packages on a stylish timeline as a countdown to the wedding. Each bride can choose the package that best suits her needs, or be tailored to exactly what she wants," said Alina Houtz, spa manager, Jordan Thomas Salon and Spa (Bel Air, MD).
Be Their Skin Care Professor
Bridal clients are often new clients, making it a great opportunity for you to showcase your skin care expertise and develop a long-lasting relationship.
Stress Homework
A crucial part of ensuring your client looks her best on the big day is making sure she does her skin care homework. Recommend the right retail products to extend the results of her services and get her skin in optimal condition in-between facials.
"The fact that we can offer a one of a kind, customized spa experience, specific to guests' needs and concerns in a relaxed, tranquil setting, all the while achieving instant, visible results is priceless, and appeals to every guest type, especially the bridal client." - Bonita Bragg, manager of spa operations, Paradise Point (San Diego). 
"I recently decided to offer all our treatments as 80-minute services only. Why? It allows our estheticians to spend more quality time with the guest, perform a thorough [skin assessment], answer questions, write up professional recommendations and escort the guest back to the retail area post-service, where they will have time to educate them on the right at-home products, and custom blend them accordingly to further target concerns. Last week was our first week implementing this, and our retail sales literally doubled," said Bragg.
Be Complimentary
All clients (especially brides) are looking for complimentary offers, discounts and incentives. Budget is everything when planning a wedding, so make sure every offer is appealing and valuable.
"With my spa being located at a destination wedding resort, I have partnered with our director of sales to promote spa services, in particular, facial services. If a bride has not booked a spa treatment prior to her arrival, I will reach out and extend a complimentary facial for her, when she also schedules the same facial for five members of her wedding party. Our brides love it," Bragg explained.
"We make sure to always highlight retail products for bridal clients. We'll choose a few products that compliment the service, and offer a same-day discount of 15-20%," said Houtz.
Don't Forget the Bridal Party
A bridal entourage includes the maid of honor, bridesmaids, flower girls, mother of the bride and mother of the groom. Keep them in mind when you plan your bridal offers.
For example, you can promote 15% off all services for groups of six or more. This is a great opportunity to promote your spa as a bachelorette party destination. Include gift bags, champagne, cocktails, appetizers and music to truly make it a memorable and fun event for the bride and her guests.
Play Dress Up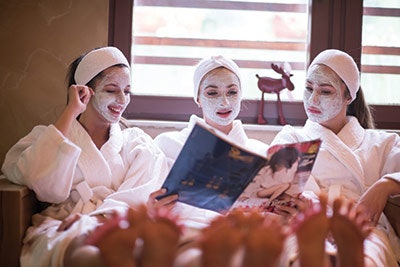 Simple, little details can make all the difference when it comes to planning for a big day.
"Dress up a gift with purchase (GWP). Decide how you want to incorporate a GWP, and then go one step further. Personalize them with a pretty tag that says "bride-to-be" and a gorgeous bow. Do the same for the maid of honor gift bag, mother of the bride, etc. Small details go a long way and make you memorable," Houtz said.
Host a Bridal Showcase Event
Hosting a wedding planning skin care event in your spa can be a great way to boost sales, increase bookings, introduce clients to new services and promote your spa to potential new brides-to-be.
Get the Message Out
Make sure your services and upcoming events are properly marketed. Use the following to promote your services and events.
Advertising. Advertise digitally and in-print in your local magazines or newspapers.
Social media. Promote the event via your spa's Facebook, Instagram and Twitter accounts, so your fans and followers can receive early notice. Remember, one post is not enough. You can also select "create an event" on your Facebook page to officially post all the details.
Website. Update your website to promote and hype your offerings.
E-mail. Send a targeted e-mail to your current client list.
Signage. Create signage to display inside your spa to promote the event. Your skin care line should offer easily-downloadable editorial images to help promote the event.
Outgoing message. Take advantage of your spa's recorded outgoing phone message to promote your event. Add a short message announcing the event name and day.
Local media. Write a press release that includes the event facts, what, where and when, and send it out to your local broadcast news channels, magazines and newspapers. Look for the name of the editor or writer who writes for the section covering local events, and bring it to their attention.
"We host in-spa events to celebrate the wedding season and introduce our newest packages, innovative products and highly trained professionals to the world." - Alina Houtz, spa manager, Jordan Thomas Salon and Spa (Bel Air, MD).
Cross-Promote
Brides are in the market for many services to help them get ready for the big day. Consider reaching out and cross-promoting your offerings with the following.
Local gyms and personal trainers. Getting the skin in optimal shape is just like getting the body ready. Many brides and grooms will seek out professional help to get in great shape for the big day. For example, you can combine efforts with a local gym and offer a six-month Bridal Boot Camp for Face and Body at an incentivized price.
Hotels, wedding venues and wedding planners. Offer referral incentives such as, "15% off any facial series service for brides booked at Venue X."
Photographers. Work with local photographers to offer "photo ready wedding skin" offers, including incentives on retail and service packages.
Instagram it All
With permission, take shots of your bridal clients enjoying the results of your services, and post them to your spa account. In addition, be sure to follow your clients' own personal accounts and re-gram their wedding-day photos. It's a great way to show the rest of your clients the results of a successful wedding skin care spa plan.
Plan for Post-Wedding Blues
Some brides and grooms experience a bit of a let-down after the official wedding excitement has ended. Lift up their spirits with a Honeymoon Recovery including facial and body treatments to re-energize the happy couple.
Hint. This guide works not only for the bride, but for anyone getting ready for a important event, from high school reunions, to prom or graduation.