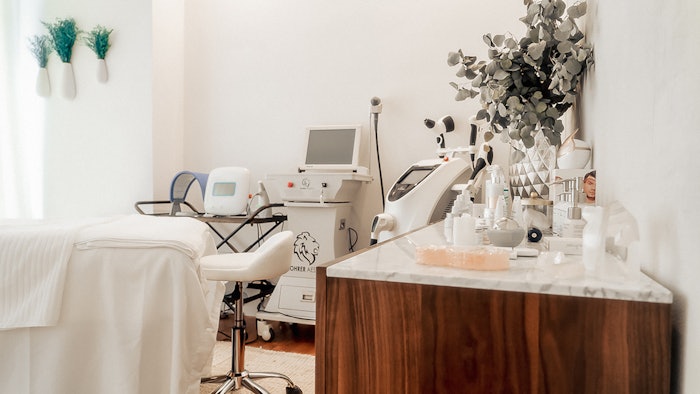 Photo courtesy of Pietro Simone
Pietro Simone launched a new treatment menu at his House of Pietro Simone in New York and London clinics. With an education-first approach, the menu prioritizes understanding the layers of skin, allowing clients to receive personalized treatments tailored to meet their skin concerns. 
Pietro's unique concept defines the layers of the skin from muscles, to fat, to dermis, to epidermis, and explains how each layer requires different attention to reap the benefits of products, technology and touch.
The House of Pietro Simone represents a fusion of methodical Skin Layer Treatments, powerful skin care formulations, technologies and Italian hospitality for a distinctive and personal experience. The stand-out Skin Layers Treatments and Skincare Map provide a guide of addressing each skin care routine to support, correct, and enhance the entire skin ecosystem.
Related: Pietro Simone Skincare Opens Clinic at The Parlor
Pietro's Skincare Mission Map is founded on five focus areas: Pro-Aging, Hydration, Rosacea/Sensitivity, Hyper-Pigmentation and Oil/Acne. Four Core Skin Treatments on the newly launched menu utilize this map in their sessions: The Introductory, The Corrective, The Maintenance, and The Relaxer facials, all of which are part of a diligent cycle offered throughout the year, and designed to revitalize, sculpt, lift, tone, and restore the skin.
Treatment sessions range in length from 15 minutes to 180 minutes, and target all problem areas from forehead wrinkles to legs. Popular body treatments include The Fierce Body Treatment and The Body Age-Management Correcting Protocol- two intense options that strategically renew, rejuvenate and correct concerns. 
Microneedling, photo peels, laser hair removal, and a home care plan are also created to help clients get the most out of their treatments.