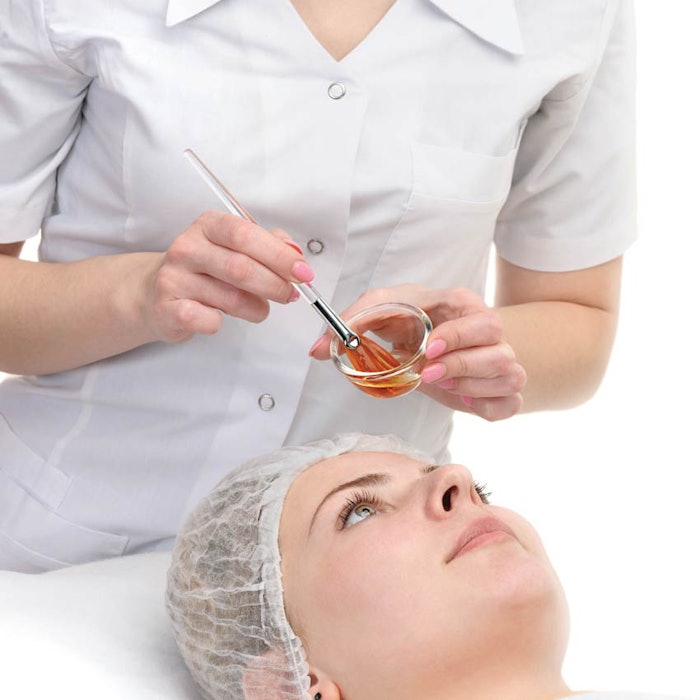 Enzymatic agents have been used to rejuvenate skin since Ancient Egypt. Chemical peels came into dermatological practice in the late 1800s, when salicylic acid, resorcinol, phenol and trichloroacetic acid (TCA) were noted for their rejuvenation and brightening properties.1
Dermatologists have since experimented with different formulations and applications of chemical peels, publishing their results along the way. It was not long before chemical peels became a top choice among skin care professionals for achieving optimal skin health over the long term.
There are some new trends underway, and next-generation acids have entered the scene. These new trends and acids have been combined with traditional peel methods and formulas to pave the way for esthetic professionals to customize powerful and long-term pro-youth results for clients. This article will delve into the new formulas and trends in chemical peels while addressing how peels can most effectively be used in the treatment room to enhance youthful results.
Types of peels
When properly administered, peels provide powerful, non-invasive, pro-youth improvements to skin. They remove cellular buildup; stimulate skin regeneration; reduce the appearance of wrinkles, fine lines and large pores; clear blemishes; treat hyperpigmentation; and improve overall texture and tone.
During a peel, highly specialized acids and enzymes are applied to remove damaged layers of cells from the skin's outer surface—revealing more glowing, youthful skin. Treatments vary in intensity, and a client's skin type and desired results will dictate which peel treatment is best. Intensities include the following.
Progressive peels. As the mildest form of peel treatment, these only remove the stratum corneum and typically do not cause immediate exfoliation. These are best performed in a series of three to six treatments, one to two weeks apart.
Mid-depth peels. This types of peels affect the intra-epidermal layer and exfoliation will generally occur within two to three days with minimal down time. These may be performed monthly for as long
as needed.
Deep peels. The skin will undergo considerable peeling with deep peels, as they reach the deepest intra-epidermal layers. Downtime will be about seven to 10 days. These are best administered at least six weeks apart, and it is not recommended to do more than three or four per year.
Peeling agents and applications
There are a wide variety of peel formulas available, ranging from those strictly for medical use to those strictly used by estheticians. Though duration, Fitzpatrick classification, and technique all play a role in determining peeling depth, the peeling agent used is one of the most important factors. There is an art to preparing acid formulations, and it requires a specific understanding of acids.
The variety of formulas available enable esthetic professionals to tailor treatments and results to the client's desired goals and skin type. Every acid has a specific purpose and effect on skin cells and tissue regeneration. Below is a list of effective acids, along with a brief description.
Alpha hydroxyl acids (AHAs). Glycolic and lactic (L) are among the most commonly used of these naturally occurring, nontoxic organic acids. Others include malic, tartaric and citric acid.
Azelaic acid. This acid is used at up to 15% for lightening, lifting and antibacterial benefits. It is created by oxygenating oleic acid, an unsaturated fatty acid found in milk fats and grains, such as barley and wheat.
Jessner and red wine vinegar acid (acetic acid). Jessner is a combination of salicylic, resorcinol and lactic acid (lower-strength acids), each at 14%. These acids synergize to produce an efficient exfoliating agent with less risk. Red wine vinegar (acetic acid) is a natural acid with a high antioxidant content. Studies have shown it to produce exfoliation with less free-radical damage, causing less injury to the skin.
Salicylic acid. This beta hydroxy acid (BHA) is extracted from the willow tree and birch. It is a relatively safe, low-risk acid, as it is self-neutralizing and produces a drying and lifting effect. Repeated applications in high-strength doses can result in systemic toxicity.
Retinol. This vitamin A derivative converts to retinoic acid to regulate DNA. It assists in collagen synthesis, aids in the formation of blood vessels and encourages healthy cell formation.
TCA. Penetrating with TCA is only possible if it used in an aqueous base. It is nontoxic, self-neutralizing and keratolytic, and is effective in low strengths. It can be used alone or in tandem with other acids.
These acids all fall in the superficial range; however, there are medical peeling agents such as the Baker-Gordon phenol peel, phenol acid and medical TCA. These create a deep chemical peel that will require a longer healing time. They also increase the potential for complications by working at the dermal level. Extreme caution must be used with these.
This is merely a brief overview of some of the more commonly used peeling agents, but there are also some exciting next-generation peel formulas and technique trends skin care professionals are using to see results.
The next generation of combination peels
Estheticians have more tools available to them than ever before. When it comes to skin rejuvenation, many professionals are tapping into the idea of creating customized roadmaps for clients using progressive, couture peels as the vehicle to achieve youthful, healthy skin. This trend takes a progressive approach to skin rejuvenation, integrating a series of lower-strength, couture peels along with other pro-youth modalities to customize results. Couture peels leverage both next-generation acids along with the time-tested agents to produce benefits over the long haul.
Next-generation acids such as flower acids, and unique blends like malic and tartaric acid or vitamin A boosted with peptides, provide skin rejuvenation at the superficial level.
Flower acids. These acids, which are obtained from hibiscus chalices and lotus root, are classified as second-generation AHAs because of their potent hydrating qualities and ability to increase cell turnover without irritating the skin. Hibiscus is a powerful antioxidant and anti-inflammatory. It supports skin elasticity, evens tone and increased hydration. Flower acids extracted from hibiscus chalices are characterized by their high level of AHA, such as, citric acid (10%) and pyruvic acid (5%).
While AHAs exfoliate effectively, increase cell regeneration and decrease wrinkles and pigmentation issues, they can also irritate many skin types. Pyruvic acid, on the other hand, produces a similar effect in cell regeneration without the irritation. Hibiscus contains the best of both worlds, pyruvic and a mixture of AHAs.
Hydrogen peroxide, AHAs and salicylic. This blend is highly beneficial for photo-damaged skin. It stimulates blood flow and oxygenation, brightens skin tone and reduces pigmentation. It also works well for acneic skin. The hydrogen peroxide delivers brightening benefits and antibacterial support, while it synergizes with other acids to assist with absorption. Glycolic, lactic (L) and salicylic rejuvenate, hydrate and strengthen collagen.
Kojic clay with TCA. Kojic clay works to reduce pigment and suppress melanin, while TCA breaks down keratinized cells to accelerate exfoliation. Together, this blend increases cell turnover, remineralizes the skin, reduces pigmentation, suppresses melanin and creates a smooth, even texture.
Lotus root ( Lotus japonicus symbiosome). Lotus root is known to contain leghemoglobin, a plant-based heme protein that closely mimics human globin proteins like hemoglobin and myoglobin. Because of this property, lotus root extract actively works to inhibit tyrosine activity. When used in an acid formula, these effects are boosted. Lotus also has anti-inflammatory and healing properties, improves skin tone and provides hydration.
Malic, tartaric and wine. Wine vinegar extract is rich in resveratrol, a potent antioxidant and free-radical scavenger. It also has anti-inflammatory properties and stimulates cell proliferation and collagen synthesis, while inhibiting proteases. Malic (L) and tartaric regenerate, firm, tone and deliver vital nutrients.
Vitamin A and peptides. When a stronger concentrate of retinol is blended with peptides, it stimulates the desquamation process to reduce fine lines, while simultaneously rebuilding healthy cells, leaving the skin tone and firmed.
There is a growing trend among esthetic professionals utilizing new acids, along with the aforementioned time-tested peeling agents, in a series of low-intensity, progressive peels. These are attractive to clients because they do not come with the downtime associated with most other resurfacing and rejuvenating treatments. Progressive peels also give the professional more control over the outcomes, flexibility in customizing couture treatments and the ability to build a long-term roadmap for the client.
Lower-intensity peel treatments also allow room for other rejuvenation modalities to be added to the client's skin health roadmap.
Keep in mind, there is an art form to layering and blending ingredients and mixing modalities. Extreme caution must be taken. Mastering the technique; however, can significantly advance treatment room outcomes.
Mixing modalities
While peels are best as stand-alone treatments, certain acids and enzymes may be used to enhance the results of other rejuvenation modalities or to pre-treat the skin. This is an advanced technique, and proper training is required. Peels should be avoided if a client meets any of the following cautionary measures
Has recently undergone a skin rejuvenation or resurfacing treatment, including laser, thermage, microneedling, LED therapy, or microcurrent. In some cases, the esthetician will need to wait months before performing a peel.
Is on any sort of physician program. Wait until the client has received clearance from their doctor.
Is on tretinoin and isotretinoin (prescribed forms of vitamin A). These should never be mixed with peels.
Has received an injectable procedure that day.
If the client's skin is bleeding or has any other active lesions such as psoriasis or eczema.
If it is the client's first visit.
If there are no cautionary measures preventing the use of peels, an esthetician can use certain advanced techniques with acids and peels, as described below.
Laser—intense pulsed light (IPL), fraxel or pixel. Enzymes or light peels may be applied as pre-treatments to enhance the skin lightening and resurfacing effects. Ingredients such as kojic acid, azelaic acid and lotus flower extract, when applied as a pre-treatment, will support results and reduce some potential pigmentation issues. Clients should eliminate use of retinols, potent enzymes, AHAs and BHAs a week prior to treatment.
LED and microcurrent. When used with certain acids like TCA and AHAs such as glycolic acid, salicylic acid, and lactic acid (L), the firming, toning and cell turnover benefits are boosted.
Microdermabrasion. Corrective topicals such as retinols, glycolic acid and high-strength salicylic acid pair great. Home care tretinoin, AHAs and BHAs must be avoided for at least one week prior to treatment.
Microneedling. Gentle enzymes, AHAs, BHAs and retinols can be applied prior to treatment to prep the skin; however, any resurfacing treatments should be avoided.
Enhancing the peel
Peels should always begin with the proper preparation. It is essential to ready the skin's surface by reducing lipids to ensure absorption of the peeling solution.
A deep cleanse, followed by an optional granular scrub as a phase-two cleanse, will create a clean surface and begin surface exfoliation. Enzymes, AHAs, TCAs, BHAs and retinols typically are good pre-treatments to enhance results.
During the treatment, enzymes may also be used to accelerate the digestion process. These are also great for providing antioxidant and anti-inflammatory support, as well as hydration and vital nutrients.
Following any corrective procedure that uses acids or intense enzymes, soothing anti-inflammatories and wound-repair topicals such as arnica, epidermal growth factors and amino acids will help speed the recovery time and rebuild healthy cells. Never let a client leave without applying SPF. A good mineral-based sunscreen will not only provide protection, but it will also deliver a healthy dose of nutrients.
Skin peels can deliver considerable improvements, but the success of a peel depends on four things: knowledge, quality ingredients, reading the skin
and client compliance. Take time to learn the art of peels. Understanding how to use a variety of peeling agents, from the tried-and-true to the next-generation acids will open the door to greater customization for your clients.
The shift to progressive peels and leveraging these next-generation acids is more than just a trend. These will likely become mainstays in many treatment rooms, as esthetic professionals realize the impact they can have an opportunity they provide for creating highly tailored couture treatments.
REFERENCES
HJ Brody, GD Monheit, SS Resnik and TH Alt, History of Chemical Peeling, Dermatol Surg 26(50 405-409 (2000)