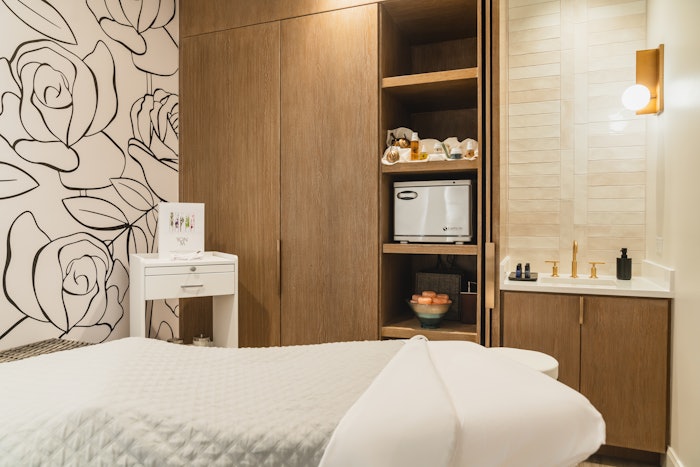 Photo courtesy of Spa Viata
Hotel Granduca Austin announced the opening of Spa Viata on Oct. 19, 2022. The new spa location will provide holistic, nature-infused treatments, aromatic steam rooms and sea-inspired bathing. 
"When guests arrive at Spa Viata, we want them to feel a tranquil reprieve from the bustle of everyday life," says Hotel Granduca's general manager, David Putnicki. "We aspire to provide everyone with an unparalleled spa experience leaving them revitalized and rejuvenated."
The spa is located on the hotel's second floor and is overseen by director of spa and wellness, Allison Williams. She brings years of experience as the previous spa director of JW Marriott (SPA by JW) and general manager of multiple private salons and spas. 
Spa Viata will feature products from various organic and sustainable skin care lines, including an exclusive partnership with the Italian-based clean beauty skin care brand, Furtuna. 
Related: L'Occitane Opens 2 Spas with Signature Treatments
"It's exhilarating to be able to build the spa program from the ground up and with that comes the ability to create treatments that are exclusive to Hotel Granduca," says Williams. "Being able to source world class skinc are like Furtuna while keeping it local using MINERAL CBD products is an exciting way to blend our two influential cultures and provide guests with a truly unique experience." 
The spa's eight treatment room facility offers a couple's suite and private spa suite that contains a hydrotherapy tub and experiential rain shower. The treatment menu features massages, facials and more with amenities that include a relaxation lounge, men's and women's locker rooms, a steam room and sauna. 
Treatment Menu Highlights
The Viata | Body: The treatment features a combination of customized massage techniques that treat sore muscles while the calming powers of lavender, rock rose, and helichrysum gently take guests deeper into a state of complete relaxation. This experience includes aromatic hot towels, and a foot scrub infused with rose essence.
Cuore e Mente Facial: With meditative sounds as the backdrop, this facial is deeply relaxing, permitting optimal cleansing, healing and regeneration on a cellular level. 
Riviera Scrub: The session begins with a seawater crystal and algae-derived alpha hydroxy acid scrub. A combination of osteopathic massage techniques and pressure points will then be employed to rebalance the body's energy flow while mineral rich oils hydrate and regenerate the skin.
Amalfi Blue Spa Journey: The treatment begins with a personalized Mediterranean-inspired body scrub; each sea-derived scrub is customized with the addition of a boosting serum to target relaxation, invigoration, deep cleansing, contouring or firming. Next, the Calm Waters Massage is performed and after a re-mineralizing bath.