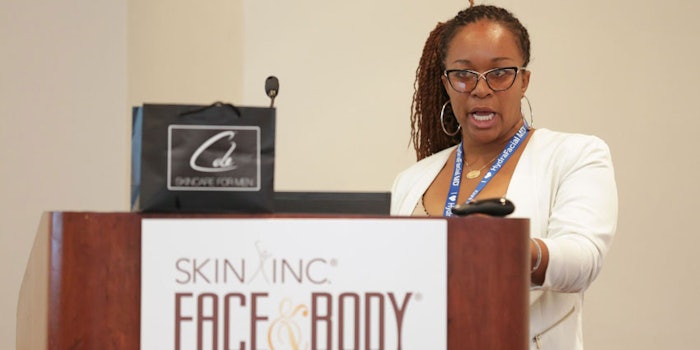 If you're not offering treatments tailored to men at your spa, you are missing out on a great opportunity to tap into a new market. "Men are concerned about their looks, too," said Cole Patterson, licensed esthetician and founder of Cole Skincare for Men, to Face & Body Southeast attendees. "How we tackle women's concerns might not work on men."
During The Complexity of Men's Skin Care Made Simple seminar, Patterson educated attendees on the complexity of men's skin. "Men's skin is simple and complex," she added.
"Men's skin is simple and complex." Cole Patterson
Here are five tips that came from the seminar:
Multifunctional products work best. When they first visit, men are too busy to think about a wide array of products to use. This might change as they become a more frequent client.
Show the value of the products you're using. In their minds, men and their fathers have used simple soap and water, which has worked for them.
Get to know their shaving habits. "You can't talk about skin without talking about shaving," said Patterson. Impress your male clients by understanding the mechanics of shaving, learning more about treating ingrown hairs and redness, and becoming familiar with their regiment.
Name treatments simply. Reference a sport or call a treatment the Executive. Men want simple and to the point, such as Save Shave.
Remember the beard. Even if your male clients have beards, you can still treat the beard and the skin. Offer a beard oil treatment. Get your finger into the beard to understand what is going on the skin.
"Gender specific treatments and services are on the rise," said Patterson. "Going beyond the basics of shaving is a necessity."