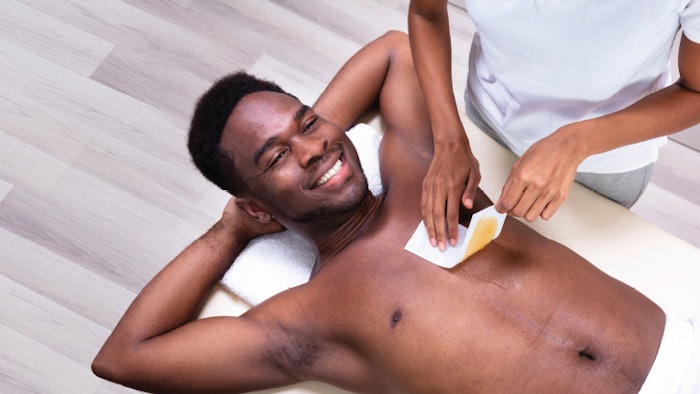 As the industry grows, how can brands keep up with an evolving customer base? As people become more in tune and perhaps conscious of their appearance, the perception of self-care continues to evolve. What we define as health and wellness has advanced to include everything from going on a jog or unwinding with a book, to keeping up with regular services like pedicures and waxing.
This shift has also grown beyond gender divides, resulting in a rise in the men's self-care industry, which is estimated to be worth $81.2 billion by 2024. While historically women have been the focus and target in the beauty and wellness space, it's time we rethink our strategy to attract men and earn their business and loyalty.
Looking specifically at waxing and hair removal, our industry has been almost exclusively female-driven, but that's quickly changing. As men look beyond traditional grooming services, they have turned to waxing and hair removal, creating more equal representation across the industry. Having smooth, radiant skin that is free of hair is no longer seen as a luxury, but instead, a necessity. As hair removal and waxing play a more central role in overall health and wellness, how can providers make sure they are reaching and appealing to all possible customers?
Building Accessibility
As a start, hair removal and waxing studios should at the minimum offer services for men. This might seem obvious, but not every hair removal provider offers waxing for men. In fact, some studios focus solely on women. As the overall direction of the waxing industry recognizes the opportunity to offer services regardless of gender, studios classified under today's standards of beauty and wellness should be open to offering services for everyone, regardless of one's gender.
Related: Customizing the Waxing Experience
For salons that currently don't offer male services and are looking to integrate more inclusive offerings, I'd suggest taking several approaches. First, start small and build. Begin by offering facial waxing and move into body waxing and eventually towards more intimate services such as the male Brazilian. Next, let current clients know that you're offering male services and build through word of mouth. You have trust and rapport with these clients, so work the referrals!
Also, salons should make sure they are creating an approachable environment. Take a good look at your surroundings and ask yourself if men would feel comfortable there, and make small changes to the salon's décor to appeal to male clients. If you're integrating male services at your studio, make sure you are offering the right products including the actual wax and post-wax retail items.
Men typically have more vellus hair, so having a good wax that can remove this hair effectively is important. Men also tend to have more breakouts from body waxing, so make sure to have products that treat skin after the wax. Finally, client education is a must. With male waxing on the rise, we're likely going to have clients that are new to waxing. Making sure we educate our clients on how to properly wax through a routine, as well as proper pre and post products so they receive the best results, will be key to building trust with new clients.
Continue reading about building gender inclusivity within hair removal services in our Digital Magazine...
Summer Vasilas is the cofounder and director of training of Waxing the City, a 140-unit franchise devoted to the art of waxing, catering to both women and men, and a top-ranked franchise 500 company 6 years in a row. She has 25+ years of experience in the beauty industry and has been a licensed esthetician.