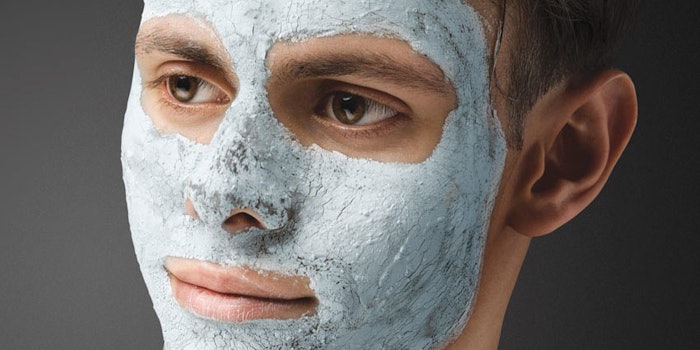 The skin care market is entering a new age when it comes to male grooming. Men comprise up to 50% of spa and salon clientele, and the men's grooming industry is predicted to reach $21 billion worldwide in 2016.1, 2
Barber shops are returning but with a twist. In addition to a haircut, shave or beard trim, these new establishments are offering skin-soothing facials, manicures, pedicures and even waxing. Rather than soft, ambient music and ylang ylang oil decanters in the waiting room, this new breed of barbershop has a masculine twist. For example, the recently opened Barber & Booze in Puerto Vallarta, Mexico offers men beard trimming as well as facials with specialty hard liquor cocktails created by staff mixologists.
Male Skin Characteristics
Some may say that skin is skin, but research shows that men have a myriad of skin concerns unique to their gender. Men are plagued with larger pores and sebaceous glands characterized by excess oil and blackheads. At the same time, men are often dehydrated from the drying soaps and shampoos they use daily, without receiving the benefits of moisturizers or anti-aging creams.
This combination of dry and oily skin can be confusing when it comes to choosing a skin care treatment and at-home regimen. Men need treatments that are both hydrating and deep pore cleansing, that restore the skin's natural moisturizing factor and protective barrier while helping to balance sebum production.
Beyond the immediate concerns, men can also be concerned about signs of aging. Long days spent outdoors for work or play without proper sun protection can cause photoaging, hyperpigmentation or even skin cancer. Men also tend to have crow's feet and dark under-eye circles from squinting at screens for long hours.
Ingredients for Male Skin
It is important to choose products and treatments with ingredients that cater to the male client's specific skin needs. In general, ingredients that work quickly to calm and soothe inflamed skin while restoring key nutrients back into the complexion are key. Natural products that are not sensitizing and do not contain artificial fragrances are the first line of defense.
Oils. Beard oil has become a popular treatment product, specifically designed to both soften beard hair while helping to soothe and purify the skin and follicle area. Tocopherol (vitamin E), olive oil and grapeseed oil have antioxidant and moisturizing properties. Grapeseed oil is also one of several plant emollients that mimic the lipid content of the skin to stabilize and maintain the structure of the skin's complex intercellular matrix, preventing moisture loss and cell damage.
Acids. A professional grade or at-home peel is the perfect antidote to men's skin problems, sloughing off dead, dry, damaged skin cells while deep cleansing the skin and pores. There are several types of peeling acids to choose from, each with their own unique properties.
Alpha hydroxy acids (AHAs) are beneficial exfoliants in men's care, including: lactic acid, glycolic acid, citric acid and malic acid. When combined, strawberry, kiwi and apple extracts cleanse the skin and slow the signs of aging. High in vitamin C, AHA and flavonoids, they help clear acne, repair the skin and promote collagen production.
As a beta hydroxy acid (BHA), salicylic acid dissolves superficial cells to reveal new ones, making it a beneficial ingredient to exfoliate male skin and reduce ingrown hairs.
Soothing Ingredients. Whether a man shaves or just trims, skin can be sensitized from razor abrasion, causing razor burn, redness and other signs of inflammation. Here are some calming, soothing, anti-inflammatory ingredients they can employ.
Minerals such as silver and zinc oxide can be used in the treatment of irritated and inflamed skin. Melissa officinalis and Mirabilis jalapa are both anti-inflammatory ingredients, while Melissa officinalis also has antibacterial properties. Well-known anti-inflammatories, such as aloe, green tea, chamomile, white tea, licorice and cucumber, can be incorporated as well. The teas provide an anti-inflammatory/antioxidant double-punch, as does rutin, quercetin and rooibos. Rutin has also been found to improve circulation, as has ginkgo. Allantoin can be included to heal, and St. John's Wort provides soothing and purifying benefits.
Anti-aging ingredients. More men are looking for solutions to enhance their skin and decrease signs of aging. Men know they need to look more youthful and refreshed to compete in the job arena. There are many anti-aging ingredients that are useful for men, but this article will start on a group of the most effective anti-aging ingredients—peptides.
Dipeptides can increase drainage, while palmitoyl oligopeptide can stimulate collagen production and encourage the production of intercellular matrix substances such as hyaluronic acids. Palmitoyl tetrapeptide is known to mute the effect of interleukins in the skin that trigger an inflammatory response. Matrixyl 3000** is a peptide combination that promotes collagen production while stimulating fibroblast cells in the skin. Retinyl palmitate (vitamin A) is known to help stimulate skin repair, increase collagen production, increase skin thickness and improve elasticity while improving skin tone and texture.
Centella asiatica (gotu kola) helps increase collagen growth and synthesis and promote connective tissue vascularization. For dark circles, chrysin helps reduce pigment, and it also serves an anti-inflammatory role.
For skin moisturization, sodium PCA, sodium hyaluronate (hyaluronic acid) and squalane are all beneficial in men's care products.
Acne-fighting ingredients. Men's skin needs to fight excess sebum to prevent clogged, enlarged pores.
Used for its oil absorbing properties, kaolin clay refines the skin and helps clear breakouts. Ichthammol also absorbs excess sebum, while serving antibacterial and anti-inflammatory properties. Orange extract helps influence enzymatic processes, while lemongrass oil provides antiseptic properties. While it also provides exfoliation, salicylic acid's keratolytic action dissolves the sebum plugs and skin debris to help clear pustules and pimples.
Astringent/toning. Modern versions of astringents and toners now take the place of old-fashioned aftershaves, incorporating skin care treatment ingredients that restore the skin's proper pH balance while hydrating and toning. For these, we go to plant sources.
Hamamelis virginiana (witch hazel) leaf extract, Juniperus virginiana (cedarwood) oil and Salvia officinalis (sage) leaf extract all have astringent and clearing properties. Salix alba (willow) bark extract helps with mild exfoliation of dead skin cells, while Rosmarinus officinalis (rosemary) leaf extract has natural antimicrobial properties.
Male clients will find their beard softened and their skin deep cleansed and hydrated, making shaving and daily skin prep easier. Be sure to follow up with at-home skin care products that will help maintain the skin's resiliency until the next treatment.
Once men experience for themselves the benefits of a truly effective professional skin treatment, they will become a loyal return customer, both for the spa services and at-home products. Now is the perfect time to expand your business by catering to the new male client.