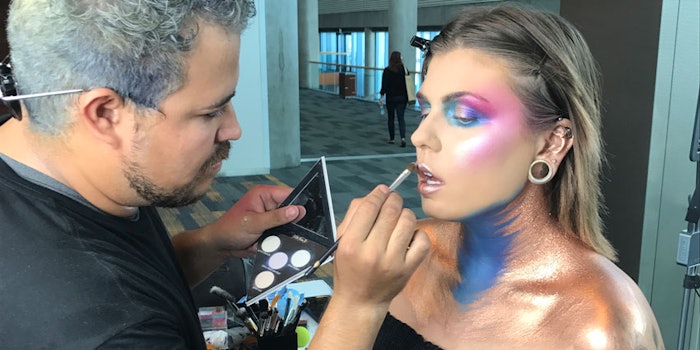 When asked why they love doing makeup, the most popular response among the contestants of The Skin Games Makeup Challenge was, "The wow factor—the moment when the client first sees the finished look and can't hide their happiness or excitement."
At Skin Inc.'s Face & Body Northern California spa expo and conference, 23 contestants competed in three categories: corrective, bridal and glam/avant-garde. Each category had two sessions spread out over Sunday, August 27, and Monday, August 28.
The Competitors
The competitors came from all walks of life, but there was one major similarity: a passion for makeup. One contestant, Rosario Garcia, flew to San Jose, California, from Bridgeport, Connecticut, while another contestant, Britlee Penney, hailed from Montana.
"The wow factor—the moment when the client first sees the finished look and can't hide their happiness or excitement."
While some contestants had travel challenges, others had physical challenges to overcome. Contestant Caitlyn Esser was involved in a car accident when she was younger that left irreparable damage to her hand. She explained to the audience that after her recovery, she had to relearn her makeup skills because she didn't want to stop doing what she loved. 
The Stage Is Set
From the start of competition on Sunday through the end on Monday, upbeat music blasted from speakers on the stage to keep spirits and energy high. The charismatic drag queen, All Beef Patty, serenaded audience members between sessions with the musical stylings of CeeLo Green and Meghan Trainor.
The stage was set with five tables strewn with products ranging from air brush machines, to bags of glitter, while Face & Body attendees milled about the rows of seats waiting to see the contestants work their makeup magic. 
Barry Eichner, co-editor in chief of Lipgloss + Aftershave, acted as emcee of the two-day competition. He was joined by an ensemble of industry professionals tasked with judging the contestants on application techniques, including color selection for foundation, concealer, highlight and contour. Contestants were also judged on blending techniques, brows and the overall look. Those with a score of 70% or higher advanced to the next round.
Adamme Sosa, makeup artist and global makeup brand ambassador for Universal Companies
Annie Mayo, makeup artist and owner of Advanced Mineral Makeup
Linda Bertaut, esthetician and founder of Chakralicious
Lisa Cadiente, makeup artist and owner of Faces Salon in Santa Cruz, California
Amy Wall, esthetician, mindful beauty guide and founder of Love Amy
Anita Lumpkin, national director of education for Universal Companies
Mark Lees, Ph.D., clinical skin therapist
Mezhgan Rafiq, independent makeup artist
Corrective Makeup Challenge
The corrective makeup portion of the competition concentrated on techniques used to correct skin imperfections such as acne, discoloration, scars and hyperpigmentation, while also providing a neutral canvas to then build a makeup look off of.
Challenge Standout:
On Sunday, during the second heat of the corrective challenge, Eleni Lembesis, of Dublin, California, aimed to brighten up her college-aged model's skin by giving her a sheer, glowing complexion that is often hard to achieve with the late-night lifestyle of the average college student. Judges applauded her efforts and dubbed her look equivalent to "the pretty filter on Snapchat."
Bridal Makeup Challenge
The bridal challenge, too, was judged on application techniques and overall look, but the judges also kept in mind how the makeup would translate when photographed for wedding pictures. Some of the makeup artists and models embraced this challenge by donning veils or an entire bridal ensemble: dress, veil and bouquet.
Challenge Standout:
Serina Martinez, of Modesto, California, competed on Sunday during the second heat of the bridal makeup challenge. While the judges were impressed with all the bridal makeup looks created during the competition, they were especially taken with Martinez's Indian bridal themed look. As Eichner pointed out, bridal means different things in different cultures.
Glam/Avant-garde Makeup Challenge
Contestants pulled out all the stops during both heats of the glam/avant-garde makeup challenge. Glitter, paint and creativity were used freely, and the stage quickly became a platform for makeup metamorphoses. One contestant, Frank Yanez, explained that he didn't have much of a plan for his look going into the competition, he just went with what he was feeling at the moment.
Challenge Standouts:
Ashlee Clark, of Seaside, California, was inspired by current racial and political tension in the U.S. for her makeup look during the first heat of the glam/avant-garde challenge on Sunday. Clark's look included rainbow-colored tears falling from her model's eyes and down her cheeks. She explained she was trying to convey the message that we are all human, no matter the color.
Martinez also competed in the glam/avant-garde challenge on Sunday. She embraced her and her model's heritage as inspiration for an Aztec warrior makeup look.
During the second heat on Monday, Brianna Knight, of Los Angeles, received the judges' praise for placing over 100 crystals—in less than hour—on her model's face to achieve a "grunge mermaid" look.
Lembesis put the "art" in makeup artist by splattering paint on her model during competition on Monday. She created a look she described as "the struggles and high points of the career of a makeup artists, the love/hate relationship that sometimes goes along with the industry." Judges equated her look to a time when the industry was less driven by YouTube beauty vloggers, and more driven by professional makeup artists.
The Prizes
All participants of The Skin Games Makeup Challenge received a bag of products that included:
The Glamface Blender from Crown Brush  
An eye palette from Crown Brush
Lavish Lips by M.A.D. Skincare
A rejuvenating serum from LightStim
2B Bio BB cream
Glymed Oil Control Masque
The Finalists
Contestants advancing to the next round of The Skin Games Makeup Challenge will be...
 Bridal Finalists:
Britlee Penney
Kylee McDonald
Serina Martinez
Esme Gutierrez
Susanne Schmaling
Jen Siqueiros
Rosario Garcia
Merissa Trujillo
Jenny Tryon
Neferttiti Stewart
Corrective Finalists:
Britlee Penney
Brianna Knight
Nathan Rickel
Tamiko Carrillo
Eleni Lembesis
Ashlee Clark
Caitlin Esser
Glam/Avant-Garde Finalists:
Magaly Gonzales
Serina Martinez
Ashlee Clark
Tamiko Carrillo
Eleni Lembesis
Frank Yanez
Brianna Knight
Nathan Rickel
Skin Inc. caught up with founder and executive director of The Skin Games, Jennifer Rosenblum, after the show to get her takeaways from the two-day competition. She said, "The Makeup Challenge did really well at Face & Body. The finale with the glam/avant-grade challenge was out of this world, a lot of the looks were complete game changers."
Immediately following the competition on Monday, judge Adamme Sosa hosted a workshop, "Triple Threat Makeup: Mastering brows, eyeliner and lips."
For more information please visit www.theskingames.com.