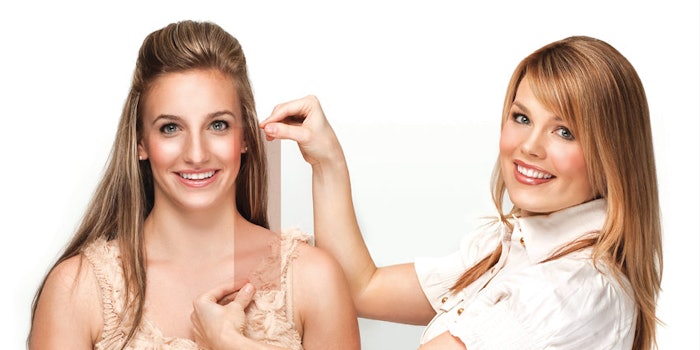 As beauty professionals, we sift through hundreds of makeup colors to find a makeup shade to fit our clients. Have you ever thought you chose the right makeup base, only to realize something seems off at the end of the application? I've been there, and it can feel like a nightmare. You run through each calculated step in your head looking at your makeup color choices to see where the misstep occurred. As a makeup artist and color specialist, what I know is that if your initial foundation choice did not have the correct undertone to harmonize with your clients' skin, then almost every step thereafter will look wrong.
Some makeup pros pretend that undertone does not matter, claiming that every person can wear yellow, pink, beige and olive tones. Other makeup pros love the artistry through the creative application of makeup but forgo the due diligence to check undertone prior to continuing with the makeup application. Both of these are huge mistakes that can be avoided with a bit of know-how.
Over the last decade, my focus has been studying undertone. Specifically, I've studied the negative or positive effects that makeup and hair color choices have on the skin. Understanding your client's undertone can make all the difference in her total image. It can transform their entire image and turbo-boost their confidence—having the right hair color, makeup color and clothing color are big essential components of how they present themselves every day. Believe it or not, some of my clients credit their color choices with landing a dream job, finding the love of their life and having the confidence to make a bold move.
You have the power to transform your clients' lives like this, too. It's as simple as identifying the undertone correctly prior to any beauty service and ensuring the colors you choose have the harmonizing undertones.
Cool, Warm or Neutral
Assessing if your client is warm, cool, warm neutral or cool neutral is essential, as it gives you a better idea of the palette of colors you want to choose from when doing her makeup, or suggesting hair or clothing colors. For example, a warm client will look great in any makeup in the warm family. The warm makeup colors will harmonize with her skin, naturally enhancing her features while maintaining a natural look.
It may sound daunting to assess your clients, but there are two quick tests to help you be right on the money.
1. A Rainbow of Lipstick
Step 1. Have your client apply orange lipstick (warm shade), purple lipstick (cool shade), coral lipstick (neutral warm shade) and pink (neutral cool shade) lipstick.
Step 2. Take their picture in each lipstick color with a smartphone.
Step 3. Slide the pictures back and forth until you choose which shade looks the best.
2. White Scarves
Step 1. Collect a variety of scarves or drapes in the following variations of white: ivory (warm shade), pure white (cool shade), off white (neutral warm shade), and winter white/gray white (neutral cool shade).
Step 2. Again, take pictures of your client in each shade of scarves.
Step 3. Slide the pictures back and forth to decide. The best picture should be obvious. The client will look younger, brighter and her complexion will look smoother.
With either of these techniques, keep in mind that lighting is crucial, and you must have full-spectrum lighting or be near a window to be most accurate.
Hue
After identifying if a client is warm, cool or neutral, identify what color, or "hue," is most dominant in her skin. Every skin tone has a combination of the following three colors: yellow (carotene), brown (melanin) and red (hemoglobin). Of these, melanin is the most complex, as it can be greenish brown (olive), grayish brown (beige) or ochre brown. One of these three colors is usually dominant in a person's skin. The easiest way to determine this is through swiping foundation shades along the jawline that are dominant in these undertones and see which one blends in effortlessly.
I categorize foundation shades in five categories: golden, apricot, beige, olive and pink. The key is to swipe the right value (more on this later) in each of the five undertone categories side by side along the jawline of your client. Whichever shade disappears in her skin is the winner. Lighting is crucial here again, and you must have full-spectrum lighting or be near a window to be most accurate.
Undertone is something that is genetic and does not change unless there is an illness, such as a liver condition (increasing yellow/green), hypertension (increasing red), emphysema (increasing gray), etc. I have a lot of yellow in my skin, which makes me warm. I always need a golden foundation shade, and other shades make my skin tone looks ashy, sick or tired.
Value
Keep in mind that the value (light or dark) can vary if a client has a tan, but the undertone of the skin always holds true. Values change, for example, if a client uses skin lighteners or is exposed to the sun. These are important things to keep in mind when clients are concerned about a foundation shade being too dark or light.
To that end, consider recommending two foundations to clients. If your client is doing a lot of chemical peels and using lightening skin care, she may want to choose a shade that matches the value of her skin right now and get an additional shade that is lighter. As her skin changes, she can either use one, the other or mix them.
If a client works outside or has plans to go on a vacation to a sunny area, you may suggest purchasing a shade that matches her right now and a shade that is darker. She can mix and match to ensure her makeup will look on point.
Color Choices
Color analysis can be done by draping a client in different fabrics, simultaneously comparing one color against another color to identify what colors best suit your clients. Keep in mind, lighting is crucial and you must have full-spectrum lighting or be near a window. There are many different systems out there that you can look into ranging from four palettes to 16. At the end of the color analysis service, your client will get a swatch booklet of her best colors to easily choose colors for makeup, nail or clothing. As her beauty expert, this makes it easy for you to make the right color choices for their spa/salon services.
Closing
Once complete, you will know the undertone of the client's skin and be confident the foundation you chose will only enhance her skin's natural beauty and make all of your other makeup choices look beautiful.
I recommend also explaining this process to the client so she can understand what and why you are doing to properly choose the right shade. Once they are educated by you regarding their undertone, they will be impressed by your due diligence and have a sense of loyalty to further trust you in your makeup selections.
Clients want to look younger, brighter and more refreshed. Color is a simple way to do this and an immediate gratification choice. Understanding your client's undertone is essential in choosing colors that suit their skin and allow their best attributes to shine.