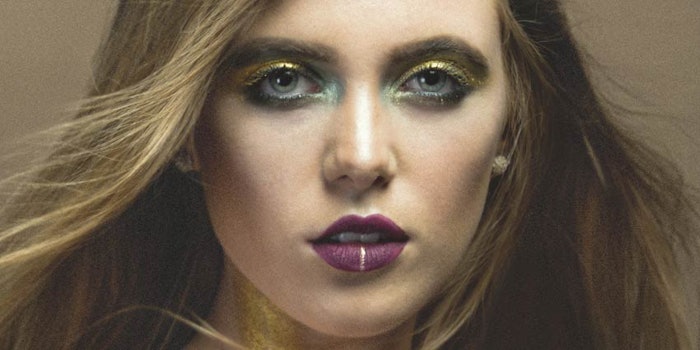 Up-to-the-second trends in beauty and makeup are regularly delivered to smartphones and devices worldwide—thanks to social media, making it a particularly thrilling time to be in the professional beauty industry. However, "there is a big difference between trends you see on social media versus the red carpet and what you see on the runways," noted Genevieve Santos, licensed esthetician and makeup artist.
Trends seen on channels such as Instagram don't always directly lend to daily makeup routines, but don't be so quick to turn a blind eye to wild runway makeup. Skin care professionals and makeup artists are in a unique position to transform trends into practical, wearable looks.
"The word 'trend' implies something now and of the moment, but there is an inherent ephemeral quality to trends—they come and go," said film/TV and celebrity makeup artist Emily Katz. "In my humble estimation, classic clean beauty with great skin underlies it all. The tenets of classic beauty have always been my focus and then moving to develop or embellish the work with what is of the moment."
To stay on-top of it all, check out these trends and tips from beauty professionals and think about how you can utilize them in your practice.
1. Imperfect lines
Go back to middle school years, before you learned the art of eyeliner application. This season, makeup artists are actually tapping into that quality.
"Punk and smeared looks are inspiring unimaginable colors this fall," said Loni Hale, session hair and makeup artist and cosmetologist. "The more vibrant and linear, the better. Accenting eyes in colorful designs leaving negative spaces is all the rage—think reverse cat eye."
2. Underlining the lower lids
If reverse cat eye doesn't appeal, try it upside down. Underliner brings attention to the lower lid with color, black or even glitter.
"Eyeliner isn't just for the lash line," remarked Hale. Drawing on lower lashes is majorly trending right now. Speaking of lashes, everyday lashes are taking on a more feathery look. "Who doesn't want wispy, feathery lashes? Playful lashes will compliment any look—from smoky to everyday," she added.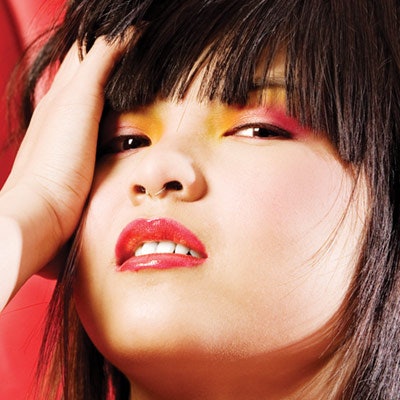 3. Shocking with color blocking
"Color blocking and lid crease designs are everywhere," remarked Hale. Makeup artists are applying blocks of bold color on lids and lips.
Katz doesn't shy away from trying the latest colors in eyeshadow form, but only if they flatter her clients. "I currently am not working in the avant-garde so taking the runway down a few notches is my M.O."
Hale noted vividly intense and colorful bold shapes on eyelids. "Super graphic, punk-inspired graffiti[-like] colors are so haute—anything from graphic white and yellow, to hot pink and red, to blue and toxic green."
4. Matchy makeup
Color is the focus, but the focus isn't on just one feature. The tone of colors on cheeks, lips and eyes are being matched for a classic call-back. This trend lends itself well to pairing up color on lips and cheeks with color blocking on the lids.
5. Think pink
Pink, which is now considered a neutral, works on most everyone in some iteration, Katz observed. "This doesn't mean boring—it's all about placement and using colors that are brighter than usual. If even a little boldness is outside your comfort zone, the new go-to color is pink in all its variations."
Pink lips and cheeks are expected, but pink eyes are a trend Katz is weary of applying: "A pink, rose, red, bronze or copper can either be dynamic or look like a massive allergy attack." She suggests using these colors around the eyes with discretion. "A deep burgundy mascara is amazing. Some mascaras that veer toward red have a really stunning impact," she added.
6. Make-out session lips
"Smeared red-stained lips for that make-out session look is everywhere for fall," said Hale. "Darker red-browns and crimson are leading a gothic look this fall." To achieve the look, diffuse the edges for a blurry, smudged halo around lips. Playful red is a go-to but so are darker reds and purples.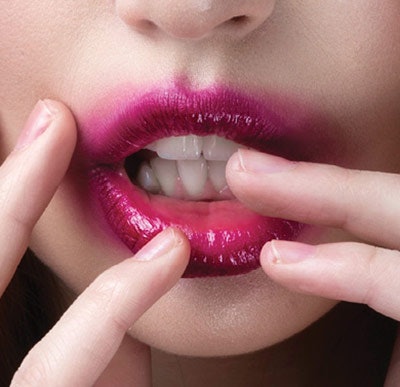 7. Multi-dimensional metallics
Perhaps too outlandish for everyday, glitter lips are fun and surprisingly wearable. Glitter will never go out of style, Santos stated, and metallics are making a comeback. "Unicorn-inspired colors are in, which includes mint green, gold and lavender shades."
If one aspect of the face is covered in silver-based metallics, Katz recommends leaving the rest a bit more natural.
8. Glossy
The matte lip finish of the last several years is slightly fading, being replaced with glosses. "Lip lacquer is highly pigmented lip color with glossy finish. Nudes are also versatile [on the lips]," noted Santos.
Complexion and eyelids aren't getting glossed over. Skin is glossy with clear mediums and not as much powder illuminator, says Hale. And glossy eyelids are the perfect way to achieve the on-trend fresh and dewy makeup trend.
9. Contouring: Go for the glow
Right now the focus is on highlighting. "Highlighting can and should bring out the height of cheekbones, create more dimension and enhance a look," said Katz. "Strobing is a shimmer highlight effect that can be gorgeous if used sparingly or distracting when too shiny and greasy looking if over applied. Some strobing or highlighting products have denser gleams than others. Use the super gleaming ones sparingly for best effect."
A glow can also help create a more youthful look: "If you're doing a lot of on-camera, a gentle glow goes a long way. For photos, the flash of the bright strobe lights—where strobing got its name—can create what we call flare and distort the face, so less is more in
my book."
Katz combines highlighting with another top trend: pink. "Highlighter with a soft pink twist in light to medium skin tones, deep skin tones are magnificent with a bronzed strobe, though I use a golden peach at times that works beautifully."
10. Boyish brows
The architectural brow shape has been traded in for well-shaped, but less colored-in brow.
Santos explained, "Bold brows are still in, but not sharp and precisely groomed with brow makeup and concealer. Brows are filled in sparsely to mimic hairs and finished with a light gel."
Microblading was predicted to be a huge trend in 2017. The beauty gods have spoken and microblading is the eyebrow advancement everyone is talking about—or investing a pretty penny. Santos: "Microblading has given new hope to those who barely have brows or want to eliminate applying brow makeup altogether. I had it done myself and am so happy with the results. My brows are bold but natural, and I haven't had to fill them in."
Trending with clients
Katz is also an international image presence consultant for influential clients in political and global executive positions, as well as a roster of actresses. She aims to walk the line in between classic beauty and trends when working with clients.
Trends can be marketing gold. "Great ways for beauty professionals to take advantage of trends is to understand them, try them out on themselves or those willing to experiment and see what really happens with a person—who is not a model—when these are applied," said Katz.
Often times, Hale's clients ask for trends a bit late in the game, presenting a unique opportunity: "I'm already onto something else when I finally get requests for trendy makeup looks. My job is to walk that fine line of getting clients excited to be part of leading a new trend that they have yet to see."
Santos explains communication is key when a client is set on a look that won't work for them. "I will acknowledge what they want, but explain that their features may not be the right fit. … When we focus on them, they understand that we are the expert and genuinely care for their look," she said.
Utilize trends as inspiration
"Stay current. Follow fashion and keep an eye on trends, but don't be a slave to them," said Katz. "Check out what works in real life whatever that may be for you. Embrace your passion."
Sometimes a trend will work and sometimes it won't. "Ultimately, it's about creating beauty for the client that speaks to them, and bringing the inherent beauty that resides in all of us to the fore," Katz added.