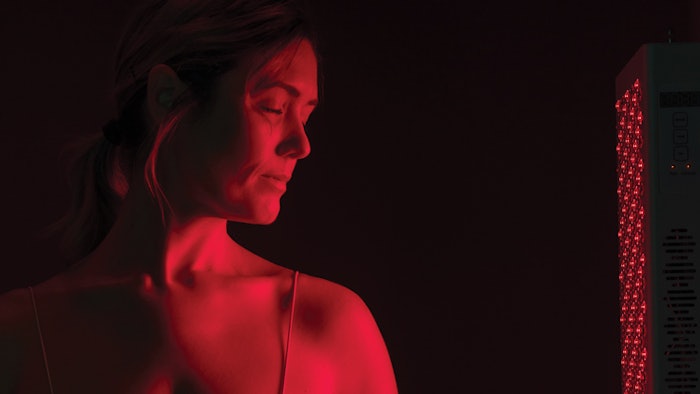 As body contouring treatments continue to gain popularity, LED red light therapy is emerging as a leading add-on or standalone treatment option for many beauty professionals. This therapy is being recognized for its potential benefits in enhancing the results of body sculpting procedures, as well as improving the overall appearance and health of the skin.
Although light therapy has been widely used for pain relief, wound healing and hair growth, specialists are now discovering that its ability to activate the lymphatic system can be especially beneficial for body contouring and sculpting practices. The potential benefits of lymphatic drainage, such as reducing swelling and improving circulation, are becoming increasingly recognized and sought after by beauty professionals.
Related: Body Benefits of LED
LED Body Sculpting
LED light therapy may be used as an adjunct treatment to enhance the benefits of body sculpting procedures. While it is not considered a primary treatment for body sculpting, it can help improve the overall appearance of the skin and support the body's natural healing processes. The light wavelengths used in LED red light therapy typically range between 630-660 nanometers (nm).
These wavelengths are within the visible red-light spectrum and are sometimes referred to as "red light therapy" or "low-level light therapy." Some devices may use a combination of red and near-infrared (NIR) wavelengths, which can range from 810-850 nm. The specific wavelengths used may vary depending on the device and the intended application of the therapy.
Some studies have suggested that wavelengths in the 600-700 nm range, such as those used in red light therapy, may be effective for promoting lymphatic drainage, which is an important part of body sculpting. Additionally, some devices may use a combination of red and NIR wavelengths, which have also been shown to have potential benefits for lymphatic drainage.
Continue reading about treating the body with LED in our May Digital Magazine...
Brenda Stevens, owner of Utah Body Sculpting & Skin, is a master esthetician and body sculpting educator residing in Central Utah. Since becoming an educator, Stevens has been able to work with and train countless licensed professionals across the U.S. and Canada, all searching for the best body sculpting tools, treatments and protocols for their clients.