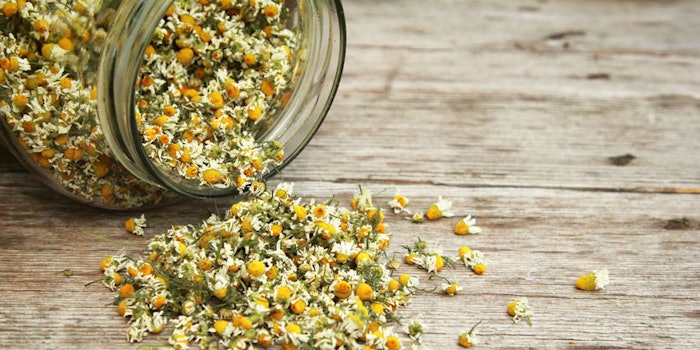 Nature heals in many ways. Most of us have felt the sense of renewal that comes from walking through a garden filled with fragrant flowers, or sitting under a massive tree, shaded from the hot rays of the sun. Indigenous peoples worldwide believe that each plant has a spirit we can communicate with, to ask for their help in healing. I invite you to tap into the "plant spirit" of chamomile to discover healing benefits that go beyond the skin. 
The plant and mineral world have been my allies in healing. Making herbal tinctures, oils, capsules and teas became a part of my life. So, the idea came to me to experience the essence or spirit of my favorite herbs by breathing them in. One at a time, I was quiet as I focused on each herb. I looked at the color and shape of the leaves to gain perspective on this plant. I slowly breathed in the aroma. I paid attention to what message was imparted to me in the essence of the herb, and I made note of how each herb made me feel. When I did this with chamomile, however, the experiment stopped. I felt so light and euphoric, I wanted to bask in this energy for a while. This was when I dubbed chamomile the Happy Herb.
The Essence of Chamomile. Euphoric, calm-inducing, allows you to clear your mind, slow down and experience the pleasure of life. Provides a clean slate from which to think and create. In the absence of thought, intuitive ideas come through and inspire us to create. 
History of Usage
Chamomile is a member of the Asteraceae (daisy) family and has two common varieties, German chamomile (Chamomilla recutita) and Roman Chamomile (Chamaemelum nobile). The dried flowers of chamomile contain many terpenoids and flavonoids that contribute to its therapeutic properties.
Chamomile has been used since ancient times. There are records of Egyptians and Romans using chamomile in tea, salves, creams, incenses and other beverages. Today, herbal preparations vary to prevent such ailments as hay fever, inflammation, muscle spasms, menstrual disorders, insomnia, ulcers, wounds, gastrointestinal disorders, rheumatic pain and hemorrhoids.
Chamomile Benefits and Contraindications
Chamomile's ability to inhibit inflammation makes it great for use in skin care. It helps to comfort, soothe and moisturize the skin. The chemical compound, apigenin, has also been shown to help improve the skin's barrier function.
Actions. Anti-allergic, anti-anxiety (Glycine, Flavonoid), anti-inflammatory (Chamazulene and α-Bisabolol), anti-spasmodic, (Apigenin, Quercetin and Luteolin), nervine, sedative, (Apigenin) diuretic, emmenagogue and tonic.
Contraindications. Do not use with pregnant or breast-feeding clients. Avoid use by those who are allergic to rag weed. May interact with other drugs being taken. May affect the menses.
Uses of Chamomile
When choosing products, ingredients, herbs and essential oils for yourself and your business, tune into the essence of a product as well as looking at its chemical properties or physical benefits. Healing is in the spirit or essence of a plant/product. Use your intuition to help guide you.
1. Aroma sachets and capsules. The simplest use for chamomile is to purchase organic, non-irradiated dried chamomile flowers at a local herb store. Place 2-3 teaspoons of the dried herb into a 3x4 organza bag and use it to breathe in the aroma of the flower. Inhalation of the vaporized essential oils derived from chamomile flowers in a sachet is recommended to relieve anxiety and general depression.  
2. Aromatherapy massage. Roman chamomile essential oil may be used alone or blended with lavender essential oil to be used for massage that helps to reduce stress and anxiety. Studies have actually shown that three, 20-minute massage sessions per week for six weeks, show significant results with reduced anxiety and increased self-esteem in the recipients.
3. Chamomile herbal infusions. A coffee press (not used for coffee) is the perfect way to steep organic, dried chamomile flowers to use for tea or the following remedies. Add ¼ to ½ cup of herb to the bottom of the press. Fill with 1 – 2 cups of hot water. Let steep for 5 to 10 minutes until the water becomes a rich golden color. Press and pour for tea.
4. Compresses for irritation and wound healing. Use your infusion as an eye compress for eye irritation and pink eye. Let the tea cool. You may also refrigerate the infusion and then soak cotton rounds in a small portion of the liquid. Squeeze out the excess liquid and place the round on the eyelids for up to 10 minutes.
For larger areas with skin irritation, you may add a few drops of chamomile essential oil to your tea infusion. Soak a cloth or towel in a bowl of warm or cold infusion, squeeze out excess water and then apply this compress to the affected area.
5. Mouthwash to reduce inflammation. Using an herbal infusion of chamomile as a mouthwash and gargle has been known to help reduce inflammation of the mucous membranes in the mouth and throat, especially for cancer patients being treated with chemotherapy.
Resources:
Professional's handbook of complementary and alternative medicines, second edition