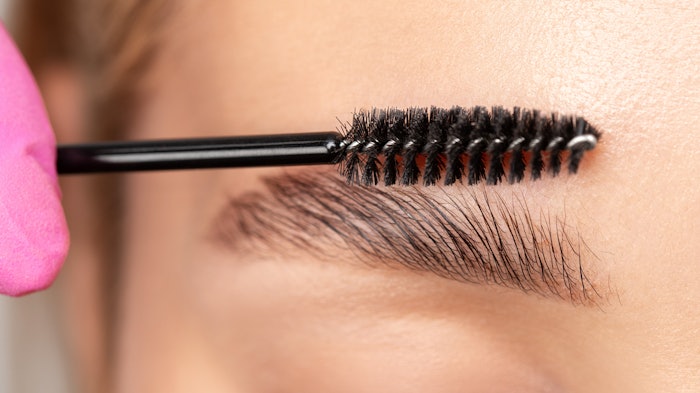 Kayla Parks, director of education and events at Chella Brow, and Sarah Siegel, director of sales from Chella Brow Bar, joined us in our Face and Body Northern California show in Sacramento, CA on Sunday Aug. 20, 2023 to discuss the latest brow trends.
The class started off with the speakers explaining how much of an impact brows can make for your clients. Kayla shard a personal story saying, "I had a client who's brows I filled in, and she started tearing up because she didn't know her brows could look that way."
Not only is it important what spa professionals can do for their clients with shaping, filling in and possibly even tinting their brows. It is also important what spa professionals can do in teaching their clients how to care for their own brows and educate them on filling them in.
Kayla and Sarah did a deep dive in the latest brow trends happening in beauty.
2023 Brow Trends
While the 90s had an emphasis on going super thin with the brows, in 2023 we're going quite the opposite route.
Some of the top trends that Kayla noted were:
Fluffy brows
Thick brows
Bleached brows
Siegel and Parks both emphasized that it is important to stay up-to-date on what is happening with brow trends and what consumers are looking at and potentially going to ask for or ask questions about. It is also important to remember that trends change rapidly all the time, which is why keeping a close eye on moving trends can help differentiate what is a trend and what's going to stick around.
Related: Boosting Profits with a Brow Bar
Carrying Brow Products
It was very surprising to see that only one member of the class shared that they actually retail brow products in their spa. When Parks prompted as to why others shy away from it, many shared that they didn't feel they knew enough about brows to sell them in their spa.
However, more members of the class did share that they are comfortable with filling in their clients brows after a separate service like a facial.
When it comes to actually working with brands and looking into offering brow products, Parks emphasized the important of looking for a brow that has a variety of products. The products that are being used on clients really does matter, so finding a brand that is clean and vegan, you can contribute to a more compassionate and sustainable world.
On top of that, you will have more reach on whatever products are needed to get your clients that perfect look. Between pencils, gels, pomades, waxes and more, there are so many products on the market. Being able to have a variety to choose from is crucial. This also goes for brow shades.
The Consumer Struggle
While many consumers are looking into these brow trends, Siegel shared how the gap between what consumers want their brows to look like and how they actually look like is a matter of education. Many consumers are trying to follow these trends without understanding how to get that trendy look.
Siegel explained how this is a crucial gap that spa professionals can fill. Brows can really change a clients look, and not only can you show them how to get that trendy look, you can also help to show them which brow trend actually fits their face and look well.
At this point, there has been plenty of discussion in the class about the consumers that are looking at the brow trends, but what about the clients who aren't focused on their brows? This is still just an equal of an opportunity to show your clients how you can change their look and enhance their brows. Some clients brow routine might be no routine at all, and you can change their life and their confidence by a quick and easy fill-in that you can teach them.
Don't forget about the men! Siegel shared how a lot of men are doing stuff with their brows. Men want to feel good about their appearance as well, and the brows are an important part of their face. Keeping their brows kempt and even using a gel on them can be a great method to show them what they can be doing, so do not discredit men for their interest in brows.
The 3-Step Brow Routine
There is a quick-and-easy three step routine that everyone can do when it comes to filling in your clients brows.
Fill with a color
Brow gel
Highlight the brows
When you begin filling in, you want to start arch to tail. You want the tail to be the darkest part of the brow. Using a spoolie, brush the brow hairs up to see what the shape of the brow is.
Pro Tip: Make sure to look at your client's brows while they are in an upright position before you do their brows if you will be doing them while they lay down. The brow shape can change while they are laying down, so look at them before the treatment and take note of any things you might want to do shape-wise.
Always make sure to blend the product through the brow as well when you are filling them in. This will help to disperse the product evenly throughout the brow so there are no patches. After applying brow gel, it is time to highlight the brow. The highlight step is so key because it helps to lift the brows back up.
A Brow-portunity
There are so many opportunities to expand revenue when it comes to brow services in your spa. When asked how many facials the members of class were performing on average, many said they were doing a minimum of five facial services per day.
Siegel shared that, if you were to incorporate a brow service sat the end of this treatment, roughly 30% of your clients will want to purchase something at the end of a one-minute brow fill. That's a quick and easy extra revenue source just from brows!