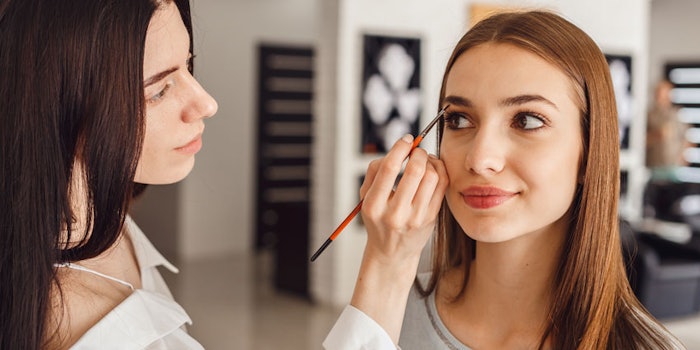 Anyone who hasn't capitalized on the brow market yet is losing money. More specifically, anyone who hasn't at least considered adding a brow bar into their spa should reconsider. I opened one of the first walk in brow bars in NYC about 11 years ago, and I still have a line around the block on weekends. Think about that; women are happy to stand in line to get their brows done because it means that much to them. I used to take appointments, but the demand was so strong that there was no need to continue doing that. Women love the convenience of walking in, spending less than $30 and walking out 10 minutes later with gorgeous brows. The business model makes it fast, affordable and guilt-free with immediate gratification. Trust me, if I can do it, anyone can do it.
Why Are Brows so Hot?
The School of Human Sciences, Osaka University in Suita-shi, Japan did a study on brows and how their position and shape affect the way eyes look. They discovered that low brows closer to the eyes make eyes look larger and more youthful, and that is what everyone wants.1 We call it the K-BOOM Brow–a long, full, straight brow with less of an arch that sits closer to the eye. It's the opposite of that over plucked, '90s rainbow brow that sat much higher away from the eye. 
The beauty is, brows are hair that grows, so they can be extremely lucrative. Recently, someone pointed out to me that I both have products that help to grow brows, and I have services to remove hair from brows. It sounds crazy, but it's also sort of brilliant. That's the beauty of the brow industry. There will always be people who need to grow their brows, and there will always be those that need hair removed. 
Do the Math!
We advise that our guests come once a month for shaping. That's 12 appointments a year from each person at under 10 minutes. Then, multiply that number by the price of each service. It has low overhead and a huge ROI!
We do brows sitting up to better judge how they actually look, and the beauty of that is there is no need to devote exclusive real estate to the service. Brows can be done right in your existing chairs, so there is no need for extra space or furniture. Also, they're the perfect add on service that can be coupled with just about any other treatment you already offer. Just think how successful your salon could be if even half of your current customers committed to a brow shaping once a month–do the math.
References