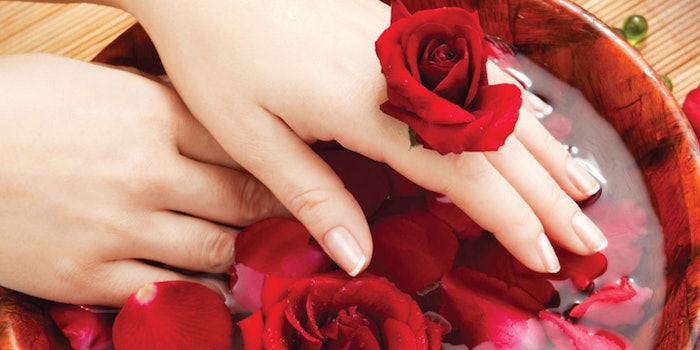 Increasing the revenue of your nail department may be right under your nose, literally. My 14-year rewarding career as a manicurist began at a luxury hand and foot spa. Straight out of beauty school, I was offering hand facials complete with a hand cleanse, toner, exfoliation, mask, treatment serum, moisturizer and even a steamer. It was a spectacular service that wowed and relaxed clients. My mind always goes to providing an experience along with the beauty and health results.
Prior to the spa industry, I was a trained chef where I flourished with the ability to easily come up with menu items for salads and appetizers. This was my area of expertise, while the head chefs were mostly focused on meats and entrees; salads were foreign terrain to them. This is similar to the nail departments across the world in destination and day spas alike. A majority of the operations, managers and owners are skilled estheticans, massage therapists or business people. Nail services are necessary and fun but can be a bit foreign to the operations of spas. So, here are seven ideas for increasing the revenue in you nail department.
1. Hand/Foot Facials
A simple strategy and effective equation to use is that many services and specials offered on the facial or massage menu can easily be modified and included on the mani and pedi menu. This can maximize the revenue of your nail department. As an added benefit, it can also boost the morale of your nail technicians.
Using the mindset and following the steps of a traditional facial service with cleansing, toning, exfoliating and hydrating, these products and tools can seamlessly be transferred into any mani or pedi service. If you already have exfoliation treatments, peels, hot stones or rose quartz rollers and stones in your spa toolbox, you can easily add these onto feet or hands while increasing your bottom line. In some cases, there isn't any additional cost by utilizing the back bar products you already have in stock to create specials or services that garner superior hydration along with an ultimate experience for the hands, feet and legs.
Recently, while working at a spa during Cinco de Mayo, there was a special avocado mask and incentives for the estheticians to upgrade to this service and retail the mask for home use. I was disappointed that the nail department was not also included. But why, I questioned?! The avocado mask could easily be applied to hands or feet, and this would make it easier to retail to mani and pedi guests. Including the nail service providers into the equation of monthly specials, add-ons and prize incentives brings about team energy resulting in higher revenue.
Even including the word facial in the service provides intrigue. An anti-aging hand facial or superior hydrating foot facial get guests excited, asking questions and booking services. A steamer can even be used along with other basic essentials of a facial service.
Loving this content so far? See the other 6 ways to increase your nail revenue by checking out our digital edition!