Microneedling is one of those modalities that has been a constant source of controversy since it first gained popularity in the esthetics world over seven years ago. Microneedling, also known as collagen induction therapy, dermal rolling, dermal stamping, dermal needling and skin needling is a treatment that utilizes small needles with a diameter of .25mm or less. The treatment consists of using a device that either rolls across the skin, or an electronic device that moves up and down across the skin.1
Indications for use are:
Wrinkle improvement,
Loss of elasticity,
Hyperpigmentation,
Photo damage and
Acne scarring.
References
Digital Edition Link: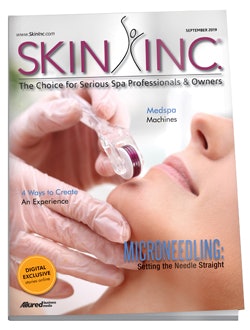 Make sure you're fully updated on everything you need to know about microneedling in your spa by checking out our digital magazine!