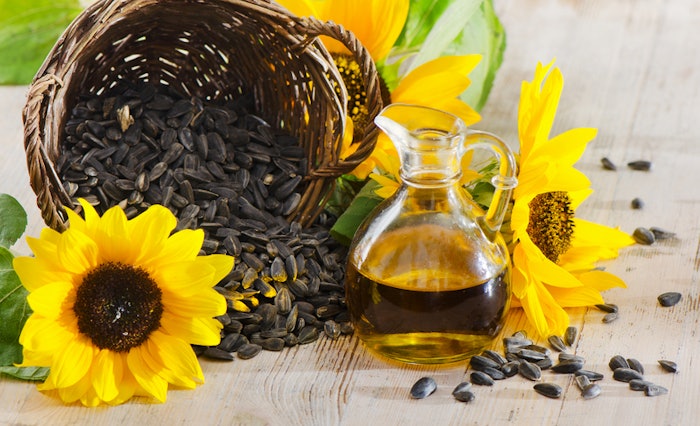 A market report from Factmr estimates the global sunflower oil market stands at a value of U.S. $21.4 billion in 2023 and is forecasted to surge at 6% CAGR to U.S. $38.4 billion by the end of 2033.
Related: FMI Analysis: Men's Skin Care to Reach US $28.34 M by 2029
Demand has continued to grow for healthy processed foods with the increasing adoption of healthy cooking oil, initiatives to promote sunflower production, rising awareness in the health benefits associated with sunflower oil consumption, and growing demand for alternative fuels and biodiesel, according to Factmr.
This uptake in demand is expected to open up paths for sunflower oil companies as well as established market players, according to Factmr.
Sunflower Oil in Cosmetics
The presence of key cosmetic and personal care brands in France is expected to boost demand for sunflower seed oil in the future as awareness of its benefits for skin and hair increases among consumers, according to Factmr.
As a vegan alternative to beeswax that can be used in lipsticks, lip balms and more, sunflower oil continues to find more uses in cosmetics. Considering the buzz surrounding clean beauty, vegan cosmetics and organic ingredients, sunflower oil could see unexpected growth in the beauty industry.
Sunflower Oil in skin care promotes the synthesis of key epidermal lipids in dry, atopic and mature skin and helps to build and maintain a healthy barrier function. Sunflower oil has been used to produce body oil proudcts, creams, Bloomeffects' Royal Tulip Petal Polish and more.